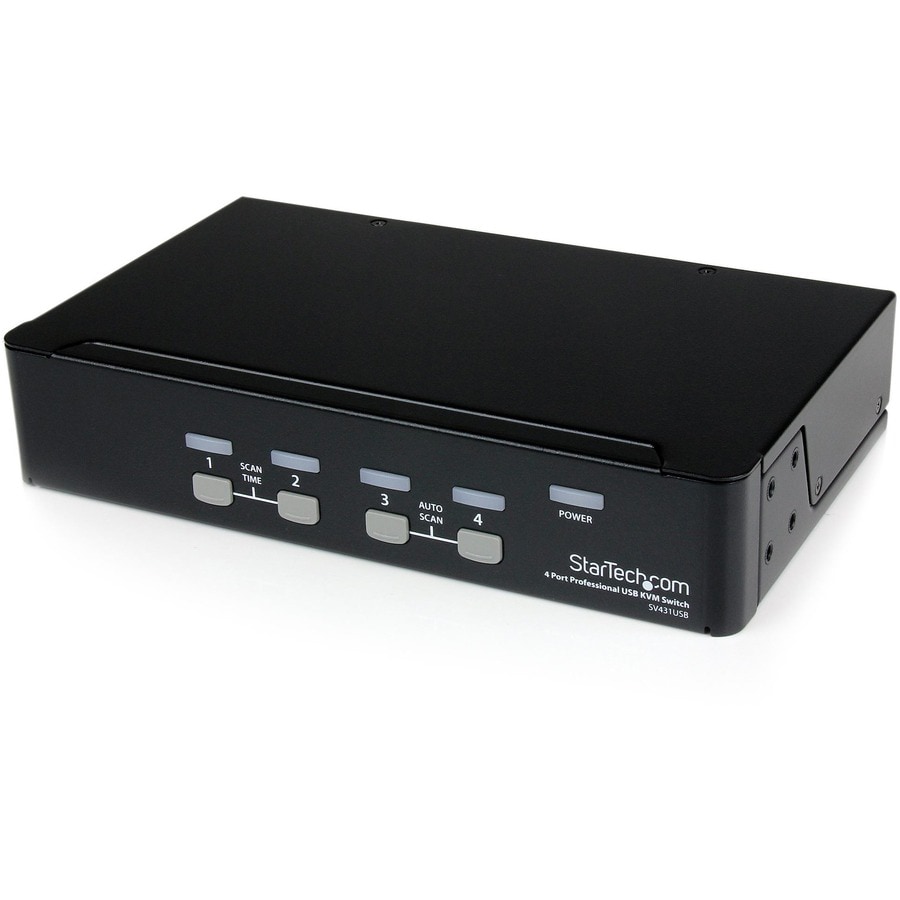 Quick tech specs
Control up to 4 PC or Mac computers from a single keyboard mouse and monitor and share any USB device between all connected computers
4 Port KVM Switch
Desktop KVM Switch
Solid steel rack-mountable case
USB KVM Switch
VGA KVM Switch
USB KVM Switch 4 Port
View All
Know your gear
Control up to 4 PC or Mac computers from a single keyboard, mouse and monitor and share any USB device between all connected computers. The SV431USB 4 Port rack mountable VGA USB KVM Switch with Hub offers simple control of up to four computers from a single monitor/display and USB peripheral set (keyboard, mouse).

The USB KVM switch features an integrated 4 port USB hub, allowing you to share connected USB peripherals between the four controlled PC/Mac computers as though the devices were connected directly.

Offering convenient placement and installation options, the KVM switch features a 1U rack-mountable form factor and rear port connection to master and slave computers, allowing you to make the necessary device connections without disrupting your workspace.

A cross-platform solution, the KVM switch supports high resolution applications at up to 1920x1440 and provides a smooth operating experience when controlling mixed (Windows/Mac OS/Linux) environments.

If you'd like to mount this KVM switch to your server rack, StarTech.com offers a 1U Rackmount Bracket (sold separately) that turns this KVM into a rackmountable KVM.


StarTech.com 4 Port USB VGA KVM Switch w/USB Hub - Professional Desktop KVM
is rated
2.70
out of
5
by
9
.
Rated

5

out of

5
by
Bob1024
from
Does the job very well
I have been using this KVM switch for a year now and it is working perfectly. So far I have only connected 2 linux laptop ( one of them is 8 years old Intel basic CPU, 500MB RAM, Fedora 20 ), both configured with dual display, all working well with the switch. Bought from dabs.com.
Date published: 2015-04-21T00:00:00-04:00
Rated

5

out of

5
by
Carlos Sanlucas
from
The best KVM money can buy
We utilize these switches every week for server and professional applications. They are worth every penny and yes - you need to buy mounting brackets and cables separately. Do the research! :)
Date published: 2015-03-27T00:00:00-04:00
Rated

5

out of

5
by
cadams
from
Missing Parts
Purchased this product recently. It doesn't include ANY cables, even though the Manual included lists them under "This Package Should contain" on Page 1. Why would the manual say that cables are included, when in fact they are not?
Date published: 2014-07-16T00:00:00-04:00
Rated

5

out of

5
by
RockwoodColin
from
100% rock solid product.
I've been using this daily for several years and it has performed flawlessly. I love the simplicity of the controls and the small form factor. I would highly recommend it to anyone.
Date published: 2015-11-19T00:00:00-05:00
Rated

5

out of

5
by
ControlIT
from
No AC Adapter Supplied + VGA Conxs
We purchased a SV431USB KVM to replace a Belkin USB KVM for 3 servers..To our surprise the AC 5v adapter is not included and has to be purchased separately... On top of it the input VGA ports on this KVM are not female VGA ports..they're male..meaning any cabling you may have used previously will need changing with a female plug at one end. Wish I had stuck with Belkin.
Date published: 2020-07-01T00:00:00-04:00
Rated

5

out of

5
by
Mel28
from
No Power Adapter
I was very disappointed that no cables or power adapter were included with this KVM. Wish I would have gone with another brand.
Date published: 2016-07-14T00:00:00-04:00
Rated

5

out of

5
by
davidr2
from
You need to buy the power supply also
If you haven't noticed, you will ned to purchase the power supply seporately. That is a red flag for me. Nit Picky.
Date published: 2013-06-14T00:00:00-04:00
Rated

5

out of

5
by
James
from
NO POWER SUPPLY INCLUDED
There was no power supply shipped with the KVM switch, so I was delayed on install, while i waited for my order of the < $10.00 powers cord to ship. Look for a brand that ships switch and power together.. When you add the price of the power cord and the second freight charge, it makes the Trendnet KVM switch kit, with cables, switch and power supply the best deal.
Date published: 2014-06-26T00:00:00-04:00
Rated

5

out of

5
by
DrFranken
from
No hot-keys, needs POWER.
Unfortunately I read that this unit supports hot-key switching as do my other units but it does not. Why not is anyone's guess. It also does not come with a power supply. With my back-lit keyboard attached it refuses to work with any of the three computers I have. Adding a 2A 5V power supply was not enough. A 2.5A 5V supply was needed before the unit would provide any keyboard or mouse to any of the three computers.
Date published: 2020-04-03T00:00:00-04:00