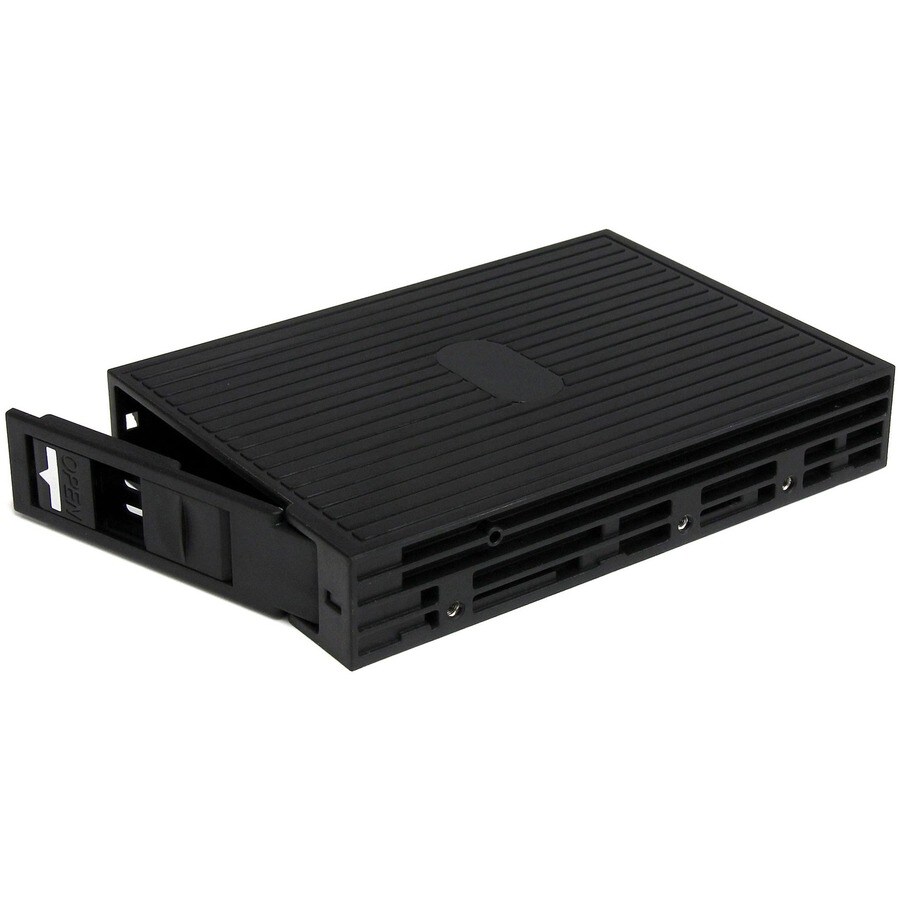 Quick tech specs
2.5 to 3.5 sata converter
2.5 to 3.5 SATA Bracket
2.5 to 3.5 HDD Adapter
2.5 to 3.5 SATA Aapter
2.5 to 3.5 Hard Drive Adapter
View All
Know your gear
Turn Virtually any 2.5" SATA or SAS Hard Drive into a 3.5" SATA Drive. The 25SATSAS35 2.5-inch SATA/SAS to 3.5-inch SATA Hard Drive Converter converts a 2.5-inch SATA or SAS hard drive (HDD) or solid state drive (SSD) into a 3.5-inch form factor SATA Hard Drive.

The converter provides a versatile solution for 2.5-inch drive installations, enabling you to install a 2.5-inch SATA/SAS drive in a 3.5-inch bay, drive drawer caddy/tray, or into a 3.5-inch drive enclosure.

To maximize performance and utilize the full speed potential of your SATA III hard drives, this HDD Backplane supports SATA III for transfer speeds up to 6 Gbps when paired with compatible controller.

Suitable for drives with a height of up to 15mm, virtually any 2.5-inch SATA or SAS hard drive can be made to look and function like a 3.5-inch hard drive - complete with standard mounting points along the sides and bottom (including 3 points along the sides for compatibility with some Dell systems).

The Drive Converter features a trayless design for simple drive installation and removal, and is constructed of durable, yet lightweight plastics, with ventilation openings to aid air flow and help keep hard drives running cooler.


StarTech.com 2.5in SATA/SAS SSD/HDD to 3.5in SATA Hard Drive Converter
is rated
2.70
out of
5
by
15
.
Rated

5

out of

5
by
Nivek
from
Works Well
This is a decent product. I used it to put a 2.5 SSD in my tower workstation. It fit and worked well.
Date published: 2017-11-22T00:00:00-05:00
Rated

5

out of

5
by
eddypo
from
Does what I needed it to do
I had a spare 2.5 inch hard drive and an open 3.5 inch bay in my desktop. This drive enclosure let me put my 2.5 inch drive into the enclosure and mount it into my desktop as additional storage. The case does feel a bit thin and cheap and the lock fell off the first time I used it. I had no issues with the lock after I put it back on. Must of came loose during shipping. It also comes with mounting screws. All in all, the drive was installed into my desktop with no issues at all.
Date published: 2017-10-04T00:00:00-04:00
Rated

5

out of

5
by
NickD_CA28
from
Cheap but works
The hard drive adaptor has been working well for me but physically very cheap and with limited mounting options, could be better. The hard drive adaptor comes in a box just barely bigger than 3.5 inch hard drive. It is made of all black plastic and raddles like there are loose parts inside when either empty or with a drive installed. When you put a drive in it, the case makes a very scary 'crack' sound. I still can't get used to the terrible sound of the door closing as it sounds like I just broke the hard drive. The open latch is clearly labeled, but at a glance the sliding lock also looks like a latch and breaks off very easy if you try and pull it. There is a blue LED light on the front that lights when it has power. The light doesn't change or flash for drive activity. The adaptor is the same size as a regular 3.5" hard drive however the screw holes are NOT in the same position so the adaptor cannot be installed where other hard drives can. Screws are included with the adaptor. The adaptor works well once the drive is in. The adapter works in SATA docking stations and connected directly to my motherboard. The hard drive adapter works as needed, but is very cheaply made with it raddling and cracking sounds and can't be mounted where 3.5" drive can be. I received this product in exchange for an unbiased review.
Date published: 2017-10-15T00:00:00-04:00
Rated

5

out of

5
by
macphot1970
from
Nice adapter - simple build quality
This is a good quality adapter to take 2.5 drives to 3.5. I don't think the design is bad at all but the build of the unit feels cheap compared to some of the other adapters I have had. The performance of the adapter is great and can not be faulted at all. It installed perfectly into my tower and caused zero issues. Overall the product works well. "I received this product in exchange for an unbiased review"
Date published: 2017-10-01T00:00:00-04:00
Rated

5

out of

5
by
BDBaer
from
Did not work for me
First: could not just slide in the 2.5 drive into the converter, (about 1/2 an inch stuck out the back) in the end I just removed the 8 or 9 screws placed the drive and reassembled the converter. Second: the mounting holes did match the pins on my Dell's mount.
Date published: 2018-06-28T00:00:00-04:00
Rated

5

out of

5
by
Andrew11
from
A little confusing but works (needs instructions)
I admit that when I first got this out of the box, I didn't know how to open the flap to access the inside of the adapter. I am not sure what symbol would have triggered my brain to pull the release catch outward, but the symbol on it just didn't clue me in. I was also puzzled how to remove a drive once put into the adapter, there is an internal mechanism attached to the door that ejects the drive when opened fully, but if you aren't aware of it, will also prevent the drive from seating until you close the door a little. That being said, once you figure this all out, it's a great little adapter. I haven't quite figured out where to install it yet; I want to install it in the front of my PC so I can swap out drives, but it seems to be made to go inside a PC where the drive bays face outwards. Only one of the screw holes line up with an HDD (rear-most, near the SATA connectors). One screw is enough, so I'm OK with this, but it's a curious design. Once seated, the drive fits well, doesn't rattle, and the performance is excellent. I received this product in exchange for an unbiased review
Date published: 2017-10-13T00:00:00-04:00
Rated

5

out of

5
by
Nick71
from
Solid performance, not so solid build.
OK, so I tried to use it internally, but the mount holes don't line up at all (can't move it forward or back in the Lenovo or CoolerMaster case internal positions I tried since they use plastic spacers that fit into the drive holes, which of course, don't line up. My son's PC is built inside an older case that has a 3.5" floppy slot. This chassis works fine in that slot. It was then that I noticed that the drive holes are spaced just fine for a 3.5" HDD, but slid backwards---aka, if the end of the drive was flush with the case--and why would anyone want their internal drive sticking OUT? OK, that being said... I popped an SSD in, and then slid the chassis into a Startech trayless 3.5" removable that I have mounted on the front of my tower, so a drive in a drive tray, in a drive tray. Fit just fine (screw holes are irrelevant this way), and works like a drive should, no performance impact on the SSD within, and invisible to the OS since it's just passing SATA through. As for the build... I like the "open" button and the sliding lock. The plastic is fine for something that doesn't get swapped too often, but doesn't feel that solid. Older trayless drive slots that I use (all Startech BTW...) are solid, and have some metal in the door/latch/housing to provide extra strength/durability. I just don't se that with this adapter. I would buy this to use SSDs in my tower, as removables. But would not recommend if it is going to be in a work environment with people that are hard on the hardware. So perfect score on actual performance, but not so much on physical build. I received this product in exchange for an unbiased review.
Date published: 2017-10-16T00:00:00-04:00
Rated

5

out of

5
by
rowingpeter_s
from
Not the great time saver I was expecting
No instructions of any kind ship with this caddy so spent first 1hr trying to slide the SSD onto the connector before closing the lid. Eventually discover that you place the SSD in place and it slides onto the internal connectors AS you close the lid. Once got past that stage thought I was home and dry but the screw locations for mounting the 3.5" box into a HP Server caddy aren't in the same locations as a standard 3.5" drive a] at most you can attach with 2x screws and b] even when you've done this and made your best approximation, it won't fit. Can't imagine any reason why screw mountings aren't standard but they are not. Approx 3-4mm out. Could be great. Not sure why it isn't.
Date published: 2019-06-19T00:00:00-04:00
Rated

5

out of

5
by
hospitaltech474
from
Mounting holes are incorrect
We purchased 10 of these only to find out that the side mounting holes do not line up with the side mount holes on a standard 3.5" HDD. This is turn made them useless for upgrading our HP AIO because the HDD caddy is made to line up with a standard HDD mounting points. Also, the threading for said points are fine... as opposed to all standard HDD having coarse threads.
Date published: 2016-04-27T00:00:00-04:00
Rated

5

out of

5
by
MikeBP
from
Junk
This thing was a complete Pain to use, the screw holes are not standard placement, getting the SSD installed into the device was a bear and then i had to gerry rig it into the computer to get it in place (Lenovo desktop with the drive caddy) I will not be buying one like this again
Date published: 2013-01-28T00:00:00-05:00
Rated

5

out of

5
by
ITSanta
from
This product does not work
The screw holes are misaligned, causing this device to fail completely at its primary function - to allow a 2.5" hard drive to connect to a 3.5" drive rail / sled scenario where hdd positioning and screw alignment need to match exactly a 3.5" drive. These things are standardized for a reason... this is an unforgivable design oversight.
Date published: 2013-08-21T00:00:00-04:00
Rated

5

out of

5
by
Michael
from
Waste of money
For some stupid reason, I decided to try it ignoring the advice from the previous reviewer. Agree now with everything they said. Junk. Screw holes are wrong, only guess is this is intended to be used with some StarTech drive enclosure with nonstandard screw locations.
Date published: 2013-07-18T00:00:00-04:00
Rated

5

out of

5
by
Joe6743
from
Perfect Fit
Works perfectly with several HP Computers. Screw alignment is not an issue.
Date published: 2015-04-09T00:00:00-04:00
Rated

5

out of

5
by
ITguru
from
Overall decent product
Purchased it to install an SSD into an HP Proliant ML310e server. A StarTech design issue gets in the way of using the HP provided screws for mounting it into the HP drive cradle. At the front of the adapter, you MUST use shorter and slightly smaller screws as StarTech placed the adapter case screws in the way. My other issue is actually with the HP drive cradle as it's plastic and wouldn't press the StarTech adapter fully into the SATA slot in the server. Manually pushing with your fingers (from the adjacent bay) will seat the adapter and then it functions as intended.
Date published: 2015-05-27T00:00:00-04:00
Rated

5

out of

5
by
Odycanopie5
from
Worked brilliantly until ....
... I installed Windows 10 64 bit on my PC. Nothing hot swap about it now that I can find. Under Windows 7 64 bit it was genuinely hot swap. It was the simplest thing to install and use. With Win 10 I need to power off the PC, remove the HDD installed, insert the required HDD and power on again. I can't find a solution so this is a last resort :-( . From what I've found it is a problem with Win 10 not the device. Nonetheless, with 4 HDDs ranging from 3 to 6 TB, it is a pain in the sitting apparatus it won't hot swap now. If there is a solution I'd love to know what it is.
Date published: 2021-11-16T00:00:00-05:00