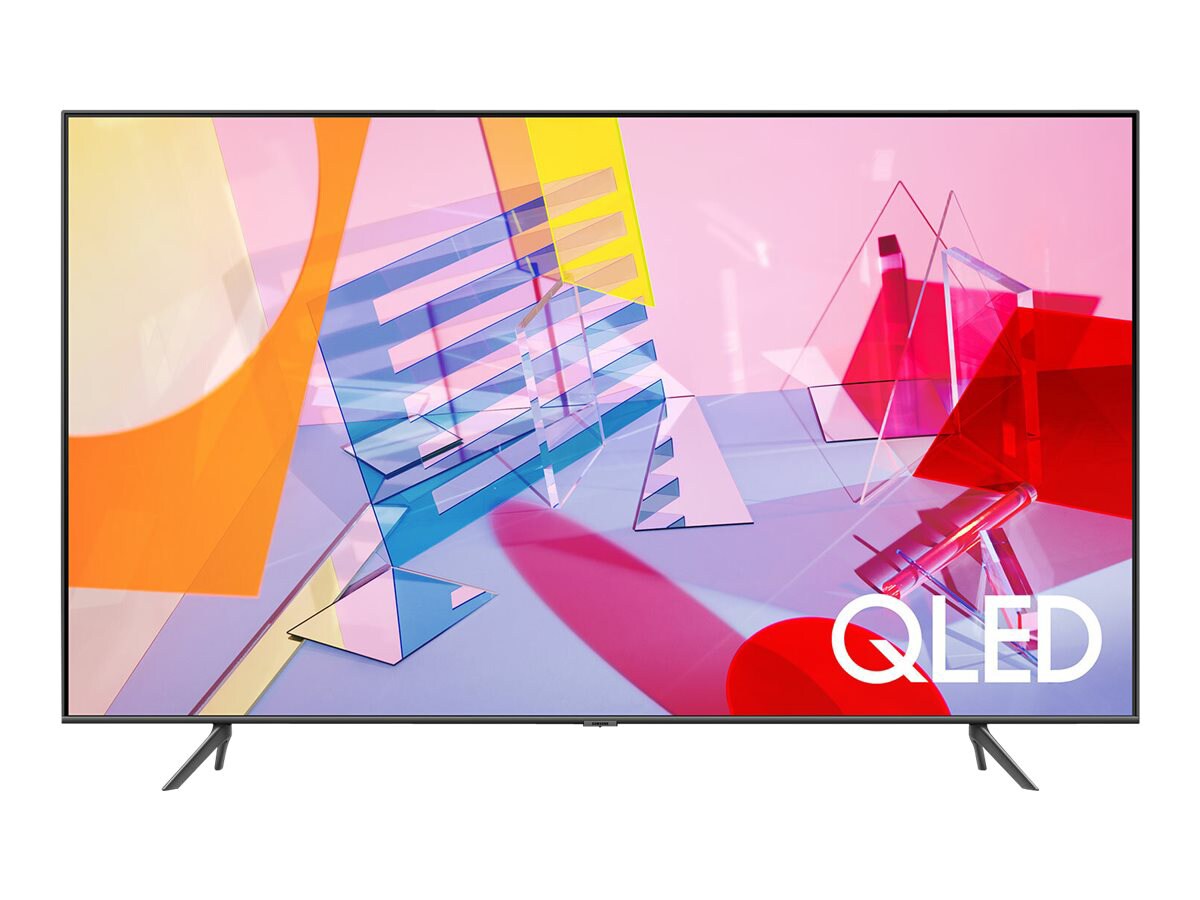 Quick tech specs
75" Diagonal Class (74.5" viewable)
QLED
Tizen OS
HDR
Dual LED
Q60T Series LED-backlit LCD TV
Smart TV
4K UHD (2160p) 3840 x 2160
Quantum Dot
titan gray
View All
Know your gear
Quantum Dot Technology delivers over a billion shades of color that stay true-to-life. Quantum HDR brings out the detail and contrast by expanding the range of color and detail beyond what's possible on HDTVs.
Contact Sales Assistance
(800) 800-4239
,
Monday-Friday 7am-7:30pm CT
Samsung QN75Q60TAF Q60T Series - 75" Class (74.5" viewable) LED-backlit LCD
is rated
2.20
out of
5
by
29
.
Rated

5

out of

5
by
Xander
from
DO NOT BUY
within 6 months the tv was dead. i was watching tv when it randomly turned off and won't turn back on. the backlight will turn on for less than a second, the red light flashes once or twice and then turns back off. it does this over and over again. after troubleshooting and researching online, i am 95% sure the power supply has shorted and now i'm waiting for a service tech to come out and fix it. this seems to be a common issue with this model and that is unacceptable for a $14oo tv.
Date published: 2021-02-10T00:00:00-05:00
Rated

5

out of

5
by
DocSalAM
from
Where is Multiview
great tv however i one if the reasons i bought thia tv was for multiview. however i have been trying to figure this out for over a month. please somebody help. i am feeling ripped off.
Date published: 2021-02-13T00:00:00-05:00
Rated

5

out of

5
by
tommy
from
Terrible TV
i had the 2019 model for this tv and it was 7 days out of warranty and the screen went out. samsung has offered to do nothing for me and i paid 1700 dollars for this tv. i have been a loyal samsung customer for years, but this really is a huge blow as i paid 1700 dollars for my tv to only work for 1 year. the worst part is, samsung is willing to do nothing when they know this is a very common issue among their tvs. i just can't believe they offered nothing for a loyal customer with a whole lot of their products. i guess i'll just have to find a new brand that supports their customers.
Date published: 2020-12-07T00:00:00-05:00
Rated

5

out of

5
by
AJ Martinez
from
No "Q-Symphony" - NOT COMPATIBLE WITH Q60 SOUNDBAR
the "q-symphony" feature is not available on q series tvs. vague descriptions of your products, consumers won't realize how lacking and limited these q series tvs/ soundbars are. extremely disappointed with "initial quality" of a new q series product. i was so excited when i bought each product, excited at delivery, and was completely let down by the bad initial quality and user experience samsung has to offer with the q series lineup. bad product series. i even tried contacting the 1-800-samsung support line and they were as helpful as a stick in the mud. phone rep said they only help/support new customers who are looking to buy new products online, so he point blank said we already have your money nothing i can do to help, gave me confirmation number and hung up!
Date published: 2020-12-05T00:00:00-05:00
Rated

5

out of

5
by
FarZ
from
Disappointed
this 70in bought from costco on dec 08 2020 and was a dream tv with a beautiful picture and solid color. but in 12 days the tv now has a line in center from side to side. so disappointed and i want to retun it at earliest.
Date published: 2020-12-23T00:00:00-05:00
Rated

5

out of

5
by
Charlie
from
Thumbs up!
excellent picture quality at a great price! very happy with my purchase.
Date published: 2021-01-01T00:00:00-05:00
Rated

5

out of

5
by
Angry
from
Unhappy
We purchased this TV in September of 2020. The TV will no longer power on. We had purchased a Samsung TV in the past and had the same issue. Due to the picture quality and deal we received on this TV we thought we would give them another chance. Unfortunately joke is on us. The "repair" company can't make it out to our house for another week to try to fix the TV. This will be the last Samsung TV we will ever purchase. Just glad we got the extended 4 year plan, or I have a feeling we would be purchasing another TV in the near future
Date published: 2021-01-20T00:00:00-05:00
Rated

5

out of

5
by
Unsatisfying customer
from
Nice TV
i'm disappointed on customer service is. i bought a 75-inch tv from hsn. it worked perfectly for a few months, then the picture went out. i had to deal with samsung over for 2 weeks. each representative didn't know what i was talking about or couldn't find the documentation. now, its december they finally made a decision to refund my money for the tv. i'm so upset! the customer service sucks!
Date published: 2020-12-12T00:00:00-05:00
Rated

5

out of

5
by
Liz
from
Great gaming TV
Good TV, decent price for it's size and quality. Not top tier but excellent for video games.
Date published: 2020-08-26T00:00:00-04:00
Rated

5

out of

5
by
Matt T
from
Exceptional tv
My whole family loves this tv. Beautiful picture. Nice thin profile. My wife consistently comments that she sees film aspects she didn't previously notice. Initial set up was very straight forward and simple.
Date published: 2020-07-24T00:00:00-04:00
Rated

5

out of

5
by
Call
from
Q60T I love my TV from dell
I love buying from dell and I will tell everyone
Date published: 2020-10-06T00:00:00-04:00
Rated

5

out of

5
by
powpow
from
luv samsung!
I love my samsung tv more than my kids!!! just ask my kids!
Date published: 2020-11-23T00:00:00-05:00
Rated

5

out of

5
by
Marty
from
10 out of 10!!!
I am absolutely blown away by the clarity and quality Samsung has put in to this model. With a sleek and streamlined design, it is the perfect compliment to our living room. The features are abundant, and the wifi streaming capabilities introduce an entire new world of viewing pleasure I have never experienced before. The picture is mesmerizing whether for sports, movies, and especially cartoons for the kids. The sound quality, as a stand alone unit, is more than I could have expected. Our TV is the complete package. As a family of five in these troubling times, I wanted something the entire family could enjoy. This TV does not disappoint. We are as close as close can be, having family movie nights on a regular basis in the warmth and safety of our own home.
Date published: 2020-11-18T00:00:00-05:00
Rated

5

out of

5
by
Austin
from
Great TV in general.
Generally speaking, I love this TV. Major flaw, however, in the backlighting. When it's a black or dark scene, you can see white splotches all over the screen. Can't recommend based on this. My older 60 inch didn't have this issue.
Date published: 2020-11-19T00:00:00-05:00
Rated

5

out of

5
by
Clint
from
What An Experience
The 75 inch QLED is ideal perfect for entertainment i would recommend to the world.
Date published: 2020-11-23T00:00:00-05:00
Rated

5

out of

5
by
Uday
from
Dont Buy this Tv, Bad Screen Quality.
this tv not worth 1300 dollars, bad build quality and cannot last long. screen panel popped out. dont buy this tv
Date published: 2021-03-30T00:00:00-04:00
Rated

5

out of

5
by
NOYB
from
Died after 9 months
i was very excited about this purchase. it was the biggest and best tv purchase so far. bought a samsung dolby atmos soundbar to accompany it. initially the picture was awesome. the set up was easy. the integration with other smart home devices was seemless. then afyer 9 short months of service it flat died. i have never had a tv die so quickly. a bargain hisence tv is goong strong after 5 years. my openbox visio is still operating as new afyer 10 years. both cost less then half of this q60 samsung.
Date published: 2022-03-04T00:00:00-05:00
Rated

5

out of

5
by
nonoys
from
disappointed
we paid 1200 bucks for 75 inch q60t 4k uhd . 1 year warranty expired and 2 mos after , tv started to have horizontal lines on half of the screen. it looked like the picture or texts is offset. i would expect that a tv worth that much would last more than 14mos without any issue. i loved the tv. its just that spending that much, you would not think it would go out that soon. extremely disappointed in this product
Date published: 2022-02-24T00:00:00-05:00
Rated

5

out of

5
by
Ginger
from
Didn't even last 14 months
samsung seems to be having problems with this tv. it's funny how you spend so much money on it and it goes out right after the warranty is gone. it may possibly cost as much to fix it as to buy a whole new tv! beware samsung does not stand behind their products!
Date published: 2021-12-19T00:00:00-05:00
Rated

5

out of

5
by
Ashish
from
Please take this piece of JUNK away
the tv died 10 days after the warranty expired. it shows a blank screen without any response. i tried everything under the sun and now it just sits there in my living room like a pile of junk. i requested service twice, and both times samsung canceled my ticket without a call or without reason. i am watching movies on my laptop for the last 2 months because i don't even know how to get rid of this 75 inch junk and replace it with an lg or sony.
Date published: 2021-12-14T00:00:00-05:00
Rated

5

out of

5
by
Choi
from
Big problem for Samsung TV
a few days ago, my samsung tv shut off during a show. the screen when black and flickers blue every few seconds. i cannot turn on or off, i've unplugged it and get the same result. it hasn't been 3 years since i bought it. so, i called service technician. i paid $95. he said tv panel problem. if replace, i have to pay 2000 dollars to fix it. i can't fix this. this is a samsung tv durability issue. why do i have to pay so much? i feel very bad. i will not buy the samsung brand in the future. how will samsung handle this issue? please answer me right now.
Date published: 2022-04-27T00:00:00-04:00
Rated

5

out of

5
by
Josh
from
Screen faded
i paid over $2,000 for this tv and the screen is already starting to fade. you'd thinking paying extra for name brand that you'd actually get good quality.
Date published: 2022-01-06T00:00:00-05:00
Rated

5

out of

5
by
John
from
Poor quality
only lasted 17 months..do not buy…this tv cost me $1500..ill never buy a samsung again
Date published: 2022-06-17T00:00:00-04:00
Rated

5

out of

5
by
shaun
from
Screen Failed just over a year
only 1 1/2 months after the warranty expired, the tv screen just flickered as i was looking at it and developed a black line... and everything below the black line is blurry. so... this tv that was purchased just over a year ago for over $1,500 now looks just awful. stay away from this tv... or just samsung in general. i've seen too many samsung products just fail. plus, i hate the remote- there are no numbers. built in speakers/sound was also not that great, so we had to use a sound bar to enhance. avoid.
Date published: 2021-10-15T00:00:00-04:00
Rated

5

out of

5
by
szap
from
Really good TV but died after a year.
I bought this TV in November of 2020. We were very happy with it. Picture was good, Tizen apps were good, all-in-all it is a good camera. Then in December of 2021 it died. Black screen and no response to any controls. The warranty on this is 9 months so was out of warranty.
Date published: 2022-01-29T00:00:00-05:00
Rated

5

out of

5
by
Schlitz Creek
from
Make sure you purchase the extending warranty
purchased this tv 5 months ago and it will no longer power on. i would advise getting the extended warranty with whoever you purchase it through. this warranty exchange through samsung has been miserable. currently 4 weeks without a tv and counting.
Date published: 2021-04-06T00:00:00-04:00
Rated

5

out of

5
by
Bettyna
from
I didn't want to believe the other reviews...
...and i bought this tv anyway, hoping that what other customers received one of the few tvs that were defects. i own other samsung tvs so this is how much faith i had in the product. but i was wrong. i purchased on black friday 2020 and unboxed and mounted it in mid december. now in march 2021 the screen won't turn on. it is just black. now samsung promised me an exchange but supposedly they are out of stock on this model, even though i can still purchase the tv right now. i will end up getting a refund and getting a completely different tv but what a disappointment and a waste of time. do not buy believe the other reviewers.
Date published: 2021-04-01T00:00:00-04:00
Rated

5

out of

5
by
Aibna
from
don't buy this TV
tv stopped working after 6 months, screen just went black and won't turn in. the warranty still valid and waiting for the replacement screen ( its been 3 weeks now).
Date published: 2021-05-07T00:00:00-04:00
Rated

5

out of

5
by
The Skeptic
from
Nice TV, BUT....
bought this tv two days ago. the picture is fantastic and very bright, and the tv itself is much nicer looking than i thought it would be. also, the sound is excellent. but, there's a dead pixel on upper right edge of the screen. it doesn't affect the picture, but two samsung techs said that the screen was likely to develop some lines in it eventually. they recommended that i exchange the tv or schedule a service call to fix it. there was also a scratch in the lower right quadrant of the screen. the legs were very difficult to install. i'm disappointed that samsung's qa process didn't catch these issues.
Date published: 2021-06-19T00:00:00-04:00