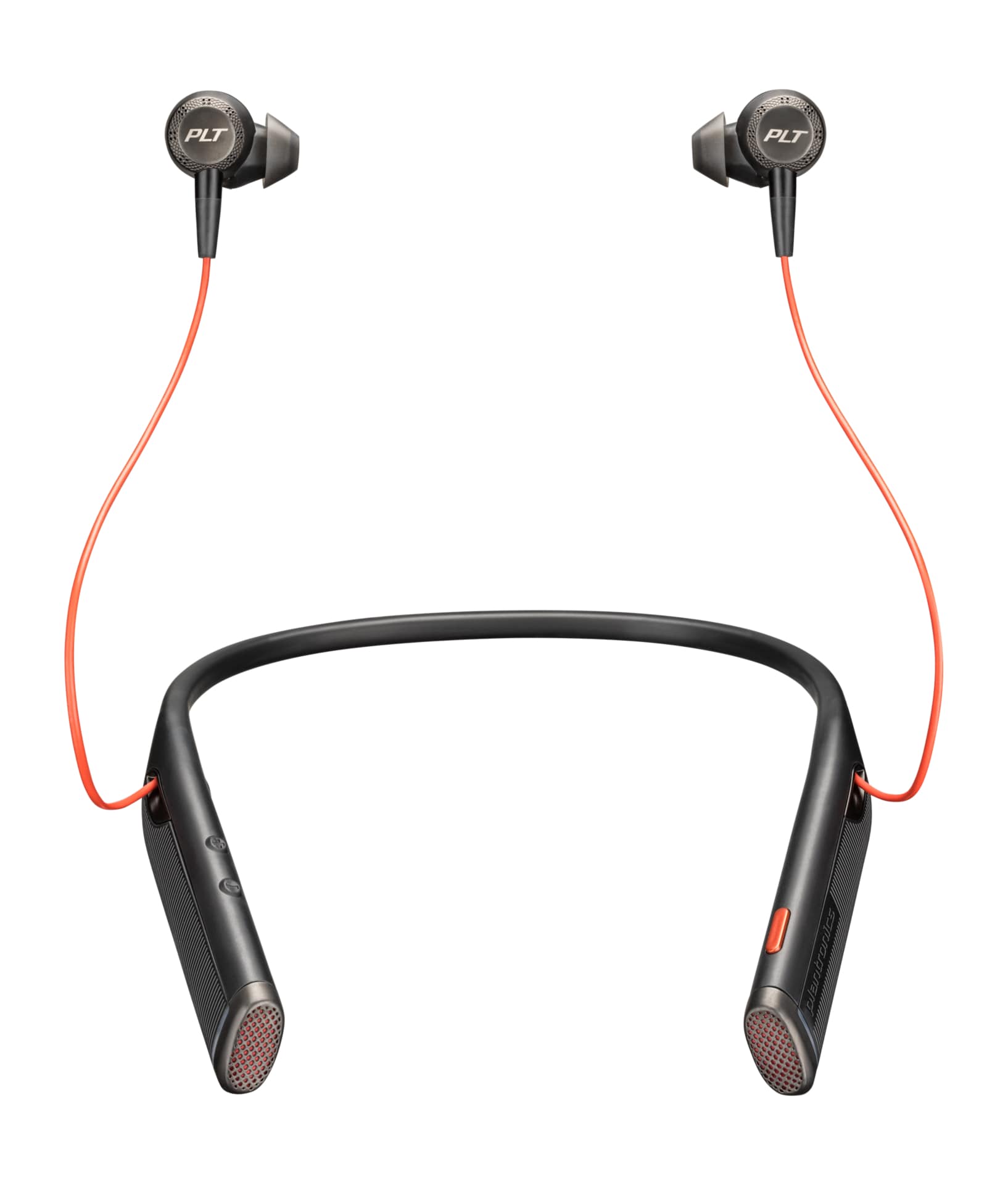 Quick tech specs
Headset
over-the-ear mount
wireless
black
ear-bud
Bluetooth
active noise canceling
View All
Know your gear
With premium features and professional-grade audio, Voyager 6200 UC is a Bluetooth neckband headset with earbuds that has the versatility to go beyond the office. Transitioning to your next conversation is easy: connect with colleagues working remotely, listen to music to focus distraction-free or drop an earbud to tune in to the conversation around you. You can count on Voyager 6200 UC for outstanding audio every time, everywhere.
Contact Sales Assistance
(800) 800-4239
,
Monday-Friday 7am-7:30pm CT
Plantronics Voyager 6200 UC - headset
is rated
4.55
out of
5
by
11
.
Rated

5

out of

5
by
Scalibur07
from
Constant disconnect
Bought one used for about an hour, all great. After that it disconnected and recconected again, now its stuck on a loop. Tried resetting phone and connection settings, still at it.
Date published: 2018-07-06T00:00:00-04:00
Rated

5

out of

5
by
Ian d
from
Junk ×2
Bought one lasted 6 months, luckily the place I bought it at gave me another. Months later that one died, won't turn on same as the other. Will never buy this model again!
Date published: 2019-06-04T00:00:00-04:00
Rated

5

out of

5
by
Mark Z
from
Best Headset I have bought
I work in the Cellular Industry as an Incident Manager, clear and crisp communication is needed in our field, its a must! I have tried many different headsets to include but not limited too Apple Product, Beats, and LG to name a few. All have fallen short of our standard. The Voyager is a cut above the rest of the field. I just got it today and tested it out, it works flawlessly. My voice is clear and crisp to others, there is no guessing what I am saying. I hear others fine, I can adjust my volume if I need to right on the headset, and it comes with its own mute. For our job a mute is imperative to have, because it allows us to perform other functions with on our bridges. The pairing was very simple and efficient. I know it shows a bare mic but you do get a foam cover in the box for it. The weight is about right and I have worn it for a couple hours with no complaints. Its sturdy construction with quality material that are still flexible enough to adjust to your head. Overall the headset is well thought out and leaves me with no negative feedback. Im not a truck driver and I know that was the intent for this product, but I implore you not to look over this headset if you have issues with communication. So far two of my work mates have ordered a set, because this product makes that much of an impact.
Date published: 2018-03-26T00:00:00-04:00
Rated

5

out of

5
by
Hwy Bandit
from
Bulky but good
Bulky for day to day wear.Sound quality is pretty good doesnt hurt ear like other Bluetooth headsets.Looks funny wearing it thats all
Date published: 2019-05-26T00:00:00-04:00
Rated

5

out of

5
by
NickO
from
Loud, clear, consistent
With any headset for use in a noisy environment you want clarity. Though the ear pad can get uncomfortable, it does it's job by isolating your ear and reducing outside noise, allowing you to clearly hear your conversation or other audio. The microphone is stellar; it delivers clear audio to the receiver on the other end and reduces background noise. The V100 lives up to the Plantronics standard of being a lightweight, feature packed, easy to use devise! [This review was collected as part of a promotion.]
Date published: 2018-04-22T00:00:00-04:00
Rated

5

out of

5
by
TabMorty
from
Great headset for long journeys
I got my Voyager 104 to test, and now a week into using - I must say I am impressed with the overall use of it....They are light on the head, fits firmly on the ear - but still light so it don't hurtEasy to adjust so the coushin on the opposite side can be moved higher up on the head and not interfere with ear or sunglassesThe microphone boom is flexible and easy to fit, and so far when i make calls the other party can hear me nice and clear, without any noise from the vehicle or windand I can hear them good as wellVolume adjustments and Mute buttons are big and relatively easy to use, I only wish they would be on the other side. With the speaker and microphone boom on the same side as buttons, it can be a little bit "busy". Using a cap on my head was better than nothing at all. The cushions resting on the head/hair is a little bit slippery for my hair. If I have to move my head quickly, the headset had a tendency of slipping/moving.This was not an issue with cap on my head One of the great features, is the ability to pair and have active 2 phones at the same time. So I can play music in one, and as soon as phone call comes in, on either phones, the call will get through to the headsetI miss a much though. I hope Plantronics will consider adding a not-too-small pouch to keep them in when not in use, and to carry the charging wire to make the product even a better experiencePairing and connection to my iPhoneX is quick and easy and never giving trouble. All in all, the Voyage 104 .. or 10.4 .. seems to be another good value for money from Plantronics. Thank you for the opportunety to test them out! [This review was collected as part of a promotion.]
Date published: 2018-04-18T00:00:00-04:00
Rated

5

out of

5
by
MrPerez
from
Clarity and comfort
These link so fast even when you have multiple phones. I drive with my work phone and personal phone and these handle switching back and forth flawlessly. Amazing sound quality, comfortable, and excellent range. You won't regret this purchase.
Date published: 2018-07-01T00:00:00-04:00
Rated

5

out of

5
by
Gameaddict_007
from
Not just for truckers!
I send a lot of time on the phone, in front of a computer, in a car, or when I'm just taking care of daily household responsibilities. I have used this for about a couple hundred hours so far, and the everyday people I talk to are still surprised at how well they can hear me. And I can hear them remarkably well also. Even if there's a lot of noise in my background, I don't have to talk louder, as I can still be heard just fine. I've also always avoided, "ON EAR," headphones, and spent most of my life using earbud type bluetooth devices or, "OVER EAR," headphones. Thes have proven that, "on ear," headphones can be very comfortable if done right. And as usual, Plantronics has done it right. [This review was collected as part of a promotion.]
Date published: 2018-04-17T00:00:00-04:00
Rated

5

out of

5
by
Cromeart
from
Excellent all-day/multi-day stressless headset!
I'd like to start this review right from the unboxing. The headset comes in a nice box that is well made of a cardboard-like shock absorbing cradle. The unit is then wrapped in a plastic sleeve with the cable and manuals below. This lets me know that the manufacturer has taken pride and concern in its fit and finish as well as its travel to the consumers hands. I say this because I have noticed many knockoffs of Plantronics products just like you would with name brand clothing and purses on some online auction sites. The fact that they are making clones tells you that they are highly sought after for their value, reputation and performance. Knowing what to look for and what to expect from the real product and manufacturer for me is very important. So I look closely at everything that I am getting for my money. The headset comes with one of the stoutest USB cables for a headset, tablet or phone that I have seen yet. The unit works and fits exactly as advertised. Comfortable even while wearing it for an entire day. I spend a lot of time in Florida and the one thing that there is no shortage of is heat and rain. Caught in a rainstorm the other day I had to stay on the line with Roadside Service in a downpour but still put up the required reflective warning devices with only a cap on. The unit worked and continues to work without issue. I don't necessarily use the thickest gloves but they are still leather and bulky and I did not have issues using this headset. I do have something that I wish Plantronics would consider, and who knows if that will be or already is an available option, and that is the ability to answer or ignore a call using Verbal Commands. If the unit had it and if you didn't like that feature well then you could simply plug the USB cord into a computer and disable this feature much like on the Voyager Legend. But the ease of answering or declining a call via Voice Command would be great. Moving on to the microphone, the boom does not reach all the way across my mouth due to my size. To give you an idea I wear a 3xl motorcycle helmet and yet everyone I spoke with said my voice was loud and clear. This also allows me to bite into or drink something without having to move the mic. I have had this headset for a little over a week. I charged it only once since the unboxing. I work between 10-12 hours a day and I receive anywhere from 75-150 calls a day as an Operations Manager of a large Trucking and Construction Co and I use multiple phones with different operating systems. The unit runs both of my phones without issues and plays my music in between calls perfectly regardless of which phone I just hung up with. I even tried with my tablets which also use two different operating systems and a notebook with the same result. The music sounds good. They are not music headphones so don't expect a party. But they operate in a range that won't fatigue your ears from listening to music all day in between calls. The music volume is good but the voice volume is outstanding. No matter the noise in your cabin or the machinery loading your trailer or even if you are a machine operator yourself you will not be disappointed. The only reason I would go down to 4.5 stars was if it were certain that the voice commands would never be an option otherwise I am very impressed. I no longer am using 2 Legends to get through some of my busiest days. My Legends are now going to be used at headquarters and in the field but in my truck/mobile office the 104 is now my go to headset. Outstanding. [This review was collected as part of a promotion.]
Date published: 2018-04-19T00:00:00-04:00
Rated

5

out of

5
by
Manny35
from
Great sound and easy to adjust the mic and headset
I have had this headset for a little over a month now and I use it each time I drive which is about 45 mins in the morning and 45 in the evening. I have also used it on an extended trip which was 5 hours long.The headset over all is comfy on my head but the ear cushion is just a bit small. The padding is soft but I have avg to maybe a bit bigger ears and it ends up squishing my ears a bit more so I have to adjust my ears from time to time. The opposite support I believe needs to be broken in like a new pair of shoes. It started off feeling hard but in time it has gotten softer and has expanded to fit my head a bit better. The sound is pretty good. I am not audiophile but I do enjoy listening to music while I drive and this allows me to still hear sounds around me with my other ear. When on the freeway I do wish the sound was a bit louder but overall I can hear people talk to me just fine.The mic works pretty good. I ask the people I talk with to tell me if they can hear me ok and most say they hear me better with this headset. The mic can adjust which makes it easier to get it close to my mouth. Also I have used this on both ears which makes it easier to give an ear a break.My biggest concern with this mic setup is the cord that connects the headpiece to the rest of the earphone. It connects using an orange cable that I feel is a bit flimsy and can easily be pulled off. There is nothing covering it so I could see it being yanked on accident.All in all this is a great headset that I would recommend to anyone that wants to be able to talk in the car/truck and feel comfy doing so. [This review was collected as part of a promotion.]
Date published: 2018-05-16T00:00:00-04:00