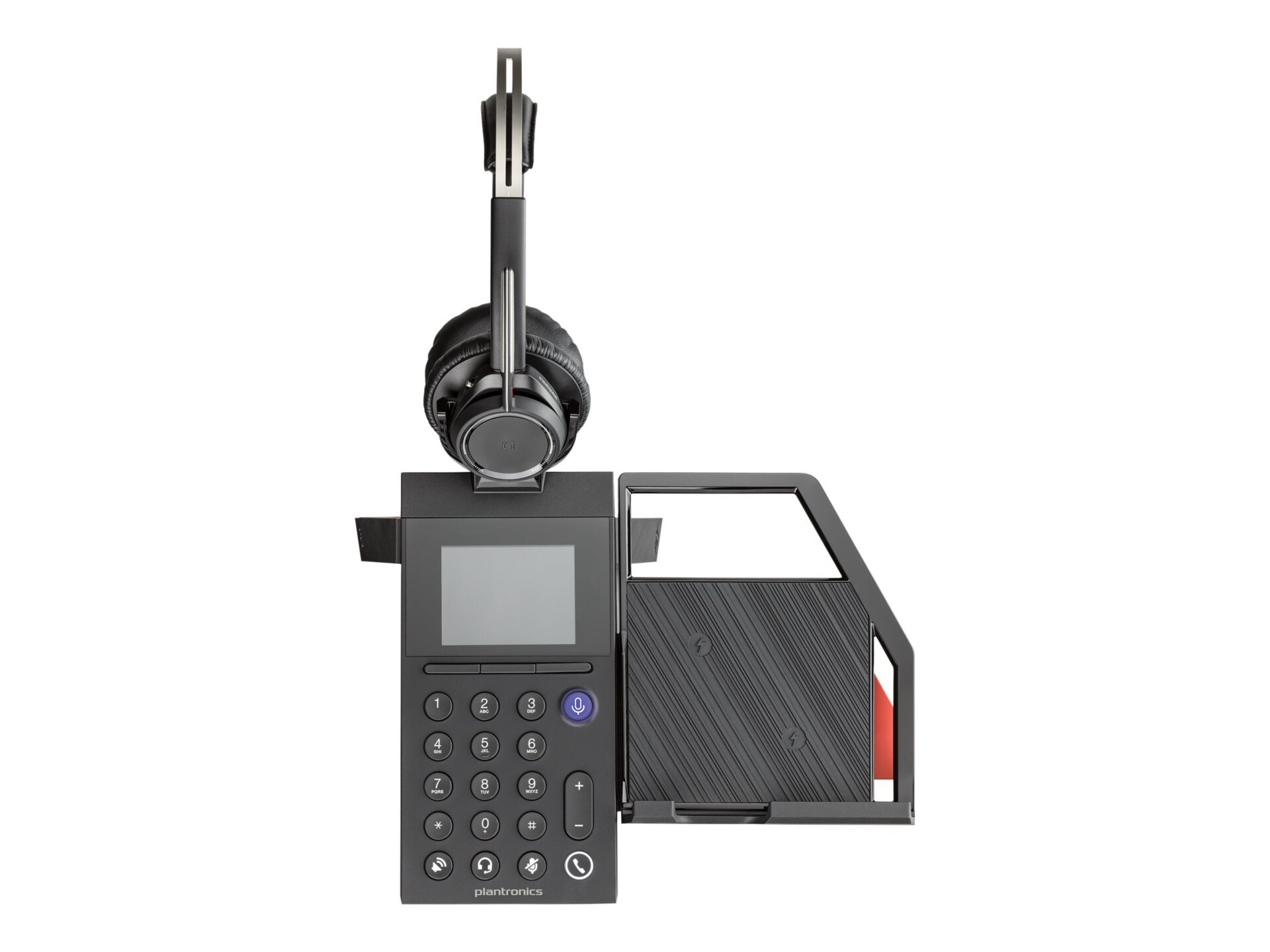 Quick tech specs
With Voyager Focus Headset
Wirelessly Stream Music or Media from Mobile Phone
Wireless Charging
Dedicated Microsoft Teams Voice Assistant Button
View All
Know your gear
The Plantronics Poly Elara 60 Mobile Phone Station turns each individual smartphone into a Microsoft Teams collaboration experience, with all the convenience and functionality of a desk phone. Wireless charging ensures smartphones are always ready to go. This phone station is equipped with a dedicated Microsoft Teams voice assistant button for enhanced usage.
Contact Sales Assistance
(800) 800-4239
,
Monday-Friday 7am-7:30pm CT
Poly Poly Elara 60 WS Mobile Phone Station with Voyager Headset
is rated
3.69
out of
5
by
16
.
Rated

5

out of

5
by
Andy M
from
Very Smart Idea
Ideal for small or tenant offices with no on site telephony or for home office working. Nice small footprint which provides both wireless & wired charging. Quick and easy set up and works with Poly & Teams Apps when downloaded, call quality is high with the Focus UC docked, music playback is slick with the media option, might be good to see messages displayed on the head unit also, downloaded the latest firmware today and its a little flaky but seems stable again now after a reboot or two.
Date published: 2019-08-15T00:00:00-04:00
Rated

5

out of

5
by
SPQR85
from
Poly Elara
I enjoy the simplicity and functionality of the product. For me, the buttons are not soft enough to press and require a good amount of effort to push. Also, the charging cradle cycles on and off alot leading to lots of pinging. Also the clock didn't change with daylight savings time.
Date published: 2019-11-08T00:00:00-05:00
Rated

5

out of

5
by
BKFL
from
Great concept, plenty of room to grow in features
So I've been excited to use this for quite a while. I was excited to try this out with my Focus. I set it up, linked it to my phone and was ready to go. This product is built well and I love the features, but it's not without it's limitations. I mistakenly thought it would be able to connect to UC through a computer/dock that will allow you to take calls through your computer, but it is only used through the phone... And only through Microsoft Teams. I have Skype on my phone but not Teams so I didn't get to use it like I was hoping to. It has a speaker phone built in which is a nice feature. I did have some issues with reconnecting with my phone when I stepped away. It does not automatically connect. I loved the wireless charging part though! I think it has great potential!
Date published: 2019-10-05T00:00:00-04:00
Rated

5

out of

5
by
Carlos858
from
Sleek, useful and inovative!
Wow! Is what I have to say about this product. The speaker connectivity is amazing, fast charging and really makes my Voyager headset much more useful and effective. I love the ability to go from phone use from outside of the office directly into speaker or headset. I found no hiccups along the way of installation and was the best product imaginable if you have a set of Voyager headphones.
Date published: 2019-10-05T00:00:00-04:00
Rated

5

out of

5
by
mfdsam 2
from
Terrific tech center to centralize comms
I received this product and was very pleased with the simplicity of the packing. I already had a UC Focus headset and loved the idea of having an integrated charger for both that headset as well as the wireless charger for my phone. Downloaded the app for my iPhone 8 Plus and was very quickly able to pair the Elara to my phone and it immediately picked up my UC Focus. The Teams integration has been terrific and I have found the dialpad integration for my iPhone has been a terrific convenience. The ONLY thing I wished I had was a speaker built into the Elara that allowed me to use it as a speakerphone.
Date published: 2019-09-30T00:00:00-04:00
Rated

5

out of

5
by
Schnauzerman
from
Great for a home office.
I have been sent this to try and rate by Plantronics. I have been using it since the day after I got it and like it a lot more than using my ear bud. It is very clear and the people I talk to are telling me it is like being in the same room while talking. It is very easy to pair with my phone and very easy to use the controls.
Date published: 2019-09-27T00:00:00-04:00
Rated

5

out of

5
by
BMoney
from
Great For Mobile Turned Desktop!
This is a great product if you aren't working through your desktop or company VoIP calling system. It makes it super convenient to switch to a desktop experience using your smartphone while working from home which I love. LOVE the charging pad for your smartphone as it is being used as well, just a bummer you have to take your phone case off to use.
Date published: 2019-09-25T00:00:00-04:00
Rated

5

out of

5
by
Bluetooth Addict
from
Home Office Cell Phone Desk System
I really wanted to line the Elara 60 Series phone system. I have been using the fantastic Plantronics Focus headset with my cell phones for many years and still think the Focus call quality and wear comfort blows away even the new advanced headsets coming out. When I found out Poly had created a desk phone system that would allow me to charge my cell phone and my headset while adding in some of the desk phone features I don't get in my home office I was really excited to try it out. As I set up the Elara 60 I notice that the design seemed a less solid and strong than what I have come to expect from Plantronics. I experienced no breakage but it felt like a drop off the desk could cause some serious damage. While I enjoyed the wireless cell charging, in both landscape and portrait orientation, as well as the integrated Focus headset charging, I was disappointed by the sound and call quality of the included speakerphone. On occasion it would be fantastic to take voice calls or conference calls over a very high quality speakerphone while at home. As I spent time testing the Elara 60 Series with calls to customers and colleagues my callers complained about both voice quality as well as a persistent voice echo. Without a high quality built in speakerphone this unit felt a little redundant in a home office environment where my cell phone contact list is used to dial almost every call. The Elara 60 Series may be more of a fit for someone that uses an office phone system for the majority of their week and on occasion spends some time in a home office. As someone that is a road warrior and is almost never in an office outside of the home I did not feel that the features and performance of this product would provide the value I associate with Plantronics/ Poly products.
Date published: 2019-09-23T00:00:00-04:00
Rated

5

out of

5
by
lsbarr
from
Convenient
This product is convenient for those who like to move about. Slightly bulky and is pricey, but is an excellent product. Voice/sound clarity is excellent.
Date published: 2019-09-23T00:00:00-04:00
Rated

5

out of

5
by
KenK
from
Nice product with one missing feature
I was excited about the opportunity to evaluate the new Elara 60. I've been using a Focus UC since its introduction and consider it the best headset I have ever owned. The addition of a physical keypad and wireless charging seemed like a great upgrade. Unfortunately, the addition of the new features was accompanied by the loss of a key function; the ability to stream audio from my computer. I tried pairing the headset to my Focus UC adapter but apparently it will only support two connections. Adding computer audio required disabling the Elara base. In the final analysis computer audio was more important to me than the Elara base functions so I reverted to my Focus UC. Elara 60 still delivers the great Focus audio experience. The keypad and display are an improvement over placing and answering calls on the device. The wireless charging dock makes it easy to keep your phone charged. Users who don't require computer audio will find it a useful addition to their desk. It just did not work for my headset application.
Date published: 2019-09-24T00:00:00-04:00
Rated

5

out of

5
by
BlackPr0
from
Holy Poly Elara! Batman has a collaboration tool?
I am a longtime fan of the Plantronics Voyager FOCUS UC headphones because every word of their description for these headphones is the truth: "Offers seamless connectivity to your PC or smartphone, and integration with leading UC applications Wireless range of up to 98 feet" Understanding the headphones and their capabilities I am asking myself "Why do I want or need the Poly Elara 60 Series unit?" and I have to really think about that. As a guy who supports a vast number users (1k+ of phone and collaboration tools I recognize the need for ease and intuitiveness of a workplace tool. So let's go thru the checklist of Pros and Cons: Pros Aesthetically a beautiful device for one's desk. It is simply a handsome unit. The screen is crisp and clear and the keyes are really clean looking. Single point charging station (wired and wireless phone charging and Voyager Focus UC headset ) 1) Headphone recharge station - it has got that covered with an attractive looking base that also charges your phone with wireless or corded charging. That is a super nice feature. No more losing separate phone chargers. 2) Works with Voyager Focus US headphones with built in charger and holder but not limited to an option handset or it is stated in the How To Video for the device that a USB hardwired headset would work. Well the USB headset that I had did NOT work with the unit I had so I am not sure if it is a version of the base or headphone that would allow me to use wired. 3) Speaker Sound Quality - probably one of the best sound speaker phones I have ever heard. No not an entertainment type quality of the various bluetooth speakers out on the market but crisp clear and a nice sound for a speaker phone. The sound controls are independent, so the base will amplify what it gets from the phone. This may be an issue if users don't know to turn the phone up on the phone sound controls. Neutral Collaboration I dont see how this item is a collaboration Although I am familiar to Teams I have not been able to test within the enterprise environment Cons Value - I don't understand where the value is to be truthful. Working in IT and understanding that if it isn't making you money it is an expenditure that gets highly scrutinized. I don't know if everyone in the environment would be privy to owning one of these. Using Plantronics Focus UC Headphones with incredible wireless range of 98' and sound but to connect to the base I haven't been able to extend the range. That is right it seems that the Plantronics proprietary dongle seems to work far better than the limitations of bluetooth. Which begs the question why not build that option in with bluetooth in general? Maybe because who is leaving their phone unattended while going to the break room for a coffee? #me Lets talk about Bluetooth here. My phone seemed to work better on bluetooth with the Plantronics Voyager Focus UC headphones than the Ply Elara 60 Series base. I noticed taht if I had ever connected the headphones to my phone and the phone connected to them first that it was not a good transition from headphones to base and back headphones....so in theory the equipment proved my point here.. what is the value of this base? Also I thought at the beginning I needed to install the Poly Elara app but you do not. Either way it does not improve or detract from performance. The only two things I noticed about installing the app was to update firmware on the base and headset and to run in the background to have a small icon displaying that you are connected. So in the end would I recommend this item? Well for executives who want a nice base unit for aesthetics yes but for everyday use I would need to see the specific scenario that would bring value.
Date published: 2019-09-22T00:00:00-04:00
Rated

5

out of

5
by
k3wl6uy
from
Must Have!!!
I am so spoiled to this... I have it paired to my cell phone and my laptop. I work from home so having the wireless freedom to be able to take calls comfortably and not have that "speaker phone background" noise on calls is great! I play my music with my music streaming app. The battery is excellent. The only thing I have a slight issue with is I have to remove my cell case for wireless charging to work. It's not a big concern, I've had to do this with some other wireless chargers too. Speaker Phone is great on this. I've asked callers and they can't tell when I have the base on speaker phone. Sound quality is superb! I also have two cell phones (one work and one personal. I am able to fit both on the stand which is extremely convenient. (Only one will charge at a time of course) Also in the picture I attached, I happened to click it right as the time was changing... The display looks perfect, no overlapping numbers or anything.
Date published: 2019-09-23T00:00:00-04:00
Rated

5

out of

5
by
Jeff R13
from
Excellent Cell Phone Base Station
The Poly Elara 60 was easy to configure and use. I particularly liked the ability to dial from the base station rather than having to use the phone. The headset had good music quality as well as handling voice calls. You can use the headset to pause your music as needed. It automatically pauses if you take off the headset. I couldn't find a way to skip to the next track, but that might be possible. The wireless charging pad is a nice touch, though it would not work through my wife's heavy Otterbox case. This is the perfect unit for someone who is on their phone quite a bit at home or work. The ability to listen to music or podcasts in between is a definite bonus.
Date published: 2019-09-23T00:00:00-04:00
Rated

5

out of

5
by
Steller1
from
Not what I would expect from Plantronics
I have used the Poly Elara 60 for a week. Unfortunately I find this device nothing more than a pretty cell phone stand. Cons - Does not sync your cell phone contacts Does not reconnect all the time when cell phone is moved away from base station Headset does not seemlessly connect from Poly to headset Pros Nice cell phone stand Nice headset charging base station
Date published: 2019-09-23T00:00:00-04:00
Rated

5

out of

5
by
nelsora
from
Elara Poly 60 Series
This was easy to use , once everything was setup .
Date published: 2019-09-23T00:00:00-04:00
Rated

5

out of

5
by
Brian S
from
Product Not What I Would Want
I am a heavy Plantronics user, however, this product doesn't do it for me I received this device as part of fanfare. I have used this device for a week. Cons - - Does not reconnect automatically with phone. Need to pair every time you step away - Does not store contacts - Does not seamlessly switch headphone between unit and phone -Not sure why I want to dial from keypad when I can push a button to dial from a screen Pros -Nice cell phone stand on my desk
Date published: 2019-09-20T00:00:00-04:00