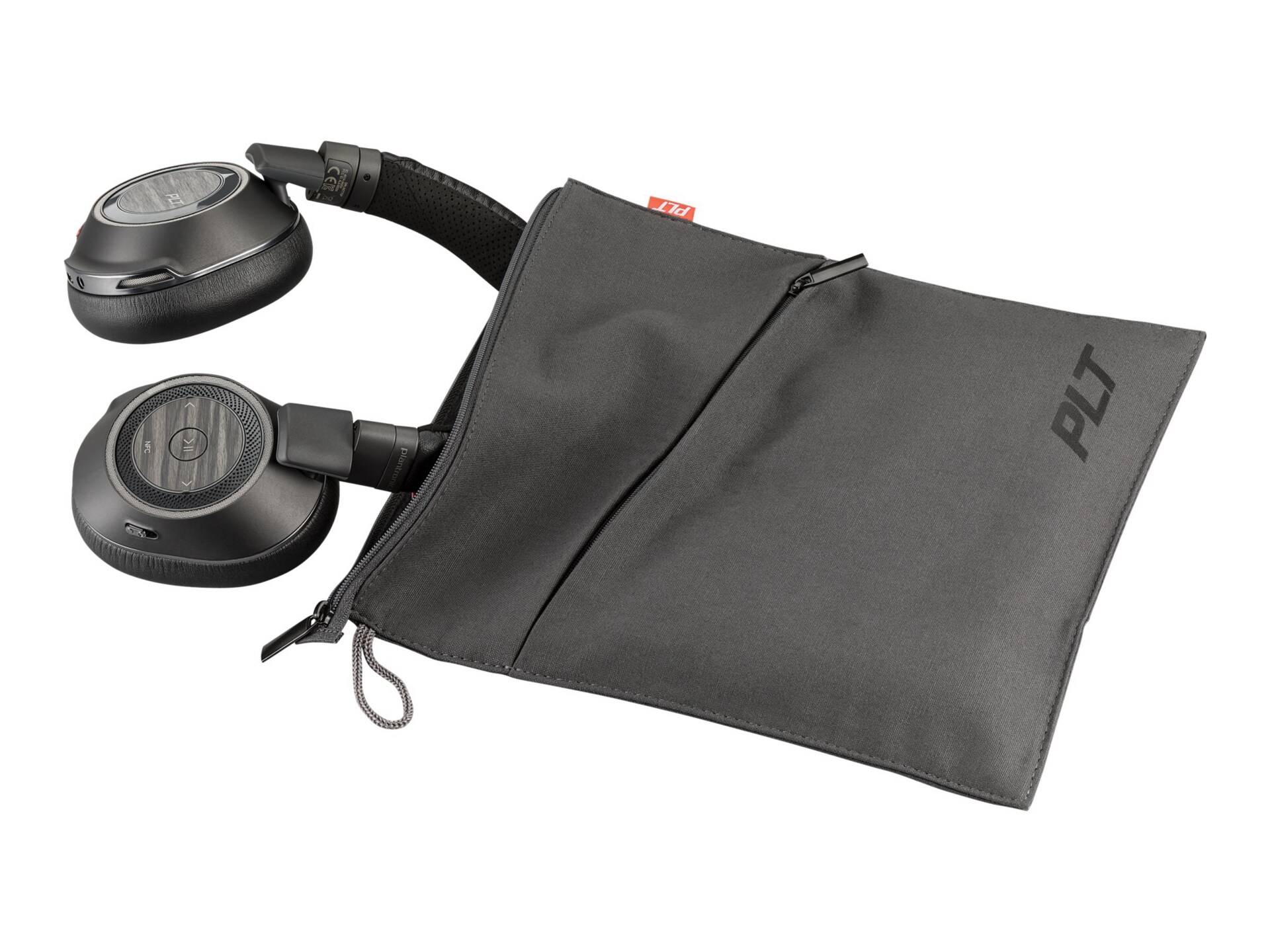 Quick tech specs
Headphones with mic
Bluetooth
NFC
3.5 mm jack
full size
wireless
active noise canceling
View All
Know your gear
Wherever work takes you, the Plantronics Voyager 8200 UC Bluetooth headset is ready to block background noise so you can concentrate on your work, your call or your playlist. Its contemporary, boomless design delivers comfort and style, while dual-paired microphones deliver Plantronics signature audio quality and clarity. Switch seamlessly from phone to laptop. By staying connected to two devices at once, you ll never miss a call. And with two levels of active noise canceling, 24 hours of listen-time and hi-fi stereo sound, Voyager 8200 UC helps you focus on the moment and leave distractions behind.
Poly Voyager 8200 UC - headphones with mic
is rated
5.00
out of
5
by
3
.
Rated

5

out of

5
by
Grey
from
Executive headset? Yes, please!
Full disclosure: Plantronics sent me a review headset.I've been using the 8220 now for about 2 or 3 months and it's been a pleasure to use. They feel very luxurious, from the leather, to the buttons and even the rubber-like coating for the plastic. Everything is high quality in the hands. The fit and finish are just as brilliant as the sound quality, which puts my Bose QC15 headset to shame, especially when you consider how the Bose can eat batteries like a rabbit going through dandelions. I've used the 8220 for gaming, and even though there's boom mic, everyone has heard me without issue, and most thought there was improvement over the Bose, or the Focus UC, which sounded tinny. The sound attenuation on the mic is incredibly impressive, given that they're on the ear and not a separate piece. The noise cancellation on the mic completely eliminated the fan noise from a Dell 2950!Speaking of noise cancellation, the ANC is able to also eliminate that same fan noise when you're in the same room. I found that the mic inputs for the ANC did get an audible pressure wave effect when they were directly faced at the server, however, and this resulted in something approaching a painful bass effect as the headphones were forced in to an extreme situation. Something similar could occur on an airplane, though I didn't have a chance to test.Overall, the 8220 UC works great for Skype, Cisco Communicator, and cell phones, managing to listen to music and handle call switching out without issue. They're relatively lightweight, and the battery seems to last around 20 hours with the ANC turned on. They come with a wire jack, so you can plug directly in to older devices, too. This is definitely a top-end, executive headset and great for gaming, or just listening to music.
Date published: 2017-12-09T00:00:00-05:00
Rated

5

out of

5
by
SW-Desperado
from
null
As with other reviewers, I received one of these promo units but I immediately purchased another one (not the cheapest headsets for sure)... read my full review here... https://a2zwithadhd.com/2018/07/07/plantronics-scores-again/The Voyager 8200 has all the bells and whistles that you would anticipate I would require with my discerning style and taste… or whining entitled geekiness.Do you want multi-level Active Noise Cancelling technology? You got it.Do you want crazy long battery life? This thing charges in a few hours, lets me talk and listen to Love Shack and Steppenwolf for almost a full day and if I leave it turned on it seems to last for days on end in standby mode.Want range? I can walk anywhere in my 4-level split without losing a signal. I could never do that with my Voyager Legend or Focus. I have actually been meaning to test how far I could listen from my office into my backyard.Want Smart Sensor technology? The same tech that Plantronics uses to automatically answer calls when you put the headset on, or pause audio from your favorite audiobook when you take them off, is here again and working fantastically.Multi-point? Yes, you can connect and answer two phones if you happen to require this… big bonus if you have a work and personal cell phone.Don't have bluetooth on your laptop? Order the product with the UC in the model (Universal Communications) and plug the USB key into your laptop… or use the Micro-USB cable or 3.5mm audio cable that are supplied with both models or readily available on nearly every desk in the country.Do you need advanced audio control? You can start, pause, skip forward and back and adjust volume of all streaming audio.Probably my favorite feature, because I use it so often, it's what Plantronics calls "dynamic mute alert". When I dial into a conference call, I typically mute myself so that I can tell my kids to shut up, convince the dog to stop barking at the neighbor, or yell at the cat until it stops using my dry cleaning as a scratching post. If I am sitting there listening, as I often do, with no plan to add any comments, something almost always happens… I end up wanting to add my comments.That is when my phone, hearing my voice, reminds me that the mute is on. The fact that I get this notification before I say everything I am going to regret while on mute, has allowed me to instantly regret so many more things I have said on conference calls which allows me to assume so much additional work that my life doesn't allow me to do the things I love most… like writing this review.
Date published: 2018-07-07T00:00:00-04:00
Rated

5

out of

5
by
ITcrackerjack
from
Great Headset, Great Headphones, or Both?
*Disclaimer: I received this in exchange for an honest review. They truly wanted my feedback. Also why I can't make many claims as to value.For years, Plantronics has been know for making great headsets. Crystal clear microphone sound as well as light, comfortable, and good battery life. I've had my share of them. When you look at their marketing page for the 8200 UC, this is just another in a long line of quality headsets. But it doesn't tell the whole story.The Headset:As a headset, this does NOT disappoint. The microphone "beaming" is exactly what you'd expect from a great headset. Standing next to a fan or a weedwacker and the person on the other end can't even hear it. Haven't tried them in a busy room though.The Electronics:Being bluetooth enabled means you're not tethered. The range on these is the best I've seen in a bluetooth device. I easily went over 80' in my house (with 4 walls in between). I'm sure it could go further as I experienced no disconnect.ANC (active noise cancelling). This is my first foray into the realm of active noise cancelling so I have nothing to compare it to. However, I am very impressed with this implementation. The ear pads and construction already lend themselves to a decent amount of passing noise cancelling, but with the 2 levels of ANC, you can customize it to your preference. I tested it in from of a fan and it does eliminate the majority (70% maybe) of the sound from the fan (almost completely the low frequencies). As I've read elsewhere though, when turning on the ANC in a relatively quiet environment, there is the sensation of altitude pressure on the ears.The Headphones:I'll be honest, I had pretty low expectations for these headphones. I've got a pair of Yamaha Pro 400 headphones which sound fantastic and didn't think much else could match them for sound quality in the same price range. Plantronics is known for their headsets after all and is not really in the industry of hi-fi speakers. Well, I was surprised! As headphones, these sound absolutely amazing! As an audio fanatic (but not quite a audiophile), these are my new go-to headphones. They have a pleasantly flat frequency response with a touch of a warm tone. There is solid, well defined bass without being too pronounced (they're no Beats, which I very much dislike). The mids are strong and clear while the highs are very present, but less bright than some giving them that ever-so-slightly warm tone.Comfort:If this device didn't stand out already, this just adds to their shine. I've worn these for 3 hours at once and there was NO fatigue. The weight is slightly more than my Yamahas (which I'd expect having electronics in them). However, the head and ear padding is amongst the most comfortable I've ever worn.Configurability:When connected using the app (Android, iOS, Windows, Mac), you can configure a LOT of settings like call notifications, auto pausing, hearing protection, and MANY more. You can fine tune it to how your process works. The defaults are very good, however.
Date published: 2017-09-17T00:00:00-04:00