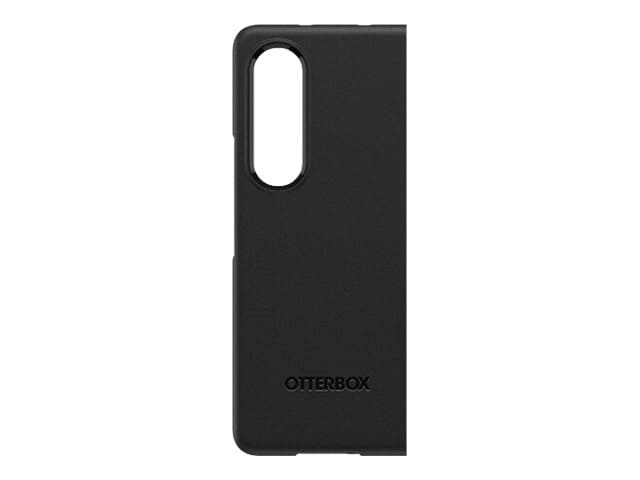 Quick tech specs
Back cover for cell phone
synthetic rubber
black
polycarbonate
90% recycled plastic
for Samsung Galaxy Z Fold3 5G
View All
Know your gear
Thin Flex Series is the sustainable way to protect foldable phones wherever work or learning takes you. Made from recycled plastic, this thin Galaxy Z Fold3 5G case features antimicrobial technology and is drop tested to meet military standards. Its precision design ensures access to all phone features.
OtterBox Thin Flex Series - back cover for cell phone
is rated
1.71
out of
5
by
21
.
Rated

5

out of

5
by
alex
from
HUGE DISAPPOINTMENT
I work at a cell phone store I have two phone always get otterbox for both my devicex,this case is very slippery and not very protective against drops,plus it's IMPOSSIBLE to take the back part off. i literally cracked mine taking it off,obvioulsy didnt use it so i threw it away tried filing a claim and they asked for a picture of the case which i dont have anymore and when i replied with my reipect i got no responnse so i basically lost 60 bucks.
Date published: 2022-03-12T00:00:00-05:00
Rated

5

out of

5
by
HoPpEr
from
Can't remove back cover
back cover is hard to remove, it cant lift up enough to remove from camera lip
Date published: 2021-09-10T00:00:00-04:00
Rated

5

out of

5
by
Beth hall
from
First otter box disappointment
Very cheap plastic ... doesnt stay on ....no lip to protect screen.
Date published: 2022-02-25T00:00:00-05:00
Rated

5

out of

5
by
Intalleyvision
from
Sorry, but don't buy this case
Ok, this case seems great at first. The texture is nice, the holes line up fine, and it makes your phone feel protected without adding to much thickness- something I was afraid of when buying this already bulky device. The problem is the front half of the case... It just will not stay on. It flexes and creaks and clicks against your screen, and it inevitably starts sliding off whenever you put it in your pocket. I'm currently trying to return it, but unlike other cases I tried, I cannot get the back half off my phone. My suggestion: look at adhesive backings like some of your competitors have. You'd have a winning design if you could fix the issues with the loose front.
Date published: 2021-09-04T00:00:00-04:00
Rated

5

out of

5
by
Eric G
from
Well....
I have purchased Otterbox for my last 8 devices. Their quality is unmatched. However, this case just missed the mark for me. The front piece of the case would not stay in place. I have to keep pushing it back in place and the case eventually scratched up the stock screen protector. I had hoped to keep this screen protector in place but will have to replace it now. I understand that Otterbox recognized the issues and gave a refund. I respect the company for that. I will continue to purchase Otterbox. Just not for the Fold device.
Date published: 2021-09-15T00:00:00-04:00
Rated

5

out of

5
by
7 W S
from
Needs to have a rubber case and clip
I have always had ever phone I own in a Otter box and its rubber like case for shock protection works well. This new case doesn't have any of its features to helpl save it from damage.Please redesign the case
Date published: 2021-11-06T00:00:00-04:00
Rated

5

out of

5
by
ChillBeloved
from
Decent
Great case, especially with having to fold the phone, its a great design and isn't hard to install. My only gripe with it, is that the top part of the case, CONTINUOUSLY slides off of the phone, no matter how hard I lock it into place. I'll be using my phone, and it slides partially off, and messes up my grip on the phone. Other than that, the case is perfect
Date published: 2021-09-03T00:00:00-04:00
Rated

5

out of

5
by
AVAV
from
No protection or grip
I thought this would be a little rubbery, have some kind of shock protection. It's a slippery thin plastic case that will not protect the expensive phone. In fact, I'm concerned just the process of snapping it on or off the phone will scratch the phone. With this case on the phone, your phone will slide off of any surface with ease. The color is not very pretty, better than black I guess. Disappointed all around. Overpriced as well.
Date published: 2021-08-24T00:00:00-04:00
Rated

5

out of

5
by
Alex
from
Doesn't protect the phone
Aways had otterbox cases, but this case is terrible. Front piece doesn't stay on, there's no protection for the hinge or the screen. I replaced with a VRS case that covers the hinge and doesn't require adhesive to stay on. Really weak effort by Otterbox for an $1800 phone.
Date published: 2021-12-09T00:00:00-05:00
Rated

5

out of

5
by
Kenny
from
Pretty good
This case is about what I expected. Just two completely plastic pieces you snap onto your phone. I don't have a problem with the front slipping off even though it doesn't come with adhesives(they should have included optional ones at the very least. There is a tiny but noticeable amount of flex/play when you pull and push the case open and closed but it doesn't slide at all in my limited experience. Unfortunately snapping the phone closed is no longer satisfying with these two plastic pieces smacking together. Maybe some other texture there would make it feel nicer? Not sure how spigen any other cases handled this or if anyone else even cared. This case is the perfect amount of thickness for me. Too thin and the phone will wobble on the table(I like to write and draw)because of the camera bump. Too thick and the phone will harder to handle as it's already twice as thick as a normal phone.
Date published: 2021-09-07T00:00:00-04:00
Rated

5

out of

5
by
Lita
from
Love the color but....
Just got email for refund on this case as it doesn't adhere to the side that has the screen. It slips right off. Was going to call about it but hadn't had time. It's a good case minus the defective side.
Date published: 2021-09-09T00:00:00-04:00
Rated

5

out of

5
by
Sammy
from
Super slippery don't buy
Solid case but it's super slippery back slips out anywhere you put it.
Date published: 2021-12-10T00:00:00-05:00
Rated

5

out of

5
by
Bhowell
from
Good with one flaw
The front piece comes off very easy for it to be a protective casem
Date published: 2022-02-18T00:00:00-05:00
Rated

5

out of

5
by
AshAsh
from
Mediocre purchase
Front cover piece constantly slides off. Other than that case is okay.
Date published: 2021-09-12T00:00:00-04:00
Rated

5

out of

5
by
Bennett
from
Won't stay on snapped in pocket
The front piece wouldn't stay on and eventually snapped in my pocket
Date published: 2021-10-07T00:00:00-04:00
Rated

5

out of

5
by
Jigsaw
from
Terrible
This case is very slippery, wouldn't trust putting a almost 2000$ phone in it at all. Returned without even putting it on my phone
Date published: 2021-09-04T00:00:00-04:00
Rated

5

out of

5
by
Devious
from
Not impressed
Case is to thin. Would not recommend it at all. It needs to have some kind of protection for the hinge. Thats where my breaks have occurred and cracked ALL the screens on my phone. Look forward to maybe you all upgrading the case in the future.
Date published: 2022-06-17T00:00:00-04:00
Rated

5

out of

5
by
Jonathan J
from
Must Have
The case is sleek and fits perfectly. Has protected against two minor drops this far. Dust does collect a tiny bit under the case, but the case can be takrn on and off carefully.
Date published: 2022-04-10T00:00:00-04:00
Rated

5

out of

5
by
Stacy
from
Such a disappointment
First of all, I have always order OtterBox because it has protected us without fail until I ordered this case. And I mean for years, but this case failed me miserably. Besides the fact that the "face" or front piece slides around all the time, it failed when the phone was dropped. I lost some of the electronics for the inside screen. Besides paying 1800 for the phone, I am now paying my 499 insurance deductible for a replacement. Such an expensive drop when I thought I was taken care of. None of us go without a good, quality case because we know better. Now I feel like I have to question Otterbox's products. Granted this is a difficult phone to cover so don't make one if you cannot stand behind it. Now you want our suggestions for the design team? Here it is: go back to the drawing board but are you going to do anything else to back your product and win me back as a customer in the future? Probably not. Loved you in the past but thoroughly disappointed, Otterbox.
Date published: 2022-06-02T00:00:00-04:00
Rated

5

out of

5
by
Laura
from
Not a snug fit, thanking about returning.
One part of the case does not stay on the phone. I've never experienced this laxk of quality from otterbox becore. Would NOT recommend.
Date published: 2022-03-26T00:00:00-04:00
Rated

5

out of

5
by
Kristen
from
Not very durable!
It's very thin and not very protective. It doesn't cover the whole phone!!
Date published: 2022-04-15T00:00:00-04:00