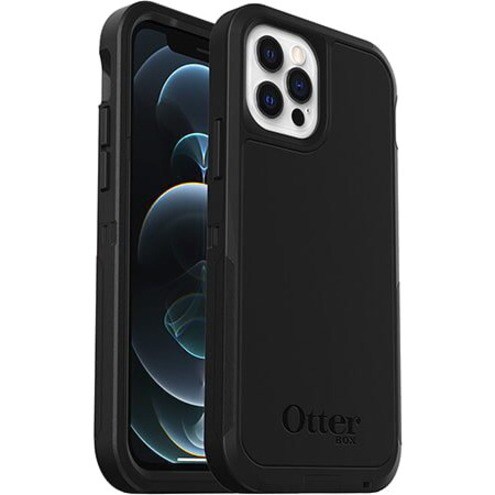 Quick tech specs
Back cover for cell phone
synthetic rubber
for Apple iPhone 12
polycarbonate
black
12 Pro
View All
Know your gear
Get legendary phone protection from a sleek case designed to work with Apple's MagSafesystem. Defender Series XT is a streamlined version of the classic. Even though it's trimmed down in size, we increased its drop protection. Everything rugged and reliable in phone protection is woven throughout this thin case. The premium rugged design displays clean lines with a comfortable grip that guards your phone against serious drops, dirt, scrapes and bumps. Plus, the raised edge offers added camera and screen defense. Ready for anything, OtterBox's best defense just got better -Defender Series XT.
OtterBox Defender Series XT with MagSafe - back cover for cell phone
is rated
3.87
out of
5
by
54
.
Rated

5

out of

5
by
tchrmark
from
Had to pay extra for a free clip!
The buttons on the side are a bit stiff but workable. Biggest complaint is that I was nicked for the belt clip attachment to for about paying a separate charge and only later finding out it would be sent free if I had known to apply separately.
Date published: 2022-02-17T00:00:00-05:00
Rated

5

out of

5
by
Thanks for nothing
from
Defender case no longer fully enclosed? not happy.
When I bought my iPhone there was limited supply of cases so I bought a symmetry locally- as some protection was better than none- knowing that as soon as a defender was available I would upgrade for full phone protection. Everybody knows that the defender was the top dog in protection being fully encased which is what I require so I was completely unimpressed when I received my defender only to find it's no longer enclosed. This new version is of no more beneficial to me than my symmetry as it does nothing to protect my $1000 investment from getting sandblasting sand and grinding dust in my phone when my it's in my work environment with me. There is zero protection if it falls face down in my workshop where there is stuff on the ground (or on pavement for that matter the phone will be toast- so really a defender is a complete waste of my money. Thanks for nothing.
Date published: 2022-02-15T00:00:00-05:00
Rated

5

out of

5
by
Karl
from
Protection meets Function
This case is PERFECT for me. I am not the typical customer for Defender series cases but that is why I did not purchase the Defender case for this phone. I wanted protection from drops without a screen protector and I wanted the magnetic charger to work with this phone. All boxes checked here. It feels solid and durable while still allowing me to get full use out of the phone. My only request would be for some kind of silicon add on that would fit into the square recess for the camera. Something that would allow me to get full protection for my camera lenses when I know I won't be taking a picture but that I could remove easily if I needed to. Other than that, I'm grateful this product exists! I will be looking for this model for all future iPhones I purchase.
Date published: 2022-01-12T00:00:00-05:00
Rated

5

out of

5
by
Wink
from
Best Purchase ever
Love my IPhone case best case ever everyone should have one to protect their phone
Date published: 2021-01-30T00:00:00-05:00
Rated

5

out of

5
by
Blac
from
Great combo protection and magsafe
Enjoying my purchase, great case for everyday adventures
Date published: 2021-01-12T00:00:00-05:00
Rated

5

out of

5
by
Gunnyomaticz
from
Slimmest protection ever
I loved my old Commuter line Otterbox case. When I upgraded to an iPhone 12 and noticed the Commuter line did not include all of the MagSafe features, I thought I would have to look elsewhere. I was very pleased to realize that the new Defender XT did include these features. Not only did it include the MagSafe features, but it is also thinner than my old Commuter case.
Date published: 2021-01-17T00:00:00-05:00
Rated

5

out of

5
by
maryannc777
from
Hopefully good at protecting
I bought the Otterbox case for its reputation of sturdiness, and since I spent a lot of money on the phone I felt it was worth the investment to get a good case. Plus its compatibility to MagSafe was a factor as well and definitely its slimmer design. There are a couple things about it that I would have preferred to be otherwise: - The beveled edges feel a bit uncomfortable; would prefer something with a softer feel. Perhaps just even rounding those edges a little. - The case is surprisingly slip-prone. For example, if I put the phone on top of my closed laptop and I carry it in a horizontal position from my living room to my home office, the phone will easily slide if it's even slightly off horizontal. I thought the bit of rubbery edge on half of the case's rim might prevent that but it doesn't seem to. And just this morning I had the phone face down on my nightstand and when I went to grab it it slid too easily; almost pushing it off the night. At least when laying on its back its not as slippery as face down. Perhaps a material that's a little more rubbery would help that. So would I recommend it to a friend? I would tell them I feel comfortable and hopeful that the case lives up to its company's reputation of product protection which is an important factor for me, but that there are a couple ergonomic factors to consider.
Date published: 2021-02-18T00:00:00-05:00
Rated

5

out of

5
by
Dylan
from
Great case!
I bought this case because I wanted protection but I also wanted MagSafe. The MagSafe works perfect! The front is also very protected. Just be aware that the back cameras are basically flush with the case so there is not much protection for the cameras, but that's there so they could add MagSafe and it still be effective. Also just know if you like your case's looks, this case is probably not for you because the back scratches up very easily when using MagSafe. Also the case comes with a little paper with a code on it to order the belt clip so be careful and don't through it away.
Date published: 2021-03-06T00:00:00-05:00
Rated

5

out of

5
by
Rocky
from
Mostly Pros (A Few Cons)
This case is super protective, just as always! It's also been streamlined significantly. Less bulk, less weight, slimmer profile... with all of the same protection! A few small things... This case is much slicker than my previous Defender. It's a bit harder to hold, and I've definitely dropped it a few more times than usual. I guess that's just me subconsciously tested out the protection! Lastly, man is this thing tough to take on and off. I don't do it often, but it is a complete pain! I still wouldn't trade it for any other case. Otterbox Defenders are still the absolute best on the market.
Date published: 2021-02-26T00:00:00-05:00
Rated

5

out of

5
by
mngerbs
from
Great Case with protection
I purchased this case to protect my new 12 pro because of my previous Otter box experience. Prior to this I had an iphone 6 which was encased in an Otter box from new. It sustained many drops yet continued to protect and is still serviceable. This new Defender Series XT case has a slimmer profile making it very nice to hold and use yet retaining the protection. I use a holster thus this slimmer profile makes it easier to re-insert into it one handed. It's a great case and good value for the money
Date published: 2021-03-22T00:00:00-04:00
Rated

5

out of

5
by
Deflopper
from
Defender, Compromised
This Defender is the first OtterBox product that does not give me confidence in its ability to protect my four-figure investment. (Context - Defender user exclusively from 3GS through 12 = eleven different models My first concern was with how slim the case was. I expect three parts: two hard plastic shells that clamp together to secure the phone, plus a soft rubbery cover that can absorb shock. All together, these have protected my phones from absurd accidents. The new 12 Pro OBD XT is two pieces: one with a hard back and rubbery sides, plus a hard lip that secures the phone into the back. The rubber and plastic are flush with each other and afford a reassuring gap above the screen, but it was hard to believe drop protection could be as robust. So, I wrote OtterBox, and soon heard back: "Please be assured that the new design of the DEFENDER series XT with MagSafe is just as good, if not better then the original design of the DEFENDER series cases. We have extensively tested this new design, and are very happy with the results. I apologize that we do not publish the test results to the general public, for company confidentiality reasons." Okay, maybe it will protect against drops, which will happen given it's more slippery and I buy these expensive Defenders for that reason alone—I don't want the thinner Otterbox cases, I want the big chonker that lets me resell my phone as Like New every time even after a year of use. No AppleCare+, no scratches, no cracks, mint condition—that's why I buy OB Defenders. Here's the absolute dealbreaker: Zero out of the three very expensive cameras on my phone are well protected by this new design. I normally worry about dropping my phone butter (screen) side down on any surface that's not very smooth. Think asphalt, which has small rocks stuck together, some of which protrude more than others surrounding them. With this case, a screen-face-down drop on asphalt is unlikely to cause a scratch. But as shown in the photo, there is less than a one millimeter gap between the back of the case and the camera lenses. I am asking OtterBox for a recommendation on a bumper I can add to the camera cutout so I can keep this case, trusting their promise of confidential data regarding drop tests. Without additional protection for the cameras, I can't take this thing into the wild. I'm glad it's so much thinner, but there are a million cases on the market that do thin & attractive well. I come to you because you perfected protection. Please, when designing at least one case in your arsenal, keep in mind the worrywarts like me who can't afford to shatter or scratch up their digital lifeline—without sacrificing one of the few new features, MagSafe charging. Thank you!
Date published: 2021-03-08T00:00:00-05:00
Rated

5

out of

5
by
Luna_love
from
Hreat
Is working well for my phone. Bought for the color and the magsafe
Date published: 2021-04-12T00:00:00-04:00
Rated

5

out of

5
by
alyssap
from
Not Great
I bought this case a few days ago and it just came in today. I would like to say my initial reaction was good but that is not the "case." I purchased the Brown/blue color and this was not your typical defender case. It is not the 3 piece that we are used to by now, it just slipped onto the phone. It also did not have the rubber material that a defender typically has, the back is a harder plastic and is slippery. In regards to protection, if you were to drop the phone face down it would probably be fine but on the back side the camera has ZERO protection, you can hardly tell the case raises above the camera. I wanted so badly to like this case because I loved the colors, but I do not want to sacrifice the otterbox I have known and loved for years. Needless to say I will be returning the case.
Date published: 2021-03-27T00:00:00-04:00
Rated

5

out of

5
by
brexx7
from
Good but could be better
I love this case, the only downfall is that there is no raised edge to protect the camera lens. If I set my phone down with the screen up then I run the risk of my camera lens being messed up.
Date published: 2021-05-01T00:00:00-04:00
Rated

5

out of

5
by
DanielC
from
Very nice case, but different than previous
The fit and finish are excellent, as always. My two issues are: 1 the instructions were unclear -- they appeared to show it needed to be partially disassembled to install the case. On the iPhone 12 Pro, disassembly is not needed. It had a note about a curved edge screen -- I'm not sure if my phone does or doesn't -- it would be better to state some of the phones specifically. Also, while nice looking, the plastic on the back is thin (presumably to support MagSafe) and more slippery than the rubberized predecessor. So, I'm nervous it might slip out of my hands. So far, no issues, however.
Date published: 2021-04-30T00:00:00-04:00
Rated

5

out of

5
by
MarthaR
from
Attractive protection for IPhone 12pro
So many of the most protective cases for my new IPhone 12 Pro were clunky black things. I have the blue iPhone and this teal otterbox looks great on it. It is slim but very highly rated for protecting my phone
Date published: 2021-05-20T00:00:00-04:00
Rated

5

out of

5
by
Nurse Chrissy
from
Don't put it in ur purse w magnetic closure
I put it in my purse, small shoulder bag with a magnetic snap closure front slot. Well after a few days I notice the case had a mark. The plastic case was now shiny and tooled soiled. Turns out it was EXACTLY where is was touching the little metal snap of one side magnetic closure. Who knows if it was conducting a circuit and could've caught fire? But the case got warm enough to melt and then cooled shiny. I hope my brand new phone isn't damaged or the battery.
Date published: 2021-05-17T00:00:00-04:00
Rated

5

out of

5
by
Mike
from
I do like the quality of the otter box cases.
I do like the otter box cases. They are quality and perform. This one is a fun color. Previous I had black. I like the feel better than just the iPhone 12. It was just too light and slippery.
Date published: 2021-05-10T00:00:00-04:00
Rated

5

out of

5
by
DadInCO
from
Excellent balance
The Defender cases of old were extremely thick. These are acceptably thin (not as thin as Symmetry, but still highly protective. Also, it works seamlessly with the Magsafe charger.
Date published: 2021-07-08T00:00:00-04:00
Rated

5

out of

5
by
chinquapinn
from
good so far
Like the new slimmer design for Defender and love the autumn/lake color .
Date published: 2021-06-05T00:00:00-04:00
Rated

5

out of

5
by
Disgruntled customer
from
Indefensible engineering shortsightedness
Purchased the Defender XT case to replace a Defender Pro case because it was compatible with the iphone 12 magsafe. Plus the Defender Pro case trim around the camera aperture was starting to fray and peel up after less than 12 months of service. The Otterbox website does not list the holster as an accessory for the XT and the XT is not compatible with the Pro holster. I consider it to be very poor engineering to not have a standardized holster to fit the Defender line of cases. I also find the website poorly configured when it does not show the holster as an accessory option for the case. One has to specifically search for the XT holster. Poor engineering and poor marketing, Otterbox should do better especially for the prices charged.
Date published: 2021-06-05T00:00:00-04:00
Rated

5

out of

5
by
Sandy
from
Good Purchase
Great case does the job but there needs to be more color choices
Date published: 2021-06-30T00:00:00-04:00
Rated

5

out of

5
by
Froze
from
Great case, Poor camera protection
Let me first say this case feels great and I like the overall size and protection it offers for the iPhone… BUT the amount of protection offered for the cameras is something to laugh at… after buying the 70$ case I didn't notice the camera protection issue till days later and I'm sure I will be purchasing a different case, overall nice feeling and size case but fell VERY short on camera protection in my opinion
Date published: 2021-06-30T00:00:00-04:00
Rated

5

out of

5
by
Mark
from
Good product
I bought this to work with mag-safe chargers. But it didn't fit well in the holster that came with my non series XT case. Now that I purchased the series XT holster, I'm happy.
Date published: 2021-06-24T00:00:00-04:00
Rated

5

out of

5
by
Jadie
from
Best Case I've had so far
I'm a very very very clumsy person. I had an otter box clear glitter case before this one, and chunks were chipped off, the sides bulged out, and the case was quite frankly on its last vestiges of life. I had that case for 6 months, had dropped it on concrete repeatedly, and felt I needed a more secure case (since my back camera still broke with that one). Incoming this case, I've had it for a month and a very tiny chip was fallen from the back of the case alongside numerous hairline scratches on the case from my clumsiness. Based on my track record it has been doing amazingly well in holding up so far, I'm optimistic I'll get at least a year or so out of this case before my clumsy recklessness becomes it's undoing. Worth the investment, and I love the MagSafe aspect of this case.
Date published: 2021-06-25T00:00:00-04:00
Rated

5

out of

5
by
wvan1894
from
Wireless Charging
This case has increased my charging time by at least 50% than without a case
Date published: 2021-07-10T00:00:00-04:00
Rated

5

out of

5
by
Ovation49
from
Great Case
I drop my phone all of the time. It is actually pretty sad how often my phone gets thrown to the ground. This case is great. It has enough texture on the phone so it doesn't slip out of my hand, but not too much where it is a pain to slide in my pocket. I feel like I don't even need to say that the case does a fabulous job protecting the phone...it does. I also added the wallet/pop socket to the back. The MagSafe is great. The wallet is really secure. However, if you drop it...the wallet will pop off (obviously because it is held on by a magnet.
Date published: 2021-07-14T00:00:00-04:00
Rated

5

out of

5
by
Rdcw
from
Not the same
I thought it was going to be thicker like my last one. It ok
Date published: 2021-04-21T00:00:00-04:00
Rated

5

out of

5
by
Labob
from
Better than I thought
I'm a huge otter box fan. since adulthood, I made sure to buy one for every phone I got. This upgrade was no different. I was looking for one with a screen protector, but this one does just fine with it's raised edges (and I'm a HUGE cluts!!.
Date published: 2021-05-27T00:00:00-04:00
Rated

5

out of

5
by
Not pleased
from
Not what I expected
I have always had a defender case on my iPhones. I thought a newer, updated Defender case that was a little slimmer would be great. I was wrong. It is slimmer, though at the expense of being made from a slippery hard plastic on the back which does not appear to provide the same protection as the previous Defender case system. Considering the fact it is more expensive than the "standard" Defender case, I incorrectly assumed it was a better product...wrong! My fault for not researching better, so I ordered the standard Defender case and I am now happy.
Date published: 2021-05-31T00:00:00-04:00
Rated

5

out of

5
by
Rm53
from
Not that great
I bought this phone case because I have always had an otterbox phone case (usually the normal defender and wanted a case that supports apples mag safe system. I ordered this case knowing it was going to be inferior to the otterbox defender or defender pro but I did not think it would be as bad as it is. The back plastic is very slippery, it slides off of my leg when I use it as a gps and slips out of your hand easily. The camera is poorly protected, the charging port rubber flap broke off after two months of use (and that was with exclusively charging my phone on my wireless charger and only using my charge port as an aux cord for my car), the power button rubber is half peeled off after only 4 months of ownership, the plastic scratches and gouges easily, and the mute switch is very hard to toggle. Had otterbox have used a more rubberized back and used more durable rubber like what the defender uses, and put a dust protector on the mute switch, I would be more satisfied with my phone case. My phone lives a rough life as I work in construction and this phone case is not up to the task. If I had a desk job maybe I could deal with its negative traits. This case does have a few positive traits however; mag safe works flawlessly with this case, it protects my phone from drops good but takes some damage in the process, and it is easier than the older defenders to tale out of my pocket. I really love my wireless charger but I will not risk my 1000 dollar phones integrity to use it and therefore am buying a defender pro like I should have to begin with.
Date published: 2021-06-15T00:00:00-04:00
Rated

5

out of

5
by
Sunshine1
from
Good product
I had to buy a new Otter Box as my old phone broke. That old Otter Box was still fine, but didn't fit my new phone. The new one is lower quality, but seems to protect the phone fine. The color is ok, would have preferred a prettier purple color. Overall, it does the job.
Date published: 2021-06-12T00:00:00-04:00
Rated

5

out of

5
by
Sarah
from
Good protection with less bulk
Essentially a "lite" version of the Defender Pro, this case does exactly that: just a little less. It appears to offer very good drop protection for the front and sides, with a high raised bezel. However, as another reviewer noted, the back cameras lack such protection, which makes me a bit nervous. For size, it is a lot slimmer and sleek than the Pro, as it does not have the multi-layer system or a screen protector. This is actually great for someone who prefers a step below intense protection. Just know what you're getting yourself into. Overall, it's working well for me as an avid traveler, hiker, cyclist, and lightweight farmer, so it would likely serve the average adventurer quite well, who's looking for something lighter than the Defender Pro.
Date published: 2021-08-12T00:00:00-04:00
Rated

5

out of

5
by
Robert
from
Great case. Love the look and feel.
Just got a iPhone 12 and wanted protection for the construction site. I also wanted something that would be sleek enough for everyday life. Was disappointed.
Date published: 2021-09-03T00:00:00-04:00
Rated

5

out of

5
by
Gary
from
Nice case but....
I just bought an iPhone 12 Pro and this was my first pick. I really like the case but for one thing. The camera lenses are level with the case surface. When you put it down on the back the lenses also contact the surface of whatever its on. So my concern was that if you were to slide it and if there were dirt or grit it will scratch the lenses for the camera. So I returned it for the Pro Defender Series Pro Case that has more protection for the lenses.
Date published: 2021-09-03T00:00:00-04:00
Rated

5

out of

5
by
Barb3
from
Great iPHONE12 Protective Case
I bought this a few weeks ago, it does all that the advertising describes. A great cover to protect my iPhone 12. A good investment.
Date published: 2021-10-03T00:00:00-04:00
Rated

5

out of

5
by
Marci
from
Terrible case
I hate the new case. I'm returning it. It's slick hard to hold onto. I thought it was a rubber like the old defenders and it is not
Date published: 2021-10-08T00:00:00-04:00
Rated

5

out of

5
by
Dayradon
from
3/3 purchases Top grade!
Had one for my iPhone 5, one for my iPad 10.2 and now my iPhone 12. Each one has exceeded their claims and my expectations!
Date published: 2021-10-08T00:00:00-04:00
Rated

5

out of

5
by
4thebyrds
from
Not like previous defenders
This case is not like previous defender cases. It is only one layer with a difficult to install "ring" that holds the phone into the case. The camera cutout as others have mentioned is not deep enough to protect the camera lens. So having to remember to always place the phone face down. On the plus side, like that it is MagSafe and the ability to add a wrist lanyard was nice. Just wish Otterbox included one or had one available for purchase. Hoping the one from Amazon works.
Date published: 2021-10-09T00:00:00-04:00
Rated

5

out of

5
by
OtterBox User
from
Not quite like I remember
I bought the Defender Series case as it used to be all-around phone protection. I remember the Defender Series cases also including a built-in screen protector. I was mildly disappointed that the new versions of the Defender Series case do not include a built-in screen protector. It has the covers for the switches and ports, but not the screen. Kind of defeats the purpose to have partial protection, but not full protection for a Defender Series case. For future phone case purchases (new models I will be looking into different options for all-around protection.
Date published: 2021-09-20T00:00:00-04:00
Rated

5

out of

5
by
graybeth47
from
Very nice
Like the slim feel to it and the color combination. Durable and protects the phone well. Would definitely recommend it.
Date published: 2021-09-15T00:00:00-04:00
Rated

5

out of

5
by
Marty T
from
GREAT PURCHASE
High-quality, durable phone case. Great colors. I am very happy with my purchase.
Date published: 2021-10-05T00:00:00-04:00
Rated

5

out of

5
by
Peak2peak
from
Overall solid case
Overall happy with the case. Easy to put on. Works great with the MagSafe wallet I have. Only complaint is the bottom plug cover. After only 2 months of use it's tearing, so I'll have to figure out a replacement… or allow stuff to get into the charging inlet (not ideal
Date published: 2021-08-06T00:00:00-04:00
Rated

5

out of

5
by
Niki
from
Works like its
Works like it's supposed to. I bought it so I could use the new pop socket MagSafe. Just don't fallow the instructions on how to put it together as the pieces didn't want to come apart and I had no problem just snapping it on.
Date published: 2021-07-23T00:00:00-04:00
Rated

5

out of

5
by
bobby72
from
great case - mediocre clip
I bought the mag-safe case for my iphone 12 and am happy with the quality of the case. I am however disappointed with the belt clip for which I paid an extra amount of $ but the phone is loose inside the belt clip. I made sure to order the mag-safe clip so I'm afraid the quality has an error in it.
Date published: 2021-10-15T00:00:00-04:00
Rated

5

out of

5
by
Lance
from
Wonderful Case
The case is purple and blue it is so ugly it is wonderful.
Date published: 2021-10-25T00:00:00-04:00
Rated

5

out of

5
by
ikoiko33
from
Does the trick
Used to the beefier Defender Pro but wanted a more sleek option. This still offers the same drop protection, but less bulky than the Pro. Only problem is, I can't quite reach the upper left hand button to put my phone into silent mode now, the case blocks it just enough to make it challenging.
Date published: 2021-10-26T00:00:00-04:00
Rated

5

out of

5
by
angelbun
from
Works great!
I've dropped my phone at least a dozen times since I bought my Otterbox and my phone is intact. It works as advertised, and I wouldn't buy a different brand ever!
Date published: 2021-11-28T00:00:00-05:00
Rated

5

out of

5
by
PowDeb
from
The otterbox is very well designed and strong!
Otterbox was recommended to me by three people and I decided to try it and I love it!
Date published: 2021-11-19T00:00:00-05:00
Rated

5

out of

5
by
Joshkosh
from
Slipperier than Otterbox Defender without MagSafe
I have had 2 iPhones with the Otterbox Defender covers, and loved both covers. I wanted to be able to use a MagSafe charging stand so I purchased a Defender cover that allowed for MagSafe charging. It is so much more slippery that the standard OtterBox Defender. I feel like I'll really need that drop protection more now! I miss the rubbery slipcover. Is there a way to incorporate that grippy rubber in the outer back of the MagSafe Defender except in the area that the magnet charger contacts? I'd also love a better choice of colors. I have the teal/caramel cover. It's ok, but my very favorite was my lime green hardshell inner case with a black outer slipcover that I had on my iPhone 6.
Date published: 2021-12-08T00:00:00-05:00
Rated

5

out of

5
by
Spippin
from
Disappointed
I've always had the defender series case on all my IPhones and appreciate having the belt clip that comes with them. Now buying the defender XT MagSafe and does not come with belt clip. And it is a little more expensive case as well and then you have to buy a belt clip extra and unfortunately can only get from otter box online so not only price for the belt clip you have shipping as well. Really disappointed in that the belt clip is not offered with this defender case as it is with the standard defender cases. My opinion it's ridiculous for the cost.
Date published: 2021-12-19T00:00:00-05:00
Rated

5

out of

5
by
La Porte48
from
I wish I could give 5 stars
I own four Otterbox cases for my iPhone 12 so yes I'm a fan but I prefer the Otterbox Defender Pro over this one. This XT slides in and out of the pocket without problem and it is slimmer but if you care about the looks you won't like the scratches on the back of the Defender XT. I normally use the Defender Pro and you can't see any wear on it but this one scratched up within days, and I was trying to be safe. It would be perfect if they had put a 1/16" edge lip on the back. I like the XT, in fact it's on my phone at the moment but keep in mind it will only look new for a short time.
Date published: 2021-12-10T00:00:00-05:00
Rated

5

out of

5
by
Ttt s
from
Ugh not the best
Wanted front protected also DROP means front protection. We bought a waterproof model at half the price from someone else
Date published: 2022-04-04T00:00:00-04:00
Rated

5

out of

5
by
Wa Jeff
from
Does not include holster
The Defender Series has changed for the iPhone 12. You do not get a belt holster with purchase. I have bought the Defender series from iPhone 3 all the way up to now, and this is a huge disappointment to have to purchase it separately.
Date published: 2022-03-08T00:00:00-05:00