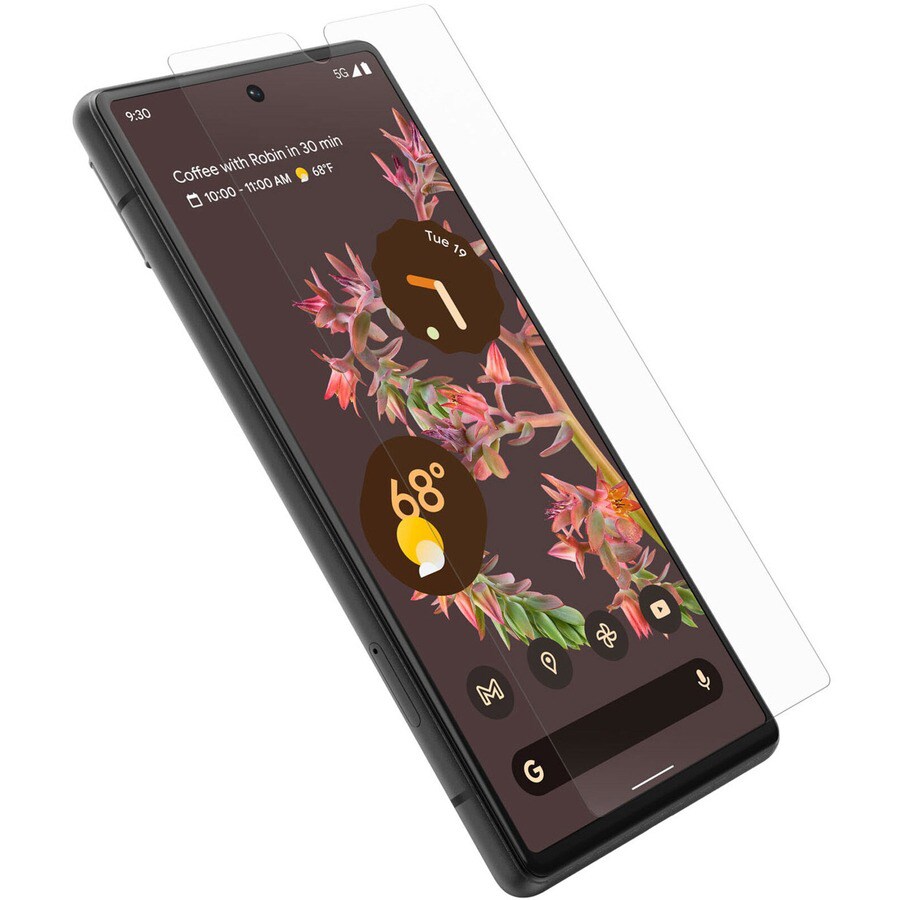 Quick tech specs
Screen protector for cellular phone
clear
View All
Know your gear
Experience vivid display clarity and reliable screen defense with Clearly Protected Film. Leading scratch and smudge resistance help your phone look like new for the long run. Invest confidently in trusted OtterBox protection that's engineered to endure.
OtterBox Clearly Protected - screen protector for cellular phone
is rated
1.60
out of
5
by
48
.
Rated

5

out of

5
by
R Soukup
from
Case Number: 08214136
Waiting on return, to small, does NOT fit Case Number: 08214136 Customer: ROBERT SOUKUP Date Updated: 2/18/2023 Hello ROBERT, Thank you for contacting OtterBox. Our customer service agents are actively working on your request, and will reach out to you via email on additional information is needed.
Date published: 2023-03-05T00:00:00-05:00
Rated

5

out of

5
by
Cindy
from
I wouldn't buy it again. Geek squad is much better
The instructions on it were very unclear of how to install. It had to be lifted multiple times to make it work, leaving wrinkles and bubbles in it, as well it doesn't fully fit the screen. It is a flimsy film that did not fit properly.
Date published: 2023-02-12T00:00:00-05:00
Rated

5

out of

5
by
Only mildly OCD
from
Great-
Stan wound incurred while protecting screen. No scratch on glass!
Date published: 2023-02-25T00:00:00-05:00
Rated

5

out of

5
by
taverniti20
from
It Is a good product but...
It seems a good film, but instructions are not clear... Please make a video...
Date published: 2021-12-29T00:00:00-05:00
Rated

5

out of

5
by
CBanks
from
Pixel 6 Clearly Protected Film
The film was a pain to install, but other comments/reviews helped me to manage OK. It ripped around the front camera on Day One. Now hair and fuzz get stuck around the front camera every day. It also scratched within 2 days. Waste of money.
Date published: 2022-03-06T00:00:00-05:00
Rated

5

out of

5
by
Heather
from
Somehow messed up my table.
Thin plastic, not glass, and confusing to put on. Way more difficult than any other screen protectors I have purchased, and ended up with more bubbles under the screen that took forever to smooth out. The adhesive on the foam piece that is supposed to help you align the phone will not come off of my table, no matter what I do.
Date published: 2022-03-09T00:00:00-05:00
Rated

5

out of

5
by
NotHappy
from
Did not live up to its name
I ordered 2 of this, just in case of any mess up in the installation. The items came with instructions, and they are too complex for a simple screen protector. I ended up using both but just could not perfect the install without any bubbles.
Date published: 2022-01-11T00:00:00-05:00
Rated

5

out of

5
by
Eric
from
Difficult to apply the film, result not useable
I bought this through the Google Store when I ordered my Pixel 6. Before even turning on the phone, I read through Otter Box's film screen application directions and went to apply it. It wasn't possible for my clumsy hands to apply it. The film ended up with a bunch of nicks and grooves. It trapped particulates, and unfortunately, once the film touches the particulates, it's impossible to remove them. The film was also warped and didn't fit the top of my phone properly. I added an image taken with my Pixel 2. The quality isn't great. You can see blemishes, and you can also see how the screen doesn't fit properly around the front facing camera.
Date published: 2021-12-03T00:00:00-05:00
Rated

5

out of

5
by
Matt Q
from
Worst Screen Protector Ever
This is the worst screen protector I have ever used. As others have noted in their reviews, the instructions provided in the package are abysmal. They are vague and hard to follow, which is even more unhelpful given the complexity of this particular screen protector. The protector itself is a flimsy layer of thin plastic. Overall, the quality of this item is horrendous. You're paying $20 for the "Otterbox" brand name, not for a quality product. I immediately peeled the screen protector off my phone and ordered a different one from another company.
Date published: 2022-01-10T00:00:00-05:00
Rated

5

out of

5
by
Rick
from
Had a hard time figuring out which side was up.
The instructions could be written/drawn better. We had a hard time identifying which side was supposed to be up. Had the instructions said this was a 3 part proces, involving slightly attaching the protector to the glass at each step... we might have had better luck at not ruining our protective cover.
Date published: 2022-04-04T00:00:00-04:00
Rated

5

out of

5
by
Camilo
from
I got charged a lot more for shipping than policy
Products is great. Instructions are terrible and the fact that only includes one film makes it less desirable, I tried to look for a video online or on the website and it doesn't exist so of course I had tons of issues. Installing this is complicated as you need to paste and fold one way and then the other. But the worst part for me was the shipping. The website said one price this price was there at checkout until the last step, in that Step the price increased then once i bought it and the item got shipped I received another email saying that they have charged me yet another amount for shipping which was higher than both previous shipping prices. Please note that I am in Canada so I was paying for international shipping.
Date published: 2022-03-07T00:00:00-05:00
Rated

5

out of

5
by
Ihateottercases
from
Awful quality
Cheap plastic the instructions are unclear and confusing. Do not buy customer warning
Date published: 2021-12-31T00:00:00-05:00
Rated

5

out of

5
by
Mehran
from
Worst screen protector ever
Very complicated method for applying. And when I finished there are many scratches and on the surface of protector, many micro bubbles and it shrinks on top. The result is not usuable.
Date published: 2021-12-07T00:00:00-05:00
Rated

5

out of

5
by
VanO
from
Installation gets the three stars
Have attempted to install two. First one was a mess. Second has many small bubbles. Ugh. Instructions for install confusing. Odd split film on side 1? Have done many other brands with no bubbles!
Date published: 2022-04-04T00:00:00-04:00
Rated

5

out of

5
by
Ryan
from
Horrible Instructions
Bought it at the store and the instructions are so bad I read them over and over again and still messed up. huge waste huge disappointment.
Date published: 2022-01-08T00:00:00-05:00
Rated

5

out of

5
by
Terri
from
Peels - keep your installation tool.
Tough, but caught corner and peeled-still on phone
Date published: 2022-04-03T00:00:00-04:00
Rated

5

out of

5
by
rootheday
from
Terrible.
I bought this from the Google website when I bought my new Pixel 6 Pro. The instructions were not understandable at all. I ended up getting my fingerprints all over the sticky side and it became useless.
Date published: 2022-04-18T00:00:00-04:00
Rated

5

out of

5
by
JayArre
from
Do not buy!!! Absolute waste of money and shipping
The instructions are basically useless. The product came off my phone, got bent and stuck out. A friend gave me a $3 screen protector which uses glass and works like a charm They did a good job with providing ways to remove dust and I like their attention to detail with the product but the core item, the screenprotector and support for it was garbage
Date published: 2022-04-13T00:00:00-04:00
Rated

5

out of

5
by
Allison H
from
Waste of money
Terrible instructions and the backing from useless"foam protector" ruined my table. Avoid at all costs.
Date published: 2022-01-11T00:00:00-05:00
Rated

5

out of

5
by
Sourpatch
from
Video instructions please
The instructions needs some attention or rewording. My screen has Soo many bubbles. Your products are usually top notch for me. But this screen protector is not working out.
Date published: 2021-12-31T00:00:00-05:00
Rated

5

out of

5
by
Mattia Pancerasa
from
Application procedure is too complex
I tried to follow the instructions, but they are too complex. The middle line creates confusion as it is not clear from the beginning that there is another film to remove before pressing the protection layer (and it is not well represented on the instruction image. Result: I attached the film in a bad way -> too many air bubbles under it -> I had to remove it and throw it away. This product should have a proper instruction video.
Date published: 2022-03-18T00:00:00-04:00
Rated

5

out of

5
by
Nick
from
Impossible to Install Correctly
Impossible to apply correctly with the very minimal setup provided (getting the glue from the foam piece off of my desk afterwards was fun. Most screen protectors come with an alignment frame, this had none of that. Google store was no help either with a replacement, so I'm basically out the money at this point. Ironically, I bought this thinking it would be better than a cheap protector off of Amazon. If I could apply it correctly, it seems like it would be nice. If you're going to design a protector that aligns and applies unlike any other on the market, at least do a better job explaining that in the instructions (and maybe verify it's actually an improvement).
Date published: 2021-12-11T00:00:00-05:00
Rated

5

out of

5
by
Daniel
from
Not bad, but will it hold up?
Agree with the other reviews that the install instructions are a little bit confusing. I accidentally removed the tabs for alignment too soon, so I ended up having to self-align the film. Also, the fact that you only get one screen protector for $20 + shipping is a little disappointing. On the flip side, it does appear to be compatible with the pixel fingerprint reader (unlike the first screen protector I purchased, gee thanks google which is the main reason why I purchased this. However, Im assuming the reason why it does work is that it is so thin. Its just a piece of thin film, and not the tempered glass type so I'm a little worried that it wont protect my screen from cracking which is the main reason I want a screen protector on my phone
Date published: 2022-04-02T00:00:00-04:00
Rated

5

out of

5
by
Justin
from
Very Low Quality Product
This product is overpriced and of extremely poor quality. The screen protector had multiple nicks in it after only a few days of use from my fingernails which are very short. I am extremely dissatisfied with this purchase.
Date published: 2022-02-28T00:00:00-05:00
Rated

5

out of

5
by
Used to Love OtterBox
from
The worst instructions for a screen protector ever
I love OtterBox. Great cases. It's all I've ever purchased. Got my new Pixel 6 Pro and saw the clearly protected film - it's Otterbox it has to be quality! Well we will never know. The instructions were so small, and so confusing, it was IMPOSSIBLE to follow. And of course I got prints on the screen and so many bubbles I just took it off. No video support. This was an absolute waste. Unuseable. Poor product.
Date published: 2022-12-08T00:00:00-05:00
Rated

5

out of

5
by
Soarina35
from
Complicated Installation, Poor Quality
Instructions and application were overly complicated, including extraneous tools, including one that you insert into the charging port (difficult to remove- for a moment, I was afraid it was stuck! and a foam bar that you attach to a table (also difficult to remove). Many tiny air bubbles were left over after application. A smoothing tool is included, but it doesn't work very well. With the felt cover that comes on it, it doesn't even begin to move the bubbles. Without the felt cover, the pressure needed to move the bubbles causes slight scratches on the film. Overall very disappointed.
Date published: 2022-02-07T00:00:00-05:00
Rated

5

out of

5
by
Landers
from
Horrible
Bought this screen protector because it was listed as one of the acceptable protectors for use with new pixel 6 fingerprint reader. I have to say this is the absolute worst screen protector that I have ever purchased. Hard to apply, directions were horrible. Made a complete mess of trying to apply. Ended up crumpling up and throwing away. Save your money. Buy something else.
Date published: 2022-03-04T00:00:00-05:00
Rated

5

out of

5
by
Timothy
from
It fits well but...
Fits well. Took one star off because the rubber charger port cover stretches the outer skin of the case, I'm sure it will lead to the cover breaking off eventually. Dropped my phone a few times and I can confirm it protects as intended!
Date published: 2022-04-15T00:00:00-04:00
Rated

5

out of

5
by
teekaygee83
from
Terrible application process
I read the instructions multiple times before applying the screen protector to my new Pixel 6 but I still didn't fully understand how to do it and ended up messing it up. Now there are bubbles and debris under the film and I'm waiting for a different brand of screen protector to arrive so I can use my new phone.
Date published: 2022-09-22T00:00:00-04:00
Rated

5

out of

5
by
ParkerA
from
Bad product
Before even removing the backing I could see there were particles stuck between it and the protector adhesive. Install is difficult with small instructions with poor pictures and no video option. Part of the process is sticking an intense adhesive to your table. ( Getting it off is about as difficult as this protector install) After getting through install the amount of particles underneath the protector is unbelievable. It also leaves a sharp edge on the side of your screen so gesture controls will always be uncomfortable for people who use gesture controls. Needless to say this only stayed on my phone for about 15 seconds. Very disappointed I wasted money on this product assuming otterbox was a quality brand and did not read reviews beforehand.
Date published: 2022-02-03T00:00:00-05:00
Rated

5

out of

5
by
Jgro
from
Hot unadulterated garbage
Wish I had read reviews before buying this through Google. Terrible instructions resulted in bubbles everywhere and 20 bucks wasted. Done with otterbox
Date published: 2022-01-20T00:00:00-05:00
Rated

5

out of

5
by
AndyC
from
Hike and GPS and rock scramble
Otterbox for the Pixel 6 is great for getting outdoors and enjoying the trails, hikes, and rock scrambling. No worries if you drop the phone, the OB provides a secure, unbreakable assurance.
Date published: 2021-11-15T00:00:00-05:00
Rated

5

out of

5
by
jocon0511
from
Seems like a good deal, but isn't....
I bought this because it was available on the Google store and Otterbox usually has great products. Unlike most here, applying it was not that difficult for me. However, within 2 days of having it on the phone, bubbles started to appear and the top 2 corners had tears. I am not rough with my devices and the phone typically spends most of the day sitting on a desk. I would not buy this agin because it just isn't durable enough.
Date published: 2021-12-28T00:00:00-05:00
Rated

5

out of

5
by
Jody
from
Unsatisfactory install and instructions
Miserable experience, the installation was a failure because the actual screen protector separated in the 1st step and I had to handle it just to get it placed on the phone. I'm shocked at an organization so experienced would implement a product so ineffective. The packaging says "quick, anxiety-free installation" but my experience has proved to be frustrating and irritating as I meticulously spent time removing dust and lint only to have a smudgy display full of my fingerprint in the end.
Date published: 2022-04-21T00:00:00-04:00
Rated

5

out of

5
by
Nick
from
Waste of $20
the alignment tool didnt even fit the holes in the protector so when it laid on my screen it was creased and due to how thin it is theres no way to go back. $20 for a piece of plastic that ended up in the garbage. (also the foam adhesive is nearly impossible to remove from household surfaces) 0/10 review
Date published: 2021-12-13T00:00:00-05:00
Rated

5

out of

5
by
Steve
from
Pixel 6 phone case and screen protector package
The pixel 6 cell phone defender case is excellent. Charging port is covered and case is sturdy. The film screen leaves much to be desired. Difficult to apply and then it developed a tear within one day.
Date published: 2022-03-31T00:00:00-04:00
Rated

5

out of

5
by
Morr
from
Completely abysmal
The instructions are nonsensical, and the screen protector is poorly made and impossible to install properly. This is an unusable product. I'm surprised it was put out on the market. The only satisfactory outcome for me would be a refund.
Date published: 2022-01-13T00:00:00-05:00
Rated

5

out of

5
by
Eddie
from
Not worth the price
Poor instructions, hard to install, easily damaged.
Date published: 2022-03-28T00:00:00-04:00
Rated

5

out of

5
by
RKMT
from
There's a reason they don't provide a video
A bubble-free install of this soft screen saver is borderline impossible. There's a reason they don't provide any video instruction on how to get a clean no-bubble install. I'm not sure it's ever been done successfully. And the plastic is so soft I have no confidence it would hold up to daily use and abuse anyway.
Date published: 2022-05-10T00:00:00-04:00
Rated

5

out of

5
by
desz27
from
I paid 20 for plastic
I paid 20 for a plastic film protector.. And it's bubbly! I thought it was a glass protector. I am not happy with this at all. It doesn't even cover the whole screen! One side of my sxreen-- a tiny strip is unprotected. Waste of money. Waste of time. Hey, otter, maybe next time don't sell this. Just don't. I saw how all the reviews hated it and I tried it anyway. Ugh
Date published: 2022-01-14T00:00:00-05:00
Rated

5

out of

5
by
OldGuy57
from
The best screen protector ever !
These screen protectors saved my last phone, and I will have them on every phone from now on Mowing the grass on a riding mower, a small stone was hit, bounced off of a nearby fence and struck my phone screen, which was on my belt clip, but facing outwards so I could listen to music and access the screen. The screen appeared to have a crack in it, but the phone worked ok, so I lived with it for a year and a half. When I traded in the phone, I removed the screen protector, and it was the protector that was cracked, not the phone. Yay me, because then I got full trade in value for the phone. I installed on on my new phone the very first day I had it.
Date published: 2022-02-26T00:00:00-05:00
Rated

5

out of

5
by
Will
from
They tried... But failed
I appreciate that Otterbox includes so much to try to make this work for you - the alcohol pad, the dust sticker, the scraper, etc. But because the instructions aren't clear (honestly - just tell people to watch a video, Otterbox! Don't bother with your tiny little unclear instructions! I messed up the 'fold the top part in half to break the seal' cuz it wasn't clear which layer I was supposed fold in half, and so the protector got installed with a TON of bubbles that I couldn't get rid of, even with a ton of work. I figured out the process by that error so the bottom was fine... But the top third was ruined, making the whole thing worthless and basically straight into the bin. Complete and total waste of 20 bucks. Oh and yeah - made the mistake of putting the foam bar on my glass table. What a massive unnecessary pain in the butt THAT was.
Date published: 2021-12-25T00:00:00-05:00
Rated

5

out of

5
by
Bobby
from
Waste of money
Purchased this along with defender case as it is recommended together. After apply to the phone and installing the case, the screen protector started to be pushed off by the case. After a few hours it was leafed out on the bottom and I had to remove it.
Date published: 2021-12-21T00:00:00-05:00
Rated

5

out of

5
by
DougE
from
Might be a decent screen protector...
but echoing earlier comments, the instructions (if you're able to read them are absolute garbage. A demonstration video would be helpful. And, yes, the adhesive for the foam pad is VERY strong. Goo-Gone works to get it off, probably nail polish remover as well.
Date published: 2021-12-22T00:00:00-05:00
Rated

5

out of

5
by
nysenator
from
Save yourself return shipping costs
The screen protector was impossible to install properly. I was very careful and it had bubbles everywhere and the smoothing tool scratched up the screen protector when I tried to fix it myself. I wish Otterbox would just put out a video for buffoons like me who cannot figure it out from the instructions (or videos for other product made by other folks on YouTube). Unfortunately, I was charged to ship back the product, so it's like a $5 punishment for buying a defective product. Live and learn.
Date published: 2021-12-07T00:00:00-05:00
Rated

5

out of

5
by
Tony
from
So far, so good...
Well as other reviewers have stated, the install process is a bit complicated on the surface, and after reading through the miniature instructions a couple times, I went looking for the official instruction video, but there doesn't seem to be one. Okay, one more read-through and let's go. So okay, now that it's done it doesn't seem as complicated as I thought it would be. It went on nicely, no dust bits, no bubbles. I have 3 more Pixel 6's to do and I expect they'll go more quickly. But that foam glue on your desk or counter is unexpected. I used nail polish remover to get there for up with ease. It would be nice if some type of wet pad was included to help get the glue off, though. No feedback yet on the film with the fingerprint sensor, but I'll know in a couple days if we finally have a winner. Fingers crossed.
Date published: 2021-12-20T00:00:00-05:00
Rated

5

out of

5
by
Pixel guy
from
Great if you don't have an OtterBox defender ...
Used guide to set up on phone and with the defender case it went too far down and kept pushing the film protector up from the bottom like an accordion. Finally got sick of flattening it back down everyday with my thumb and peeled it back a little and cut it with a scissors. Still works but not what I expected being they're both from the same company... I didn't think that fitting together would be an issue.
Date published: 2023-05-07T00:00:00-04:00
Rated

5

out of

5
by
Vick
from
Confusing Directions
I bought this and botched the application to where I had to purchase the $10 warranty replacement. I then somehow botched the replacement directions as well but managed to apply it by sight. It looks terrible, but I have no desire to spend even more money on a third of these covers. I am very disappointed in both the quality of the cover and the poor application directions. Otter Box in the past has always been much better then this.
Date published: 2023-03-07T00:00:00-05:00