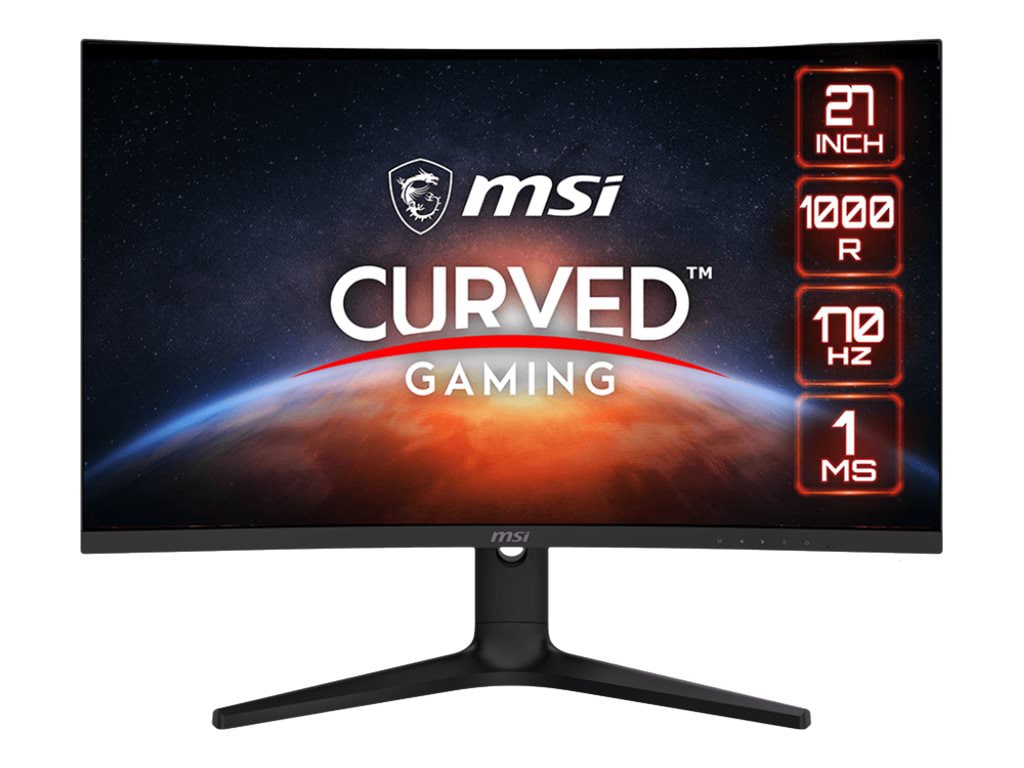 Quick tech specs
1000R Perfect Curved Screen
170Hz Refresh Rate
1ms response time
Night Vision
helping you find and attack enemies before they notice.
Tear free
fluid gaming.
Use a hardware solution to reduce the light
Perfectly fits the curvature of the human eye so that you can see the entire screen without any fatigue.
Real smooth gaming.
eliminate screen tearing and choppy frame rates.
See every detail clearly in the dark
Freesync premium Technology
stutter free
Less Blue Light Pro
View All
Know your gear
TECHNICAL FEATURES
Visualize your victory with MSI G271C E2 Curved Gaming™ monitor. Equipped with a 1920x1080, 170hz Refresh rate, 1ms response time panel, G271C E2 will give you the competitive edge you need to take down your opponents. Built with AMD FreeSync Premium, G271C E2 can match the display's refresh rate with your GPU for ultra-smooth gameplay. Make sure you can hit your mark with all the latest technologies built-in the MSI Curved Gaming™ monitor for competitive play.
A SCREEN THAT BEST MATCHES THE CURVATURE OF THE HUMAN EYE
The MSI Curved Gaming monitors adopts the new 1000R curved surface technology, creating the perfect curvature that's closer to the viewing angle of the human eye and reducing the eye fatigue caused by long-term use of the screen. At the same time, it enhances the sense of coverage and immersion, bringing a higher level of gaming experience to you.
170HZ REFRESH RATE + 1MS RESPONSE TIME
The MSI Gaming monitors are equipped with a 170Hz refresh rate and 1ms response time VA panel which has the most benefit in fast moving game genres such as first person shooters, fighters, racing sims, real-time strategy, and sports. These type of games require very fast and precise movements, which an ultra-high refresh rate and fast response time monitor will put you ahead of your competition.
TEAR FREE, STUTTER FREE | FLUID GAMING
Gaming shouldn't be a choice between choppy gameplay or broken frames. With MSI gaming monitors, it doesn't have to be. Get fluid, artifact-free performance at virtually any framerate with AMD FreeSync™ technology.
178 DEGREES OF WIDE VIEWING ANGLE
By having a large viewing angle, MSI gaming monitors has more leeway for placing your monitor in your setup without giving up the optimal viewing experience. Colors and details will stay sharp at more angles compared to other monitors with less viewing angles.
TRUE COLOR
The MSI Gaming Monitor has more gamut coverage compared to general monitors. Gameplay colors and details will look more realistic and refined, to push immersion to its limits.
LESS BLUE LIGHT PRO
MSI monitors are optimized to produce less amount of blue light displayed by the monitor, so that you can game for longer periods of time without eye-fatigue.