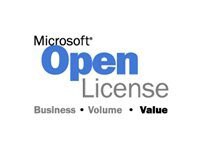 Know your gear
For IT professionals responsible for managing virtual infrastructure, System Center Virtual Machine Manager - a member the system center family of system management products - provides a straightforward and cost-effective solution for unified management of physical and virtual machines, consolidation of underutilized physical servers, and rapid provisioning of virtual machines by leveraging the expertise.

MICROSOFT OPEN VALUE SUBSCRIPTION OPTION

With the Subscription option, you pay a single price per desktop (five desktop minimum) to deploy Microsoft technology as the standard across your organization, just as with the Company-wide option. However, the Subscription option provides you with rights to run the software only during the term of the agreement with Microsoft (nonperpetual).

SOFTWARE ASSURANCE

Microsoft's Software Assurance gives you automatic access to new technology and provides productivity benefits, support, tools, and training to help deploy and use software efficiently.

With Software Assurance, you receive access to new versions of licensed software released during the term of your agreement to deploy at your own pace. New Version Rights simplifies the procurement process and shortens the business process cycle, allowing you to reduce the costs associated with acquiring new version releases and immediately take advantage of the latest technology.
Contact Sales Assistance
(800) 800-4239
,
Monday-Friday 7am-7:30pm CT
Software Details
1 user
level F
annual fee
All Languages
Open Value Subscription
additional product
Win
View Tech Specs