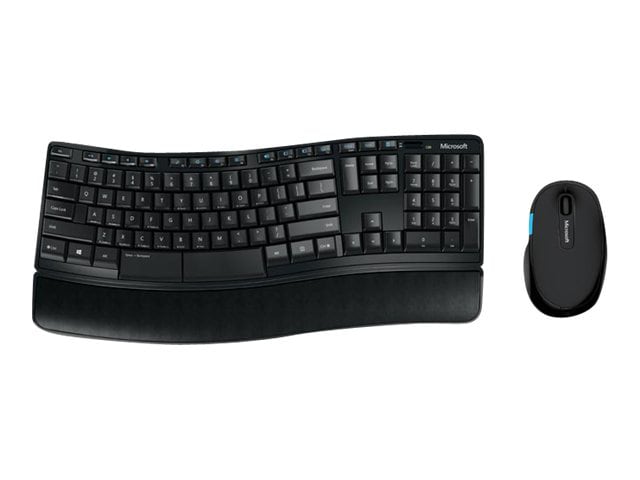 Quick tech specs
Keyboard and mouse set
2.4 GHz
US
View All
Know your gear
With its contoured design, customizable features that easily adjust to your needs, and a specially designed, right-handed mouse, Sculpt Comfort Desktop transforms the way you use a keyboard and mouse. It helps you keep your wrists in a neutral position, while providing functionality and shortcuts that improve typing efficiency.

The sleek design and comfort curve layout keep keys within easy reach, while straightening wrists with ergonomic palm support that protects against inflammation and repetitive stress injuries. The split spacebar offers backspace functionality to help you make the most of your keystrokes. Tight workspace? Sculpt Comfort Desktop can be easily customized to save space, and offer a more compact look, by detaching the palm rest.
Microsoft Sculpt Comfort Desktop - keyboard and mouse set - QWERTY - US - b
is rated
3.19
out of
5
by
16
.
Rated

5

out of

5
by
beejay45
from
Has some nice features but not too great
I bought this because I had had a similar keyboard and mouse. Due to Carpel issues I bought the ergonomic board. I don't know if it's me still getting used to the peak in the center or that the fact that sometimes the keys I tough don't often type. Have special problems with the A key and the k. I hit them hard enough, just don't seem to strike. On occasion my screen goes back to the previous or home screen when I'm using the mouse. Still trying to figure out why! Unfortunately the old set finally gave up and can't find it any longer. Not ergonomic, but still liked it much better.
Date published: 2018-08-22T00:00:00-04:00
Rated

5

out of

5
by
Michael69
from
Easy to use!
I purchased this about two months ago, and since then I am enjoying it very much, The ergonomic design makes this one the easiest to use wireless keyboards I've used. I have this set up so that it is below my laptop, which is elevated to make it easier to read, no forward head position; then the keyboard is in front about 7" right below on the table. It is a super easy setup and one which I recommend. I want to mention the resting pad at the bottom of the keyboard itself; it can be removed however since my hands are large it works for me to rest my palm pads onto it perfectly!
Date published: 2019-02-01T00:00:00-05:00
Rated

5

out of

5
by
S. D.
from
No way to know if your "Caps Lock" is on or off.
I had a 9 year old exact SAME version of this keyboard - the letters were barely readable on my old one. But when I got the new one - there is one difference. There's NO LIGHT ANYWHERE on the Keyboard to show if the Caps Lock is "on" or "off". So, when typing in a PASSWORD, I kept getting kicked back with the website saying "incorrect Password" (as Passwords ARE CASE SENSITIVE. Pain in the behind. Very sorry Microsoft took away the little light on the "Caps Lock" button. Had to buy another brand's ergonomic keyboard, but can't say it's name in this review. Although I did buy it through Dell. Good Luck.
Date published: 2019-11-23T00:00:00-05:00
Rated

5

out of

5
by
maddogs
from
Great product & shipping was fast
After having problems with my 3 year old Dell 713 kybd & Mouse combo I decided to go with this product. Very glad I did. Comfort & performance are fantastic for the price.
Date published: 2018-07-18T00:00:00-04:00
Rated

5

out of

5
by
Keyboard Jack
from
Key Quality
Had this keyboard two months and the painted characters began coming off. Thank for Microsoft it's being replaced
Date published: 2019-01-09T00:00:00-05:00
Rated

5

out of

5
by
Chuck
from
It's OK. Smaller. Space bar has two sections??
Same as my old MS keyboard, but smaller. Space Bar is split into two halves - not sure why. One half has something to do with "Backspace."??
Date published: 2019-12-11T00:00:00-05:00
Rated

5

out of

5
by
KeyPaint
from
Looks good but watch out for limited warranty .
Hello, I have owned my KGR1173 for two months. In the product information listed on most site selling this keyboard its states it has a 3 year warranty. Here is were it gets sticky. If the painted characters comes off its not covered. Yes! I have two characters which are almost totally black lack identification. I have been told that this is "normal wear." That isn't true but its their opinion. Its sad but I had another key board which lasted 10 tens before the characters lost identity from paint wear. FYI!
Date published: 2019-01-07T00:00:00-05:00
Rated

5

out of

5
by
John01
from
No Light Indicator on Toggle Keys
It constantly drives everyone crazy in my office that when they need to use a toggle key, specifically the continual use of the CAPS LOCK key and the NUM LOCK key, there is no way to tell if it is "on" or "off." It is quite annoying and slows down the work progression considerably to need to switch to a screen or other place where we need to test (by typing) to see if we have numeric keys engaged or whether the "Caps Lock" function is engaged. I will never buy a keyboard without these features again! If it were up to me, I would return this keyboard in a minute. The other features do not outweigh the continual need for visual toggle key identification.
Date published: 2016-10-27T00:00:00-04:00
Rated

5

out of

5
by
kelly
from
Great Keyboard, but would be nce if dongle sold seperate
I love the Sculpt Keyboard, it makes transitioning from curved to straight keyboard seamless. The only problem is the transmitter dongle. I broke mine and had to purchase a new unit as it can not be purchased separately. There is not somewhere to store it in the keyboard. I do not use the mouse.
Date published: 2017-07-26T00:00:00-04:00
Rated

5

out of

5
by
Andi
from
Smooth, efficient process.
I recommend this keyboard to anyone who types a lot. The split space bar saves time with both forward and backspace side by side. The cushioned rest makes typing more comfortable during long hours at the keyboard. And the Microsoft name adds a measure of confidence. Personally, I wouldn't want to go back to a regular keyboard. I hope they never stop making these.
Date published: 2018-08-23T00:00:00-04:00
Rated

5

out of

5
by
Doug
from
Pretty good keyboard, but mouse is WAY small
Had this bundle for a couple months, not had any issues with the performance, but the mouse seems rather small. I have used the tiny "travel" mouses with laptops in the past and this mouse seems to be between the size of those and a standard mouse. If the mouse were bigger, I would probably give this a 5 star, the keyboard is great in this bundle.
Date published: 2017-03-07T00:00:00-05:00
Rated

5

out of

5
by
Ricky
from
Gray keyboard but some issues
Excellent keyboard have issues with it staying connected also the keys are starting to loose the paint on them.
Date published: 2022-04-08T00:00:00-04:00
Rated

5

out of

5
by
Deon S.
from
Comfortable Keyboard
The most comfortable and ergonomic keyboard I've used! Quiet and responsive.
Date published: 2022-02-14T00:00:00-05:00
Rated

5

out of

5
by
Smoky Mountain Design
from
Good for office work, Fair for professional work
The keyboard does not have an F key lock. It is also missing the + and - keys for speakers. The mouse is a bit smaller than what I'm used-to and I need a mouse with the stamina for hundreds of repetitive inputs while in a CAD drawing. This mouse starts to fade after awhile.
Date published: 2022-02-25T00:00:00-05:00
Rated

5

out of

5
by
Pradeep
from
Dell needs to simplify it's ordering & support processes.
Great keyboard & ordering could improve, and smooth delivery experience.
Date published: 2022-01-14T00:00:00-05:00
Rated

5

out of

5
by
Elongfellow
from
Keyboard repeats keys until you stop it.
Keyboard keeps producing long strings of letters until you hit the backspace. Their is a lag time between hitting keys and showing up on the screen. I have loved MS keyboards in the past but this misses the mark.
Date published: 2021-10-22T00:00:00-04:00