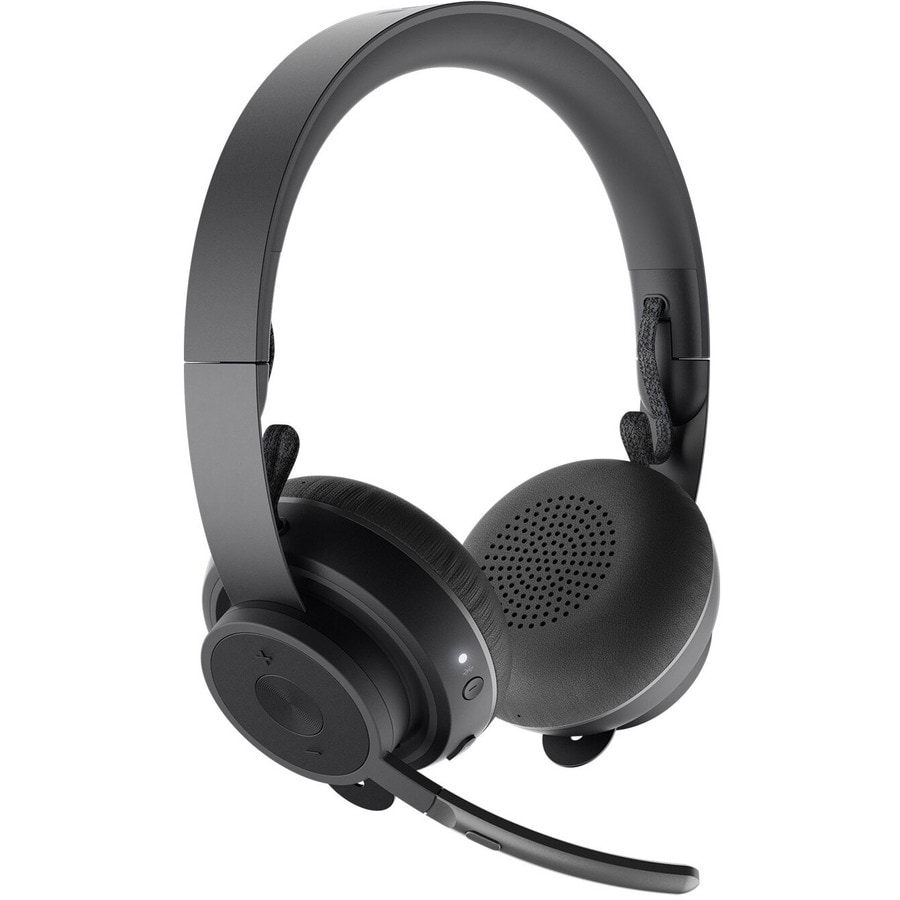 Quick tech specs
Headset
Bluetooth
active noise canceling
View All
Know your gear
Open workspaces are great for collaboration, but they can also be noisy. Take control of your acoustic environment with Logitech Zone Wireless, the wireless headset specifically designed to enhance focus and productivity in busy workspaces. Connect Zone Wireless to your smartphone and computer and seamlessly switch between connected devices to experience on-ear amazingness between your ears: great for conference calls, immersive for listening to music, and active noise cancellation for when you just want to concentrate. With all-day comfort, simple controls and wireless Qi charging, Logitech Zone Wireless helps you define your workplace soundscape and get stuff done.

Open workspaces are great for collaboration, but not so great when the noise around you makes it hard to concentrate. Active noise cancellation substantially reduces unwanted ambient sound, so you can get focused and stay focused.

Great for Music and Talking with immersive sound for listening to music and a noise-canceling mic that ensures that your voice is heard on the other end of a call - not the noise around you.

Intuitive and simple controls to adjust volume, play and pause music, start and end calls, activate/mute the microphone, power on/off, active noise cancellation, and Bluetooth pairing. Also supports wireless Qi charging.

Designed to be comfortable for use all day, every day. The silicone-padded headband is lightweight and provides just the right clamping force for a great fit. Soft leatherette ear pads are cushiony and breathable, so your ears don't get hot.

Connect to your computer and smartphone simultaneously and seamlessly switch between connected devices at will. The 30m (100') wireless range provides freedom to roam while staying connected.

Download the Logi Tune App on your smartphone and manage mute, view charging status, modulate sidetone controls, and tweak the 5-band EQ sliders (or choose one of the custom presets), plus download software updates.

Works with common calling applications across almost all platforms and operating systems.

Whether employees are in the office, at home, or somewhere else, Sync device management software helps everyone stay connected by letting you ensure their Logitech video collaboration personal devices are being used and up to date.
Logitech Zone Wireless UC - headset
is rated
4.75
out of
5
by
20
.
Rated

5

out of

5
by
HoneyJunk
from
Nice and Lightweight
I just got these headphones last week and have just used them a couple of times. I gave them just four stars because they have an echo, other than that they are light weight, soft and comfortable. The battery seems to have a long live since I have worn them for eight hours a day for my job.
Date published: 2020-11-30T00:00:00-05:00
Rated

5

out of

5
by
kculwell86
from
Works great for my office
The Logitech one Wireless UC Bluetooth headset works great for me at my office job. Due to social distancing, we no longer have meeting face to face. The headset has made it possible for me to be able to be present and participate in office meetings. Setup was very simple. I just plugged it into the USB port and followed the prompts. They fit great and feel good on my ears. I have been told that the microphone allows my co-workers to hear my crisp and clear. I would definitely recommend this headset!
Date published: 2020-11-29T00:00:00-05:00
Rated

5

out of

5
by
Charlotte
from
I am surprised with how good these sound.
I got these headsets because I work from home for 12 hours a day. My old headsets would hurt my ears after a while which isn't the case for these headsets because they have more cushion. This headset can connect to your pc with a wireless dongle or through Bluetooth. With the Bluetooth I was able to connect the headsets to my phone and listen to audio books while mowing the lawn which was rather awesome. These headsets also have very good sound quality compared to the other headsets I am used to. My only complaint with these headsets is that I wish the noise cancelation worked better than it does.
Date published: 2020-11-24T00:00:00-05:00
Rated

5

out of

5
by
Lisa1979nc
from
Absolutely love this headset!
This is by far the best headset I have owned to date. We got this headset because we are homeschooling and working from home. The kids use them for school with Zoom meetings and such and they work perfectly. They were very easy to set up and get going. I use them for work related calls and meetings and couldn't be happier. The sound quality from the ear pieces, which are very comfortable, is amazing as well as the mic quality. Everything sounds crystal clear. We use these for online gaming sometimes as well. Everything about this headset is great. There also isn't any outside noise interruptions when wearing the headset. They do a great job at canceling out those sounds. I highly recommend this headset for anyone stuck at home working or doing homework.
Date published: 2020-12-03T00:00:00-05:00
Rated

5

out of

5
by
shona270
from
Great features
This wireless headset is pretty cool. I could easily connect it with my phone and computer. If you download the app you can set it to exactly how you like it. The headset is pretty comfortable. Easy to adjust. The microphone moves all around so you can wear them on either side. It doesn't have a skip button or next button which is a pain but overall I like these
Date published: 2020-11-20T00:00:00-05:00
Rated

5

out of

5
by
CortneyD08
from
Perfect for Work at Home
These are great for working at home. It kept the sounds of my kids to a very minimum. I have not received any complaints for those on the other end of the line. They are easy to charge. Easy to keep stored together. Stayed clean and I wiped them a few times with baby wipes.
Date published: 2020-12-03T00:00:00-05:00
Rated

5

out of

5
by
melis3
from
The best headset we have ever owned
These are by far the best headsets we have ever owned. My son could not run fast enough to go test them out and we are impressed! The noise cancellation is superior. The controls are simple and easy enough for me to figure out. I love the blue tooth pairing, it is seamless. These have been an extremely worthwhile purchase. My son is able to enjoy then for his games and I have used them for conference calls and loved the peace and quite from background noises.
Date published: 2020-11-28T00:00:00-05:00
Rated

5

out of

5
by
Fallenangel70
from
Best that money can buy without breaking the bank
We all know that working fro home can be very challenging. There are so many distractions that somedays you feel like throwing in the towel. That was before I tried Logitech Zone Wireless UC Bluetooth headdset. This equipment is not just functional its absolutely fantastic! They cut out the outside noises so there's no interruptions in your important meetings etc. Sound is Crystal clear...never had a set that even came close to these. You wont regret purchasing these, I promise you this..I own many headsets, earbuds etc but not one set comes close to these.
Date published: 2020-12-09T00:00:00-05:00
Rated

5

out of

5
by
iluvcoffee
from
Disappointing
I thought these were wireless headphones but they are not what I was expecting. The instructions written on the inside of the box were no help at all. It shouldn't be this difficult. I guess I should have done more research on what I was getting. Live and learn.
Date published: 2020-11-26T00:00:00-05:00
Rated

5

out of

5
by
Cornell33
from
Awesome!
This Logitech headset has very comfortable ear pads, it is super light weight, it is very easy to pair with the computer or phone, it charges quickly, it comes with a USB C cable, and the mic works great.
Date published: 2021-04-25T00:00:00-04:00
Rated

5

out of

5
by
Mmommyof4
from
Great headphones
These headphones are awesome. The headset fits perfect and feels great on your ears. You can adjust the size you need for your head really easy. The sound that comes through is great no complaints. The microphone is great sound quality also.
Date published: 2021-05-05T00:00:00-04:00
Rated

5

out of

5
by
heathmp
from
Great headphones!
Got this wireless headset for my son for his birthday for gaming and he loves it! He says it's his favorite headset he's ever had. He really likes that they are wireless and that the microphone doesn't stick out too far, but his favorite part is how comfortable they are. We definitely recommend this headset by Logitech.
Date published: 2021-05-11T00:00:00-04:00
Rated

5

out of

5
by
Shanna618
from
Teenager approved
I had originally got this for myself too use on the gaming computer, but my teenage son used it one time and ended up loving them so much he took them over for his Xbox! He uses them for chatting with his friends hands free, it blocks out the background noise! Very comfortable on your ears and the microphone is clear! I would recommend these for computer or video game use!
Date published: 2021-04-30T00:00:00-04:00
Rated

5

out of

5
by
Dee
from
Excellent quality
Excellent quality, comfortable!
Date published: 2022-03-24T00:00:00-04:00
Rated

5

out of

5
by
Cvoshell4
from
Great Product!
The Logitech Zone UC on ear headset wireless Qi Wireless Charging is a really great product! This headset was easy to connect to bluetooth and worked great on both my phone and laptop. The sound was great.
Date published: 2021-04-26T00:00:00-04:00
Rated

5

out of

5
by
Sweetpea
from
Comfortable
I find this headset to be very comfortable, the sound is very good and they are able to block out background noise really well. When I first opened the box I was disappointed to see the directions were "picture directions" as I prefer written words. However, it could not have been easier. As soon as I paired, which was incredibly fast, A pop-up told me that I needed an app from the App Store gave gave me the option to just press the button and download it. Once I have the app the app directed me each step of the way and had me test the sound rename the headset and choose my preferences. I find this really useful because I work with children in a noisy environment and this makes important phone calls much easier for me. They can also be used on a computer which I have not done yet and comes with everything needed to connect to a computer. Also included is a nice bag for keeping them in I think I would've preferred a hard case but at least there is something to protect them. As expected they are adjustable and the cushioning that goes over the ears is nice and thick.
Date published: 2021-04-27T00:00:00-04:00
Rated

5

out of

5
by
Momma22
from
Great sound quality!
This Logitech Zone Wireless UC Bluetooth headset is everything I want in a headset! It is not only super comfortable but the active noise cancelation is amazing! You can set the headset to turn off after a certain period of time of not using it! Wgich helps so much with the battery life and not leaving it on accidentally. You can also flip the mic up when you want to mute it! Amazing! This is able to be used with the USB dongle or bluetooth! The are comfortable, easy to use, easy to set up, and made extremely well. These have nothing missing in my mind and I know you will love them too!
Date published: 2021-05-17T00:00:00-04:00
Rated

5

out of

5
by
Ajayeg27
from
They are so comfortable and nice.
These headphones are so comfortable that you forget you even have them on. If you have ever worked in a call center or had to wear head phones for a long periods of time you know how they can hurt your ears. The padding on these headphones is so soft and comfortable. The headphone can be adjusted which is a great bonus also. That way they can fit perfectly to your liking. My favorite feature is that these headphones can be wireless or be plugged in. the microphone is amazing the quality of the sound is so clear. It is crazy the different you hear sound and the quality from these headphones verses other brands. I have been wasting money on cheap headphones when I should of bought these headphones a long time ago. The quality of these headphones are top notch. I was shocked with how big of a difference these headphones are from the ones I was using. In my option this is another great Dell product. I really like that it works with my iPhone and my laptop. Technology has come a long way and I love that headphones are this luxurious. These headphones also fold up easily for you to hang them or for easy storage. I am telling you the Is headset is worth every penny!
Date published: 2021-04-22T00:00:00-04:00
Rated

5

out of

5
by
SBails
from
Working from Home Must Have
How have I been working from home without these? They do a great job of cancelling outside noise when I'm on a video meeting so no one hears my dog barking or the neighbor cutting his grass. It was easy for me to read the instructions and learn the operating buttons and features (which says a lot. I only work from home one day a week and my husband loves them as well so when I'm not home, he uses them for his work. Looks like we will be getting another pair!
Date published: 2021-04-25T00:00:00-04:00
Rated

5

out of

5
by
Chelceeb
from
Work from home
Wow these are such high quality and so useful. I had a basic headset that I used for work from home but the background noise was awful and I had to switch them off constantly to take personal calls and listen to music but not anymore! These make for a seamless experience
Date published: 2021-04-24T00:00:00-04:00