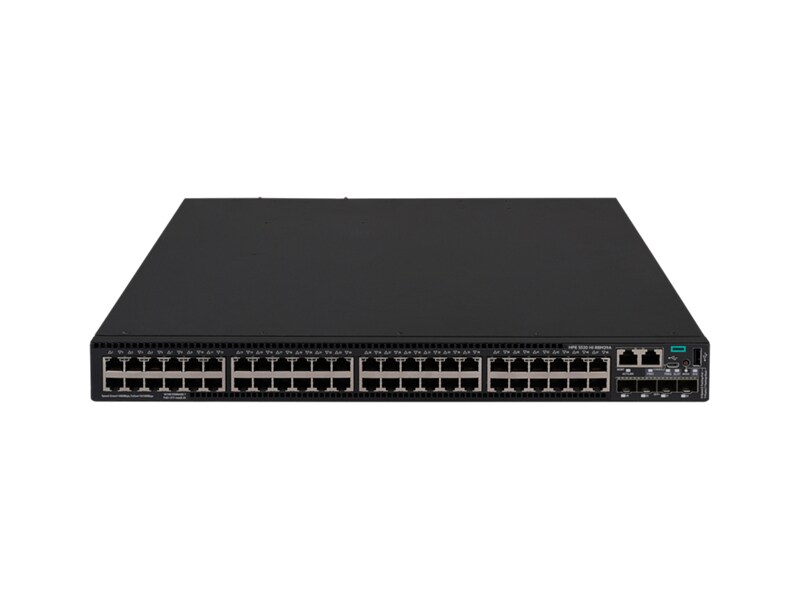 Quick tech specs
Longest Prefix Match (LPM)
Powerful Performance
Switching Capacity of Up to 336Gbps
Robust Quality of Service (QoS)
View All
Know your gear
The HPE Aruba FlexNetwork 5520 HI Switch series provides medium and large enterprise networks with increased processing power, larger MAC size tables and Longest Prefix Match (LPM) to improve network performance and scalability by enabling multipathing.
The HPE FlexNetwork 5520 HI Switch series uses the Intelligent Resilient Framework (IRF) that supports the virtualization of up to nine physical switches into one logical device for simpler, flatter and more agile networks. Delivers outstanding resiliency, security and multiservice support capabilities for traditional large enterprise networks. It supports advanced technologies such as OAM, RRPP, BFD, Multi-level QoS, MPLS and VPLS.
The HPE FlexNetwork 5520 HI Switch Series supports advanced classifier-based QoS which groups traffic using multiple match criteria based on Layer 2 and 3 information, it applies QoS policies such as setting priority level and rate limit to selected traffic on a port, VLAN or the entire switch.