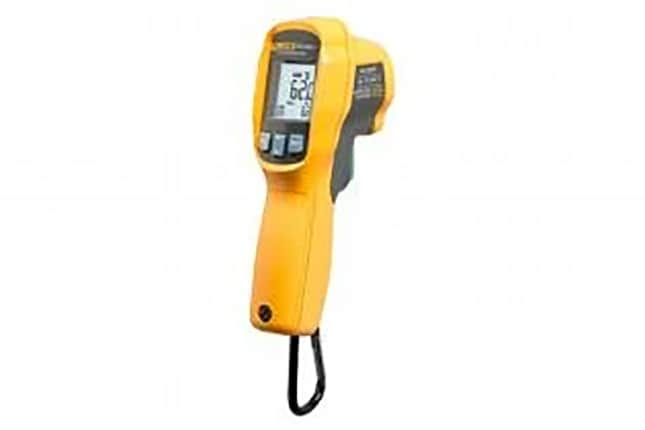 FLUKE IND IP54 IR THERMOMETER
Mfg.Part: FLUKE-62-MAX | CDW Part: 2858694
FLUKE IND IP54 IR THERMOMETER
FLUKE IND IP54 IR THERMOMETER is rated out of 5 by 16.
Rated 1 out of 5
by
GNeuhofer
from
Did not last
For the price and being FLUKE I expected it to work for more than 3 years. Only ever used it lightly around home, didn't even take it to the shop. Just stopped working.
Date published: 2019-02-16
Rated 1 out of 5
by
skillmey
from
LED display became too dim to read
I had this for a couple years with light use and the LED display became so faint it is only readable in perfect lighting
Date published: 2017-01-06
Rated 2 out of 5
by
Richard35
from
How Does This Work?
The manual is one of the worst I have ever seen. Come on guys, put something out there that explains how to use it. It can't cost you that much. Even if you don't want to print it with the product, put something on line!! GEEZ! Rating would be higher but this has a lot of features that I don't know how to use.
Date published: 2016-12-30
Rated 4 out of 5
by
Phileaux
from
Cost Efficient
My wireless floating pool thermometer stopped working and I could not find a compatible substitute for my weather monitoring system. I purchased the Fluke 62 Max, which was near the price of wireless pool thermometers, but with greater flexibility. With this device, I can measure temperatures within a number of environments other than the surface of the water in the pool and in the spa.The Fluke thermometer is accurate as it was tested against the spa thermometer when the spa was heated to a useful temperature. A great substitute for temperature readings in a variety of settings when contact thermometers just aren't available.
Date published: 2016-12-07
Rated 4 out of 5
by
Will
from
Accurate Thermometer
I bought this back in the summer for multiple uses around the house. I verified the temperature accuracy with a couple other analog thermometers. I use it to check smoke box temperature when smoking meat, HVAC at home and for working on my project car. I had previously bought a cheap IR thermometer thinking that it would suffice for home use and the LCD screen started losing characters within weeks of purchase. I'm very happy with my Fluke thermometer and should have just purchased it to begin with. Like others have said, I think there is room for improvement (and text) on the manual.
Date published: 2016-12-07
Rated 5 out of 5
by
Boozarjomehr
from
Rugged and Reliable
I do not have time to prove the accuracy and reliability of my data collected in an experiment. I chose fluke manly because of Fluke's reputation. keep up the good work and please don't compromise in reliability (your reputation).
Date published: 2016-12-07
Rated 4 out of 5
by
Cshultz14
from
Awsome!
I bought this a couple months ago and I use it everyday. I do facilities maintenance and for those tight spots or outof reach objects I cant get to this thing works great.
Date published: 2016-12-07
Rated 5 out of 5
by
Tristan
from
Great IR Thermometer
I currently am in college studying electronics. This is really helpful when it comes to finding parts in electronic circuits that overheat. This is not really friendly towards small smd components, but works great towards big chips. This works great for checking the temperature of the hotbed of a 3D printer, and even the extruder. This tool is a great help, even though not specified for my field.
Date published: 2016-12-07