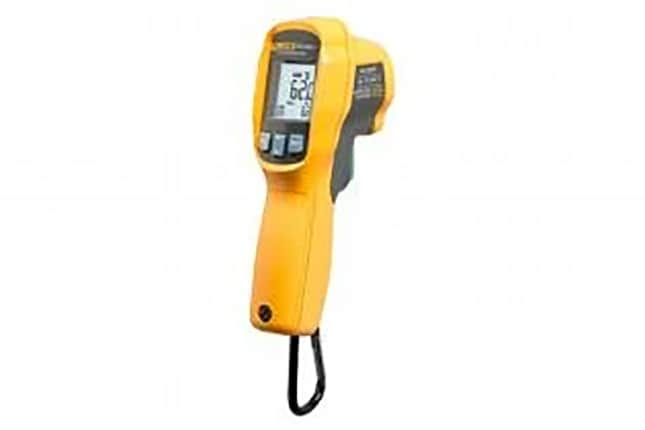 FLUKE IND IP54 IR THERMOMETER
Mfg.Part: FLUKE-62-MAX | CDW Part: 2858694
FLUKE IND IP54 IR THERMOMETER
FLUKE IND IP54 IR THERMOMETER is rated4.75 out of5 by4.
Rated 5 out of 5
by
Cshultz14
from
Awsome!
I bought this a couple months ago and I use it everyday. I do facilities maintenance and for those tight spots or outof reach objects I cant get to this thing works great.
Date published: 2016-12-07T00:00:00-05:00
Rated 5 out of 5
by
Tristan
from
Great IR Thermometer
I currently am in college studying electronics. This is really helpful when it comes to finding parts in electronic circuits that overheat. This is not really friendly towards small smd components, but works great towards big chips. This works great for checking the temperature of the hotbed of a 3D printer, and even the extruder. This tool is a great help, even though not specified for my field.
Date published: 2016-12-07T00:00:00-05:00
Rated 5 out of 5
by
DDay
from
User's Manual is horrible
Just purchased the 62 MAX. The user's manual is horrible. . No instruction on set up or features. Photos only. You are on your own.
Date published: 2015-03-07T00:00:00-05:00
Rated 5 out of 5
by
GNeuhofer
from
Did not last
For the price and being FLUKE I expected it to work for more than 3 years. Only ever used it lightly around home, didn't even take it to the shop. Just stopped working.
Date published: 2019-02-16T00:00:00-05:00
Rated 5 out of 5
by
Generator guy
from
Terrible (And I am being VERY polite)
I just received 62 Max. Backlight doesn't work, laser is not visible, cannot change from "C" to "F". This is the worst Fluke product ever. Documentation is all but worthless!
Date published: 2015-06-03T00:00:00-04:00
Rated 5 out of 5
by
Richard35
from
How Does This Work?
The manual is one of the worst I have ever seen. Come on guys, put something out there that explains how to use it. It can't cost you that much. Even if you don't want to print it with the product, put something on line!! GEEZ! Rating would be higher but this has a lot of features that I don't know how to use.
Date published: 2016-12-30T00:00:00-05:00
Rated 5 out of 5
by
Fergus
from
Horrible manual
Umm, just got the Fluke 62 Max and the manual is useless. Just icons and pictures like I'm supposed to know what they mean. I've never seen one of these before. Gives a reading when I point it at stuff, so I guess it's doing what is supposed to do????Came here looking for help and just find marketing videos. What do the different settings do? How close do I have to be to something to be accurate?The tool itself seems very robust, well built, and durable like you would expect from Fluke. But how do I use it properly??
Date published: 2015-11-03T00:00:00-05:00
Rated 5 out of 5
by
NEtech_
from
Not impressed
I had the chance to take a look at a 62 Max and came away with mixed feelings. I appreciate the ruggedness it provides over say the 62 mini. I've treated my 62 Mini very carefully, and it's help up well, but it's only a short drop away from likely breaking. Not so worried with the 62 Max.However the LASER seems VERY dim on my unit. Perhaps this is a matter of the battery (AA on 62 Max, 9V on Mini. However when getting temp readings on a bearing that's 12' in the air, the LASER sighting is absolutely critical. Even in a factory environment, I find this laser hard to see. I would have gladly sacrificed convenience of AA for brighter LASER.Lastly I really dislike the direction Fluke has gone with their displays - this and the 714B have the display set back noticeably distant from the front protective lense, which means it has terrible viewing angle. Why haven't gear manufactures gone to some of the new engineered, shatterproof glasses?
Date published: 2016-06-10T00:00:00-04:00
Rated 5 out of 5
by
MikeFL
from
Perfect tool for the job
We use this in manufacturing for sampling comparison temps and it does a great job.
Date published: 2016-12-07T00:00:00-05:00
Rated 5 out of 5
by
Commander Faschisto
from
I like it!
Just got a new 62 Max...works just fine for me. Agreed, the manual is a bit sketchy without verbiage, but not a big deal for me. I'm happy with it, so far.
Date published: 2016-02-14T00:00:00-05:00