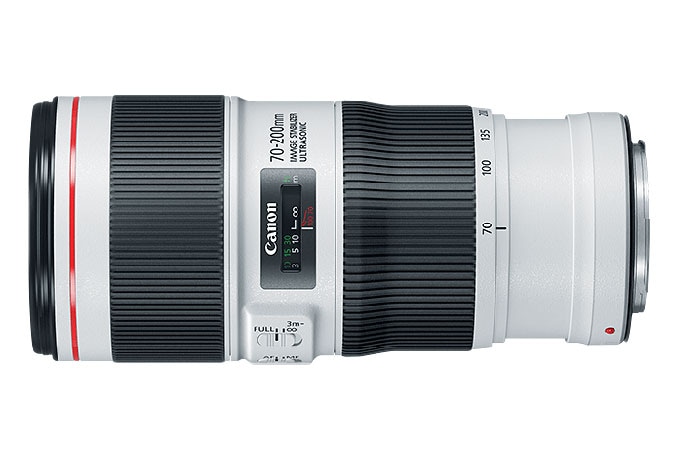 Quick tech specs
Telephoto zoom lens
200 mm
Canon EF
1500
2000
4000
6D
80
9000
Rebel T100
70 mm
f/4.0 L IS II USM
for EOS 1300
1D
3000
5D
77
800
Kiss X90
View All
Know your gear
This super-telephoto zoom lens with fluorite lens dramatically improves image quality thanks to the leading-edge optical design. The lens features excellent functionality and operability.
Canon EF telephoto zoom lens - 70 mm - 200 mm
is rated
4.50
out of
5
by
23
.
Rated

5

out of

5
by
Mike Rodal X
from
Defective
The image stabilizer did not work and and the focus plane was off center so I returned it.
Date published: 2020-05-14T00:00:00-04:00
Rated

5

out of

5
by
PatMu
from
Super Sharp
5 Stops of IS! Supersharp. Replaces my non-IS 70-200 f/4. You will love this lens.
Date published: 2018-08-23T00:00:00-04:00
Rated

5

out of

5
by
me2
from
Defective
The image stabilizer did not work and and the focus plane was off center so I returned it.
Date published: 2020-05-14T00:00:00-04:00
Rated

5

out of

5
by
Canon Fan12
from
Excellent lens!!
I just got this lens, I have taken some nature shoots, sport shoots, and portrait, all have exceeded my expectations! I am still learning this lens and the 6DMarkII I just bought but if you are indoubt go for it this is a huge step up : 0 A big plus in even higher ISO's the resolution is very sharp.
Date published: 2019-06-07T00:00:00-04:00
Rated

5

out of

5
by
SteveHG
from
Canon EF 70-200 f4L IS II USM
This is an excellent lens. It's super sharp through out the focal range!
Date published: 2019-08-13T00:00:00-04:00
Rated

5

out of

5
by
HVelez
from
Excellent Lens
I bought this lens on June 28, 2018 and took it with me on a cruise to Alaska the next day. The pictures that I shot with this lens were incredibly sharp and the colors were true to life. The image quality is so good that I used this lens most of the time.
Date published: 2018-07-19T00:00:00-04:00
Rated

5

out of

5
by
Mountain Dave
from
Significant upgrade
I owned version 1. I used it a lot and liked it a lot. But it does have weaknesses, notably it sometimes struggles to accurately focus on small objects. I didn't plan to upgrade until Canon sent me a discount. I have used version II for 3 months and have to say it's better than expected. Every image is extremely sharp. Color and contrast look improved too. I know lab tests show little or no improved sharpness but in real life, it is noticeable. Perhaps the improved autofocus and IS are the big factors in real world shooting. I shoot mostly outdoors--landscapes, wildlife and some portraits with both a 77D and 5D IV. I have also used it indoors for some portraits in low light where the IS has produced sharp images handheld and slow shutter speeds. If you're on the fence about upgrading---go for it!
Date published: 2018-12-23T00:00:00-05:00
Rated

5

out of

5
by
RES
from
Best Lens Ever!
Purchased directly from Canon since I can get a nice discount through work. I am a very dedicated amateur learning fast with various lenses and the Canon 80D with the hope of upgrading to a full frame in the near future. So, I am learning and starting to build out my lens collection first before upgrading to a full frame. I started with the following nano USM lenses (the EF-S 18-135mm f/3.5-5.6 IS USM and the EF 70-300mm f/4-5.6 IS II USM. Don't get me wrong, these are fantastic lenses, especially for video work, since the nano USM motors are virtually silent and the auto-focus is the fastest I have ever seen, but I found I was wanting more and more quality photos since I am fast becoming a pixel peeper. Unfortunately, I purchased the EF 50mm f/1.8 STM prime lens (nifty fifty) and an "L" lens (EF 100mm f/2.8L Macro IS USM ). I really got hooked on the fantastic crispness, sharpness and contrast created by both the prime lenses and by the "L" lenses, which bring all of these attributes to the table in abundance and to your photos. I was like a pixel peeper junkie wanting more and more! For years, I had lens envy every time I saw those big beautiful white lenses on someone else's camera. So, I decided to take the plunge and treat myself to the new big f/4 white beast for myself. I was seriously considering the new EF 70-200mm f/2.8 that comes out at the end of the month, but I could not justify the extra cost and weight for an additional stop of light, especially since I am not a pro and want this new lens mostly for travel. Besides, with 5 stops of image stabilization, this old guy needs all the help he can get! All the reviews I have read or seen so far are all spot on! This new lens is fantastically tack sharp through-out the whole zoom range even wide open at f/4. The zoom ring and focus ring are both nicely damped and turn effortlessly. All of the switches are recessed to prevent accidental switching and very easy to move into a different position. The auto-focusing is very fast and accurate. The image stabilization is virtually silent, but not as silent as the nano USM. This lens came with a nice lens storage bag for extra protection and a nice click-button lens hood along with the normal front and rear lens caps. I actually like the new click-button lens hoods a lot better than the old ones which just screw on. Very easy and quick to tell if the hood is on correctly. My only negative comment is the tripod mount ring is not included, which it should be in my opinion, especially at this price point. This new lens is just all around fantastic and talk about the WOW factor! My pixel peeper junkie high is at its pinnacle and I am in "L" lens heaven! My dream – new "L" lenses with new nano USM motors! Yes, this lens is pricey, but I could not be happier with this purchase and would purchase again - highly recommended! My apologies for the length of the review, but I am over the top happy with this new lens. BTW – I will attach some photos shortly, but they will not due this new lens justice!
Date published: 2018-08-11T00:00:00-04:00
Rated

5

out of

5
by
MWard
from
I love this lens!
I previously owned version 1 of this lens but sold it when I purchased the f/2.8 version. While the f/2.8 is a fabulous lens, it is quite heavy and I found that I wasn't taking my camera along with me as much as I used to, or wanted to. I have been planning to purchase another f/4 and when the version II came out I bit the bullet and did it. I am so happy I did!! I love the lens, it is incredibly sharp and so much lighter than the f/2.8. The f/4 is suitable for most of what I shoot and its ease of use (for my old arthritic wrists and thumbs) is bringing joy back to my photography. I will keep the f/2.8 for use with a tripod, but most of my everyday shooting will happily be with the f/4.
Date published: 2018-07-13T00:00:00-04:00
Rated

5

out of

5
by
Joe mcG
from
Initial Impression
Excellent quality. Although have only played with the lens for a week or so, it has taken excellent pictures.
Date published: 2020-01-02T00:00:00-05:00
Rated

5

out of

5
by
Nature Isme
from
More rewarding than the older V1 IS version
Terrific lens. This was a bigger upgrade from my 70-200 f/4L IS (I than expected. Used with a 5D Mark IV or 7D Mark II, the new lens focuses noticeably faster and its better IS is delightful. Optical quality is superb and like its predecessor, it's small enough to carry in a large vest pocket. Definitely worth buying.
Date published: 2019-08-15T00:00:00-04:00
Rated

5

out of

5
by
Dire Wolf
from
Great clear pictures
I bought this to replace an older version and I am pretty happy with it. The lens does NOT come with a collar to mount to a tripod which is a big hassle to have to buy one separately.
Date published: 2019-03-23T00:00:00-04:00
Rated

5

out of

5
by
Dutch47
from
An extremely useful lens
I have used the non-stabilized 70-200 f4 lens for several years. It is an excellent lens for certain. Given that my mind's eye prefers telephoto photographs over wide angle shots, this older 70-200 spent a lot of time mounted to my camera. The lack of IS was not too hindering for my photography outside, although I did realize limitations from time to time. When shooting indoors, I found the lens less than ideal. In the summer of 2018 I decided to buy a new lens that would allow me to have the telephoto view I prefer, with better indoor performance. I looked at all the Canon L lenses in the telephoto zoom range. When I visited my camera store I held all the models mounted to my 7D. While the online reviews all talk about weight as an issue to consider, I never gave it too much thought. However, this visit to the store was an eye opener. I walked in planning to get the f2.8 IS version. But holding the lens and camera at the counter, the only impression I had was the significant mass the faster lenses. Given that they felt heavy inside at the camera counter, how would these lenses be when walking in the woods or at an all-day event? At that point I decided to go for this lens instead. It was a good decision! I have owned the lens for about seven months now. I use this lens indoors much more than I ever used my non-stabilized version. The image stabilization is truly fantastic! Additionally, I do see an enhancement in the image quality as well. But the real beauty of this lens comes through when traveling or shooting out of doors. My first outing with the lens ended up being an "unexpected" five-mile hike on a nature trail. While enjoying photographing along the trail, I lost track of the distance I had walked into the very remove area. But it was the return walk to the trail-head that I realized I had made the right choice. Weight does matter! The lens is always attached to my camera. It is reattached immediately after finishing using one of my other lenses. I am very happy that I chose the lighter, handier, more capable stabilization of the EFS 70-200 f4 IS II L.
Date published: 2019-03-25T00:00:00-04:00
Rated

5

out of

5
by
JMV
from
Amazing! Better than 2.8 lens
Bought few weeks ago best money ever spent. If your considering it for the cost it is a no brainer. Very well made
Date published: 2018-09-22T00:00:00-04:00
Rated

5

out of

5
by
Vincesr
from
Great Lens, Easy To Use
I received this lens in the mail, and within one hour was on my way to a sports event. I attached the lens to the camera, read two paragraphs on operation and began using the lens. Wow !! Great photos. Great quality. Super colors.
Date published: 2018-07-08T00:00:00-04:00
Rated

5

out of

5
by
Mitchald
from
But this!!
Everything I expected in this great lens. Easy to handle, focus and range. Clear, sharp pictures.
Date published: 2020-09-19T00:00:00-04:00
Rated

5

out of

5
by
DMnMMom
from
Wonderful lens!
Fast and quiet, very sharp focus. Feels lighter than I thought it would. This is a good thing because most of my work is with the camera hand held.
Date published: 2022-07-10T00:00:00-04:00
Rated

5

out of

5
by
Sher
from
Weight not a problem.
I have arthritis in my hands so I was concerned about the weight of the lens. I had nothing to fear. No problem at all with the weight though I would not advise anyone with the same problem to go for a heavier lens than this one.The photos are coming out so much crisper with this lens.very happy with this purchase.
Date published: 2020-06-29T00:00:00-04:00
Rated

5

out of

5
by
Walt E
from
Canon 70-200 f/4L IS II
Absolutely the sharpest telephoto lens I've ever used. Focus is incredibly fast and spot on.
Date published: 2019-10-27T00:00:00-04:00
Rated

5

out of

5
by
Bilal Rabah
from
Magic Lens
Great lens, took my photography to another level. Not a professional, but images come out looking Professional!
Date published: 2020-05-23T00:00:00-04:00
Rated

5

out of

5
by
Raviteja
from
Awesome lens
I was dreaming to have this lens and finally saved up to it. I'm having really good pictures with this.
Date published: 2019-09-12T00:00:00-04:00
Rated

5

out of

5
by
Dubuque
from
EF70-200
Having the second focus takes a little getting used to. The front one seems touchy so it would move when I was taking pictures. Spent the weekend shooting wildlife and think I have the hang of it now.
Date published: 2021-06-14T00:00:00-04:00
Rated

5

out of

5
by
Kat N
from
Great Lens
Lens is great for wildlife photos. I've taken photos of wildlife in AK as well as the sunset & both have come out great!
Date published: 2021-06-03T00:00:00-04:00