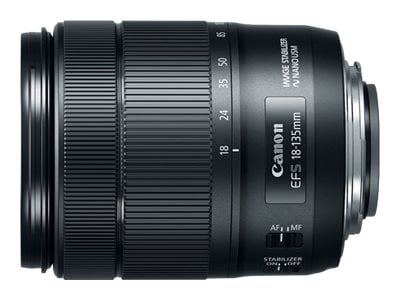 Quick tech specs
S
18 mm
f/3.5-5.6 IS USM
for EOS 1300
77
800
9000
Kiss X8i
Rebel T6
Zoom lens
135 mm
Canon EF/EF-S
700
80
8000
Kiss X80
Kiss X9i
Rebel T7i
View All
Know your gear
An all-around lens ideal for creative photography and movies, Canon's EF-S 18-135 mm f/3.5 - 5.6 IS USM adds excellent technology to an extremely flexible zoom range. Delivering great performance for everyday capture, it's equipped with Canon's NANO USM technology, featuring high-speed and near-silent AF. For landscapes, portraits, sports videos and everything in between, the EF-S 18-135 mm f/3.5 - 5.6 IS USM provides great versatility with its magnificent optics, comprehensive zoom range and amazing design.
Canon EF-S zoom lens - 18 mm - 135 mm
is rated
4.81
out of
5
by
16
.
Rated

5

out of

5
by
JHR1
from
Jusr right - do it all lens.
I purchased this lens as an upgrade to the previous STM model which I used for a long time. This lens is just the right size, weight, and focus/zoom range, and is especially useful as a one-size-fits-all lens for travel and a wide range of normal, regular daily scenes. It has smooth, quiet and accurate focus - better than the STM model - and is sharp enough across the entire range. Yes, primes are sharper and usually brighter. Yes, telephoto zoom lenses have longer reach. Yes, wide angle lenses are nice. But, this lens does so much very well and is as close to a single-lens solution as it gets, with a fairly low price tag, representing good value for the money.
Date published: 2020-04-12T00:00:00-04:00
Rated

5

out of

5
by
Astro1645
from
Very Versitile
I've got this lens along with my 80d a few years ago and used it during a trip to Ireland and in general photography since. A few things about it: 1. Sharpness is OK, it's not L-Lens sharp but its not priced that way either. 2. The zoom range is very good. Equivalent to a 29mm to 216mm full frame. This is a very useful range and it pairs well with the Canon 10- 20 for a light weight pair. Very flexible and that's always good. 3. The Nano USM focus system is excellent, precise, silent and perfect for video. This is a very good video lens. 4. It has a variable aperture, you will never get the really creamy background with this lens, but again for the price . . . 5. I IS works well and allows hand holding for a wide range of shots and helps compensate for the vary aperture to some degree. Who is this lens for: A great lens for an amateur or enthusiast looking for a good all round walk-around lens that is flexible and takes very good quality photos with some limitations, mostly irrelevant issues for non-professional use. Not for professional use although the best camera is always the one you have with you and a flexible lens is always good to have on your camera and it may help you get that shot you otherwise might miss with a super sharp but limited fixed aperture lens. It's no brainer if you are buying it in a kit with a new camera, go for it, you won't be sorry. Just understand what it is.
Date published: 2020-02-16T00:00:00-05:00
Rated

5

out of

5
by
Kyle67
from
Fantastic Versatile Lens!
I had initially received this lens with my 77D when I first got the camera body. While I have expanded my selection of lenses over the years, I always find myself packing this lens no matter what. It is such a terrific all-around lens especially for RAW shooting. Since shooting around more or less 5,000-7,500 photos with this lens, I have become very accustomed to its potential and trust this lens the most out of the rest of my lens selection, which include a macro, prime and telephoto. While it was weird at first trying to figure out how to use this lens, I have found it produces astonishing quality once I had become adjusted to it. Chromatic Aberration on this lens is significantly decent when considering this is a base tier lens in the Canon lineup. Distortion increases with decreasing focal lengths, yet once adjusted for the pictures transform entirely. The autofocus on this lens is very quick and precise, and produces very detailed images. I would highly, highly recommend this lens to anyone with an EF-S mount, and urge that you give this lens time to shine because while this lens can cover a surprising amount of bases, it's even more shocking at how well it performs at all of those bases. Definitely will continue to push this lens to its absolute limits.
Date published: 2019-12-28T00:00:00-05:00
Rated

5

out of

5
by
darkone7
from
Fast and quiet
I have had this lens on my 80D since new. It is a fast focus quiet lens. If sharpness is a priority for you, this is not the lens for you. It is not sharp. It is rather soft. If you are making 8x10 print this is not an issue. If you are going larger, then I would pick another lens. I have a Sigma 17- 70 art. It beats this lens hands down on sharpness. It is not as quite, but it focuses faster. I did not know this lens was not sharp until I got the Sigma. My 70-200 is mark 2 is tack shark, and fast focusing than both other lenses. I like the focal length of this lens. Because of that I will continue to use it. Landscape and portrait shooting I will choose another lens.
Date published: 2016-11-29T00:00:00-05:00
Rated

5

out of

5
by
MikeD33
from
Great lens
Got this lens with my Canon T5i based on other reviews. They were spot on, the 18-135 lens if you wanted just one lens for a range of photography fits the need to a tee. I used the lens on our Alaska land/sea cruise this past July'17 and got really great shots, Grizzly Mom and 2 cubs, whales that the park ranger could identify based on my shot to wide landscape shots of the Alaskan scenery!!
Date published: 2017-11-28T00:00:00-05:00
Rated

5

out of

5
by
brokecollegephotographer
from
Versatile Lens
So, let me start off by clarifying that I'm no expert in camera equipment. I took two years of photography in high school with an excellent teacher. The rest has been experimenting on my own. I currently live in Germany for the next few years, so there's obviously tons to photograph all across Europe. I consider this lens to be fairly versatile! I just switched to Canon, so I could currently only afford to buy one lens until I sell my old gear. I needed something that could capture vast landscapes like vineyards or the colossal cathedrals, but could also capture the castles nestled in the hills. This lens allows me to do both quickly and easily! It focuses with ease and is virtually silent! I don't shoot video, so that's not important to me, but I figured I'd mention for those that do. : Overall, I'm very please with this lens purchase. It's the only Canon lens I've ever used, so there's not much to compare to, but I don't have any complaints!
Date published: 2017-08-05T00:00:00-04:00
Rated

5

out of

5
by
Debbi Kim
from
Great versatile lens
I purchased this lens with my new Canon 80D. I have find it to be my "go to" for most of my photography! My first assignment was photographing our local rodeo! I was amazed at the quality and crisp images! I am traveling to Europe and I plan on using this as my primary lens!
Date published: 2018-03-17T00:00:00-04:00
Rated

5

out of

5
by
RMiller
from
Great range for shooting pictures
I have taken it out several tines, zoo, local festival, gardens, sine I got it about 2 weeks ago. I love the idea of getting a wide range of pictures with one lens
Date published: 2018-08-28T00:00:00-04:00
Rated

5

out of

5
by
srijan
from
Awesome
I have preordered EOS 80D with these lens as bundle. They are amazing in terms of sharpness and focus. Really happy with combination
Date published: 2016-04-05T00:00:00-04:00
Rated

5

out of

5
by
amarcio
from
I recommend
This lens is quite perfect. The picture is as sharp as my prime 28 mm and my EF-S 15-85mm IS USM. Good colors and equivalent distortion. In addition, the built is very good and IS and nano USM work nicely. I strongly recommend.
Date published: 2016-12-31T00:00:00-05:00
Rated

5

out of

5
by
Wanda B
from
Great Lens
I received this lens with my 80-D as a bundle, I must say I have enjoyed it. I love the sharpness and quick focus.
Date published: 2017-10-11T00:00:00-04:00
Rated

5

out of

5
by
HummieDolphin
from
Really great lens
I got the lens with my Canon 80D, and really love it. I wanted to get into photography and learn the basics of photography. I love it because you can get good zoomed in shots, but also there is also a sort of wide-angle ability with it. Overall it's a really good lens and I would recommend it.
Date published: 2018-01-11T00:00:00-05:00
Rated

5

out of

5
by
JR Ski
from
Simply a great lens
Bought here approximately 1 year ago. Have shot many, many photographs in various situations, people, landscape and wildlife. It is almost always on my T7i. Auto focus is fast and quiet. Is very well balanced on the camera when hand held. I feel this is one of the best overall lens I ever purchased.
Date published: 2019-12-29T00:00:00-05:00
Rated

5

out of

5
by
gregdog53
from
EF-S 18-135mm USM
I bought this for a good all-around go to lens, it will be my go to walk-around lens. The first use produced great results, I highly recommend this lens that won't break the budget.
Date published: 2020-01-29T00:00:00-05:00
Rated

5

out of

5
by
Billko
from
Great walk around lens.
This is my primary lens for my 7d2 and 40d. Very useful zoom range, well built without being too heavy. It takes great pictures, too!
Date published: 2021-07-07T00:00:00-04:00
Rated

5

out of

5
by
TWEB
from
Great
Purchased to shoot portrait, sports, wildlife and landscape shots. It's a great compromise to the standard lenses that came with my camera. The versatility of this 18mm to 135mm surpasses the 24mm to 50mm lens and is not as bulky/heavy as the 50mm to 200m lens.
Date published: 2019-06-24T00:00:00-04:00