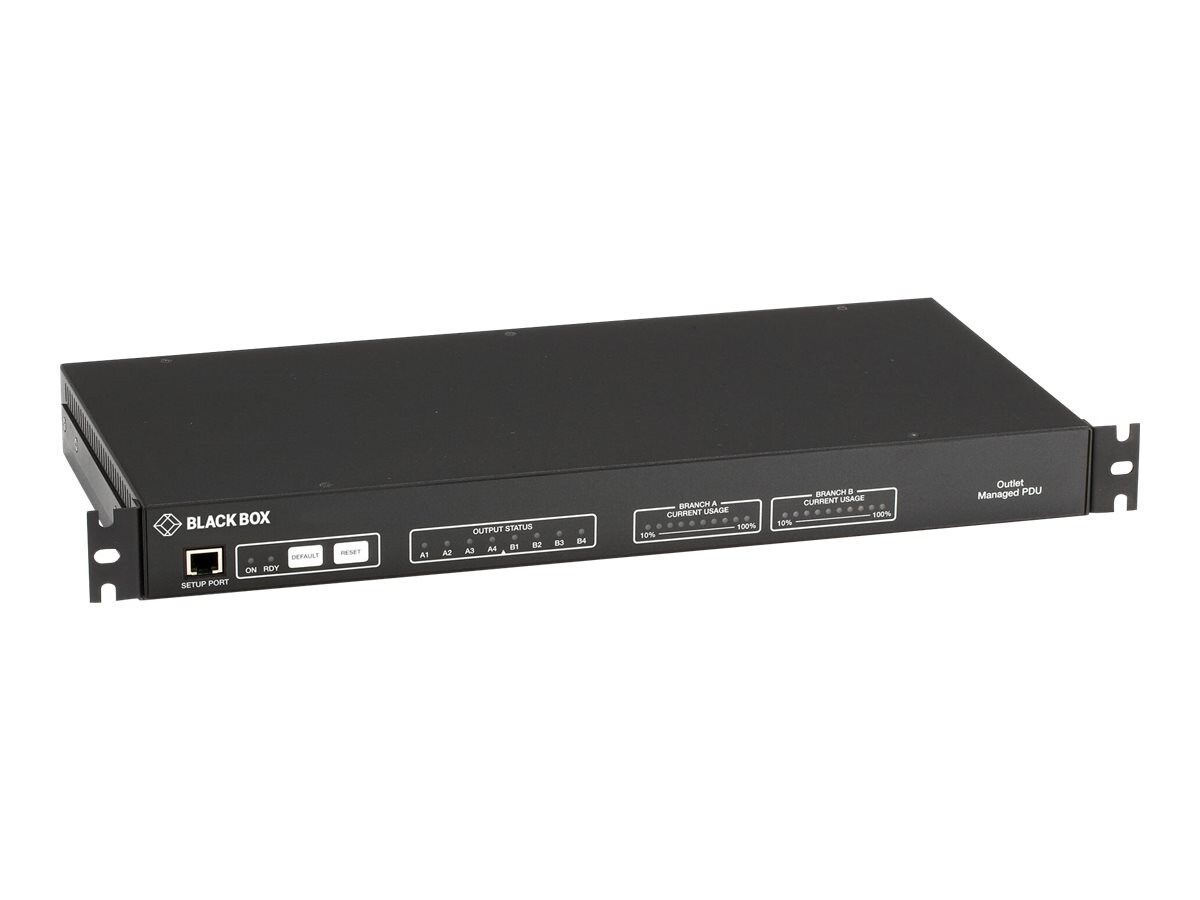 Quick tech specs
Managed PDU
120 VA
RS-232
output connectors: 8
19"
Power distribution unit (rack-mountable)
Ethernet 10/100
input: IEC 60320 C20
1U
View All
Know your gear
Secure outlet level metering, monitoring, and control remotely from anywhere. Generates reports with detailed records of current and power consumption. Go green- save energy and money by shutting off power to equipment during downtimes. Networks today demand 98+ uptime. When it's your job to make sure your network equipment is up and running Black Box(r) Outlet-Managed PDUs can be one of your best friends in the data center. One of these switched PDUs will keep an eye on your network equipment no matter if you're in the office across the country or asleep at home at 3 a.m. You'll know if something is going wrong so you can correct the situation before it turns into a crisis. The PDU will automatically notify you via e-mail text message SNMP or SYSLOG when changes in current levels temperature circuit breaker status and other factors exceed threshold values that you set. This gives you the chance to reboot your rack-mounted equipment when devices aren't responding disable outlets to reduce current consumption or even switch on cooling devices to lower the rack/cabinet temperature. You can reboot equipment over the Internet via a text message through an external modem or a local terminal plugged into the RS-232 port. The PDU also features a 10/100BASE-T port for network connections. Individual or group play. One of the best features of these PDUs is the ability to remotely switch one outlet a group or a branch or to switch a whole group of outlets. You can also set the PDU to monitor one outlet a group or a branch of outlets. Sound the alarm. The PDU boasts a robust selection of monitoring features to help you keep tabs on vital network equipment avoid costly service calls and maximize uptime. You can customize the PDU to your network by selecting the alarms and setting individual thresholds. Use the PDU to alert you when The temperature gets too high. An outlet is on but the connected device is off. The power supply has been interrupted. Current consumption increases or decreases. An outlet draws excessive current. Equipment fails to respond to ping commands. Excessive invalid passwords are attempted. Power down. Another great feature of these switched PDUs is that you can set them to respond automatically in case you're not there. Set the parameters for the PDUs to disable outlets to reduce current consumption or to switch on cooling devices. If the current load goes too high it intelligently sheds load by temporarily shutting down non-essential devices. Anyone home? You can also set the PDU to ping equipment at set intervals. If the equipment doesn't respond the PDU automatically reboots the outlets. You can also set alarms in case you lose communications on the ports. Security guard. Plus you can use the PDU to alert you when there are multiple login attempts on the 10/100 network and serial ports. The PDU features SSHv2 encryption HTTPS/SSL secure Web and an embedded validation FIPS 140-2 cryptographic module. It also offers multiple methods of remote authentication LDAP Kerberos RADIUS and TACACS+. Additionally it has IP address filtering and four levels of security for user accounts with plug-specific password protection. Go green and save power. Use the Outlet-Managed PDU to conserve energy in the data center by setting scheduled shutdowns to turn off unused equipment during off-hours.
Contact Sales Assistance
(800) 800-4239
,
Monday-Friday 7am-7:30pm CT