A major Wi-Fi and IT upgrade transforms
Xcel Energy Center into a high-tech
venue for sports and events. 
by  | Melissa Delaney
Melissa Delaney is a freelance journalist who specializes in business technology. She is a frequent contributor to the CDW family of technology magazines.
---
During a November 2016 Minnesota Wild game, retailer Gander Mountain gave away 18,000 blaze orange hats to the National Hockey League fans who filled Xcel Energy Center. The company also paid for a Gander Mountain/Minnesota Wild–branded Snapchat filter that was geofenced inside the arena.  
"Think about the power of 18,000-plus people in a setting that's just now turned orange, and people are taking and sending these photos," says Bryan Bellows, director of corporate partnerships for the Wild. "Gander Mountain is getting millions of impressions because they're supplying those hats." 
In the not-too-distant past, however, the Wild wouldn't have dared to run promotions such as Snapchat filters. "We never had the reliability of saying, 'Hey, fans, jump on the Wi-Fi network and do x, y and z,' " says Jim Ibister, vice president of facility administration for the Wild and general manager of the Saint Paul RiverCentre complex. "All we would hear is, 'I can't get on the Wi-Fi!' Now, that's not an issue at all."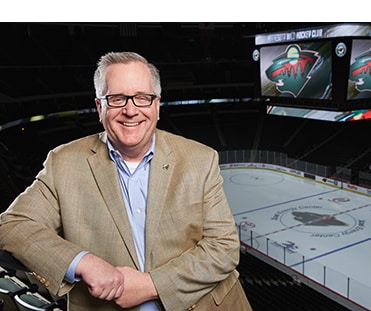 CDW rose to the top because of their expertise working with buildings of our type, but also because of their networking experience.
Jim Ibister , Vice President of Facility Administration, Minnesota Wild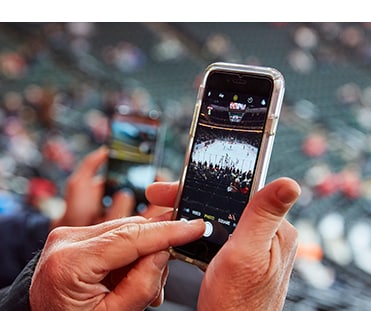 The Wild had a Wi-Fi network deployed in the arena, but it was an inadequate, cobbled-together system. "They spent a lot of time troubleshooting, trying to mitigate issues and getting social media comments from their fans about how poor the Wi-Fi experience was," says Martin Jerome, manager of enterprise networking at CDW. "It got to the point where they said, 'Hey, we've got to do something about this.' "
In spring 2014, the Wild began working with CDW to replace its Wi-Fi with Cisco Connected Stadium, a scalable network created by Cisco Systems specifically for sports and entertainment venues. They also rolled out the Cisco StadiumVision content distribution system on all the displays throughout the stadium and upgraded the back end that supported the infrastructure, installing new Cisco access points, switches, routers and cores. They finished just in time for the Xcel Energy Center to host the 2015 NHL Stanley Cup  playoffs. 
With the new infrastructure in place, the Wild and CDW transformed the Xcel Energy Center from a facility with an aging infrastructure that didn't meet the needs of users into one of the most state-of-the-art event venues in the nation. 
"We have extremely fast Wi-Fi connectivity in our building. We have this great new platform to do advertising and provide new experiences to our fan base. And we have this fast back-end system that provides all that connectivity to these technologies," says Mike Vevea, the Wild's senior IT manager. "All three of these combined into a great project, and we couldn't have done it without CDW's assistance."

Rather than a single driver, Ibister says it was more of an "exploding universe" that fueled the project. "One day, it all came together into a cohesive plan. But at first, it was pretty crazy."
The arena's multiple outdated generations of Wi-Fi were at the center of that chaos. "People's experiences were pretty miserable throughout the organization," he recalls. "So that was like a cloud hanging over our heads."
3,000-5,000  
Number of fans who connect to Wi-Fi during Wild games at the Xcel Energy Center
Source: Minnesota Wild 
The Wild had been looking into StadiumVision for years. They were excited by the possibilities it offered with regard to general corporate messaging and for digital menu boards. At the time, however, they couldn't ensure that they would receive the necessary return on investment to make the upgrade feasible. "But we never gave up on it," Ibister says. 
By 2014, when the arena's networking equipment was nearing the end of its life, the state of Minnesota and the city of St. Paul struck a deal: The state would forgive its loan to build the Xcel Energy Center on the condition that the team reinvest the money into the facility. 
The team decided to undertake a series of incremental projects that would keep the building relevant into the future. They wanted to start with projects that would most affect 
fans: upgrading the scoreboard and digital signage in the bowl, adding StadiumVision and replacing the Wi-Fi. But they soon realized that they couldn't do any of that until they upgraded 
the back end — replacing the original cores and running 10 Gigabit Ethernet fiber to Cisco Catalyst 3850 switches — that would support these new systems. 
"That's how those three projects got bundled together 
into this major initiative," says Ibister. 
 

Selling Up
Every hockey fan knows that feeling when a player scores a goal during a live game. "There's that electric moment that happens in the bowl," says Bryan Bellows, director of corporate partnerships for the Minnesota Wild. If fans happen to be in the restroom or getting a hot dog, however, they miss it. 
Whether it's pregame, intermission or postgame, teams have many opportunities to reach fans. StadiumVision syncs content on monitors and video walls throughout the arena, allowing the team to push content to fans whether they're in their seats, walking the concourse or at a concessions stand. That's valuable to sponsors and advertisers, Bellows says. 
His team is still figuring out the possibilities offered by StadiumVision. "It's so customizable," he says. For instance, Uber can target fans toward the last few minutes of the game and afterward, when they're leaving the arena. "Throughout all the monitors they're walking by, there's a message with a promo code they can use." 
The team can even hit target demographics for clients. For instance, if an advertiser wants to reach business consumers, it could purchase a premium package and drive ads directly to the suite and club levels. 
To increase the effectiveness of advertising, the sales team places it in an L-wrap around the content on the screen, such as replays, statistics and interviews. "We didn't want to just have it be billboard ads that people tune out," says Bellows. "We want to draw their eyes in and then integrate with the advertising message around it." 
The Go Team

With a staff of only four, the IT team needed a partner that could take the lead on the upgrades and also help design a system flexible enough for internal staff to manage when needed. 
The Wild's IT leaders were impressed with CDW's presentation, and they had also heard positive reviews from other facilities in the state and within the NHL, says Vevea. 
"CDW rose to the top because of their expertise working with buildings of our type, but also because of their networking experience," says Ibister. 
Their first priority was upgrading the backbone infrastructure of the network. From there, they installed StadiumVision and replaced the monitors throughout the arena with units that support StadiumVision. 
While those conversions were taking place, the project teams were also working on Wi-Fi. They were focused on getting enough coverage but also maintaining the aesthetics and brand of the facility.
Once they finished the core and mapped out the access points, they were able to start layering in Wi-Fi and StadiumVision. "It got to the point where the actual on-the-floor implementation of those two products was happening just as we were hitting the playoffs," Ibister recalls. "So we relied very heavily on our CDW/Cisco team."
Juggling three projects was challenging, says Vevea. "But CDW made themselves always available, no matter what." He recalls many after-hours calls and emails. "The guys at CDW were always willing to stop what they were doing and make sure that we kept this project moving along."

On Point
When the Minnesota Wild set out to replace its aging Wi-Fi with a new, improved network, it went big. The team doubled the number of access points within the facility to more than 450. 
The challenge, as is often the case with sports arenas, was determining where to place the new Cisco Systems equipment. "We really had to think about the aesthetics and design of the APs, especially in the bowl," where it's a challenge to get a signal, says Jim Ibister, vice president of facility administration for the Wild. 
Placing antennas inside handrails would have brought them out of code compliance, so they wound up putting the APs inside the dasher boards, where they shoot the signal back up into the bowl. "They do a great job," says Ibister. "The signal's really strong at the top and the bottom."
They also made sure to place APs at each entrance dedicated to ticket scanning so team personnel wouldn't have interference or connectivity issues while getting fans into the facility. 
"That's the No. 1 priority," explains Amer Harb, CDW advanced technology account executive. "If you have issues with Ticketmaster on game day, you're in a whole heap of trouble."
Martin Jerome, manager of enterprise networking at CDW, says several venues that went with lower bids from partners that weren't experienced with stadium and arena Wi-Fi projects have turned to CDW to redo them. 
"These venues are extremely complex from a wireless perspective. It takes a tremendous amount of knowledge. And it's not just science," he says. "There's a lot of art to it."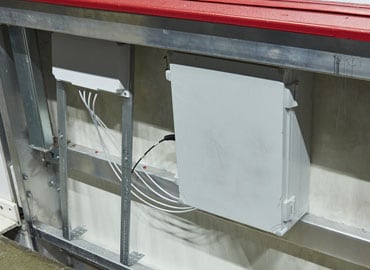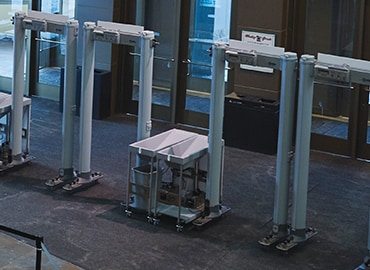 The Payoff
The Wild no longer worries about too many fans connecting to Wi-Fi. They worked closely with CDW to design a network that had the capacity and flexibility to easily adjust the signal in certain areas while maintaining coverage in others. 
"We're constantly making changes to our network," says Ibister, explaining that this is unavoidable in a facility that hosts events ranging from hockey games and rodeos to wrestling matches and concerts. "It's like having 20 adds, moves and changes every day with different events coming in. We really needed to have a trusted partner in order to make that possible."
Not only is the network easier to manage, it's faster, stronger and — thanks to the addition of Sourcefire and other security features — more secure, says Ibister. 
A strong network is no longer a luxury. "It's all about the fan experience now," says CDW Advanced Technology Account Executive Amer Harb. "When I go to a game and I have no signal, I can't check other scores, I can't see what's going on, I can't check my fantasy scores, and I can't take a picture and share it with friends. You've got to be able to do all of that. That's the age we live in."
The stronger Wi-Fi network has enabled the Wild to offer more perks to fans at the arena. They can access digital tickets and loyalty cards on their devices, so they don't need to worry about bringing physical tickets and cards. 
The network also made it possible to expand in-seat ordering through handheld devices for club-level seating. "Without the new Wi-Fi network, we never could have gotten there," says Ibister. 
The team can also engage and interact with fans on social media. "Fans are passionate," says Bellows. "They're trying to get in as much as they can, and they don't want to miss something because they can't get a good signal."
Not only does this build relationships with fans, he adds, but it also strengthens opportunities for sponsors to get their messages out, because the Wild can wrap ads around the content.
"Our social media team is interacting with fans throughout the games," Bellows says. "It's such a different age. Just think about how often people are engaging with their phones, even at live sporting events." 
The arena's point-of-sale concessions are wired to the network, but they can connect to Wi-Fi if the wired network goes down. And StadiumVision has simplified the process of changing menus and marketing items at the POS stands. "You're essentially running 25 to 30 individual stores," Ibister explains. "Having the flexibility to manage that business with StadiumVision was really important."
Because the Wild's IT staff are no longer spending all their time mitigating issues, they can focus on how best to utilize the infrastructure and scale it as needs change, says CDW's Jerome. 
"Rather than trying to find a million dollars to come in and do the whole thing, we'll look at how to transition this stage by stage," says Vevea.
Photography by Steve Craft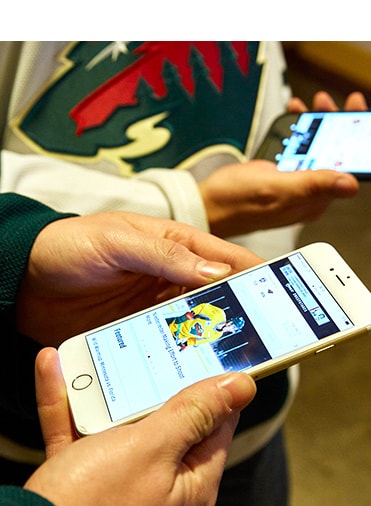 Call us at 800.800.4239 to set up a consultation with a networking expert.