The Connected Classroom
Transforms K-12 Education
Robust networks, mobile technologies and cloud computing
are building blocks that help schools and districts change the way students learn. 
Not every school district has the technical and financial resources to full take full advantage of the latest technology. But many K-12 schools have made significant strides in modernizing classroom technology and establishing the essential infrastructures that support innovation. These revamped classrooms showcase powerful combinations of high-speed, business-grade networks running powerful mobile devices and related tools such as 3D printers — all to support new pedagogues that turn traditional classrooms on their heads. 
Educators should be aware of key areas where forward-looking school districts will likely be focusing their innovation efforts to establish connected classrooms and transform the way students are able to learn. 
Networks: The Frameworks for Change 
Behind all the impressive digital devices and learning software beats the heart of connected classrooms: high-performing, reliable and secure networks. K-12 districts stay connected using three important communications links: local area networks (LANs), wireless infrastructures and wide area networks. The federal Department of Education's 2016 National Education Technology Plan reiterated White House recommendations that districts provide internet access speeds of at least 100 megabits per second for every 1,000 students, and be on track to boost the speed to 1 gigabit per second within two years. 
How can districts meet these goals while also supporting an influx of students bringing personal devices to school (known as bring-your-own-device or BYOD), online testing and network-dependent initiatives such as the Hour of Code, which encourages students to polish their programming skills? When devising networking roadmaps, IT managers should first consider quality-of-service requirements from an end user's perspective. This hasn't always been the case. "Many schools designed resources such as Wi-Fi for coverage rather than capacity," says Timothy Zimmerman, vice president of research at Gartner. "This means I can get 35 students to connect to the network — they just can't use it." 
Similarly, schools may not have deployed network switches to adequately handle the growing traffic volumes coming from Wi-Fi access points, or they had to settle for limited broadband capacities that impaired performance. The lesson: "Network updates require multistep solutions," Zimmerman says. 
To accurately plan for network capacity, schools are aided by the latest site survey and centralized network-management tools from vendors such as Aruba Networks, Cisco Systems and Juniper Networks. These tools help administrators quickly identify current bottlenecks and help planners estimate how their needs may grow over time. 
This upfront planning pays dividends. "Having abundant and robust networks changes everything," says Keith Krueger, chief executive officer of the Consortium for School Networking (CoSN). "Instead of a mindset of scarcity, we now need to think about what learning looks like with ubiquitous networking." 
$3 billion  
The amount U.S. public schools spend each year on digital content
Source: Education Week, "Technology in Education 2016: An Overview," February 2016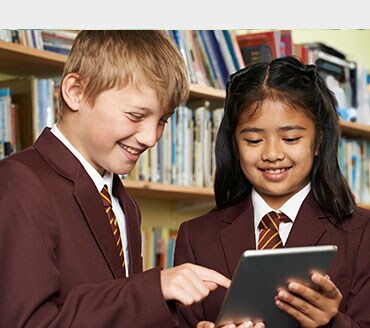 E-Rate Expansion Makes an Impact 
E-rate has long been a valuable funding resource to help K–12 schools and libraries upgrade telecommunications and internet services. Depending on the economic demographics of students, institutions may receive annual subsidies of 20- to 90-percent for eligible services and technology equipment. 
The overhaul of the E-rate program in 2014 offered $1.5 billion in expanded financial aid to help schools meet broadband and Wi-Fi connectivity goals outlined in the White House's ConnectED Initiative. It calls for 99 percent of U.S. students to have access to next-generation broadband at speeds of at least 100 megabits per second, with a target of 1 gigabit per second. It also aims to establish high-speed Wi-Fi networks in schools. 
"Shifting the focus onto broadband and Wi-Fi was huge," says Jennifer Bergland, director of government relations at the Texas Computer Education Association. "School districts that in the past did not receive any subsidies will now have access to some funding." 
Mobility: New Device Options Increase Flexibility 
Mobility and digitally-empowered, personalized learning models go hand in hand. According to a survey by CoSN, 80 percent of school districts are planning to deploy a BYOD program in some form. Combined with one-to-one programs that provide computers to students who need them, BYOD is part of several broad strategies to enable learning wherever students happen to be — at desks, in informal workgroups in a classroom, throughout school campuses or at home. "The future is BYOD, with districts providing devices for kids that don't have their own," Krueger says. "It's a 'BYOD-and' approach as opposed to 'either-or.'" 
There's no shortage of devices available to support this model of learning. Among the latest are new all-in-one tablets, such as Microsoft's Surface Pro 4. These versatile devices shift from ultra-portable tablets to keyboard-equipped notebook replacements. The latest lineup augments a range of other versatile devices, ranging from diskless Chromebooks (from Hewlett Packard Enterprise, Lenovo, Samsung and others) to full-powered traditional and convertible notebooks from Asus and Lenovo, which feature touchscreens that twist into tablet form factors. 
Analysts say educators must look beyond particular devices and focus instead on academic goals. "The biggest takeaway is that savvy districts are finally realizing it's not about the device; it's about pedagogy and creating fair and ubiquitous access," says Jim Flanagan, chief learning services officer at the International Society for Technology in Education. "The key is having a browser-based strategy so students can access material from any device."
Cloud Computing: A Powerhouse in Classrooms and Behind the Scenes 
School districts are getting significant help as they move from device-centric to learning-centric initiatives. "The good news is that more and more content is being delivered via cloud computing, so the individual device becomes less relevant than it has been in the past," Krueger says. 
One measure of the commitment to cloud-based applications is the 50 million students and teachers who currently use Google Apps for Education, according to estimates by Alphabet's Google division. 
But cloud-delivered educational programs are only part of the story. Predictably priced, on-demand computing resources also help districts provide the IT infrastructures needed for modern classrooms, while balancing the demands of constrained budgets. For example, cloud services relieve maintenance responsibilities for internal IT staffs. "The attraction of cloud computing for K-12 schools is clear: Institutions do not want to download a bunch of files and put them on devices," says Jennifer Bergland, director of government relations at the Texas Computer Education Association. "School districts today are much more likely to subscribe to a service that is sitting on somebody else's server, so they don't need to hire the labor to touch all of those school computers all the time." 
Public cloud platforms, such as Microsoft Azure, are evolving to give school districts more than just the familiar computing, storage and networking resources. Expanded features include database and analytics services and education-specific capabilities. 
Learn more about CDW•G's solutions and services for K-12 education.

Call us at 800.800.4239 to set up a consultation with a solutions expert.