About Panasonic
Panasonic is a leading technology partner and integrator to business, government agencies and consumers across the region. Committed to creating a better life and better world, Panasonic enables its business-to-business customers through innovations in sustainable energy, immersive entertainment, integrated supply chains and mobility solutions. 
---
Panasonic Mobility Solutions
Looking for a Seamless Transition to Android™?
Meet the TOUGHBOOK A3 and productivity+, a comprehensive solution designed to support all aspects of Android mobile deployments from hardware and software to services and support.
---
TOUGHBOOK Smart Suite Solutions
Panasonic offers advanced analytics tools to improve mobile device performance. Learn how TOUGHBOOK Smart Suite helped UK Power Networks boost productivity, gain control and maximize the visibility of mobile technology.
---
Panasonic Mobility Products
Award-Winning TOUGHBOK 55 Raises the Bar
With enhancements to the customizable TOUGHBOOK 55, we're delivering better performance, better flexibility and better functionality to mobile workers. 
---
Mobile Devices Designed for the Way You Work
Panasonic TOUGHBOOK® manufactures laptop, tablet and handheld devices offering seamless connectivity, sleek screens, long battery life, powerful processors and ergonomic design making these critical tools for a highly connected workforce.
---
Get Purpose-Built Rugged Mobile Technology
Engineered to withstand drips, drops, dust and grime, TOUGHBOOK computers thrive in the harshest of environments. Learn about Panasonic's suite of mobile computing solutions that help you get the job done, wherever it takes you.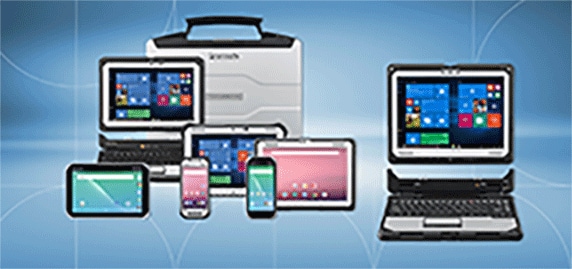 Improve Manufacturing Workforce Productivity and ROI
When technology fails, it costs time and money. Learn why adopting reliable, rugged mobile devices like TOUGHBOOK improves your return on investment (ROI), saves money over time, reduces downtime and increases productivity.
Meet the TOUGHBOOK CF-33 Mark 2
The TOUGHBOOK 33's 2-in-1 form factor offers mobile workers the durable build, flexible design and enterprise specifications they need.
---
Rugged Functionality with the TOUGHBOOK A3
Read a full review of this military-tough tablet, equipped with a suite of security and manageability features.
---
Purpose-Built Solutions
TOUGHBOOK devices are configured to help you plan, test and deploy mobility solutions, software and services.
---
Panasonic Pro Video and Display Solutions
Panasonic's projectors, professional displays and video solutions can elevate moments into immersive visual experiences.
Capture Every Moment
Learn why production teams choose Panasonic Pro Video to capture and bring concert footage to life.
---
Deliver Incredible Visual Experiences
Learn how Panasonic video walls vastly improved classroom communications for the New Jersey Institute of Technology's Life Sciences and Engineering Center.
---

---