About Palo Alto Networks
Palo Alto Networks' comprehensive portfolio offers the visibility, trusted intelligence, automation and flexibility to help your organization advance securely. Palo Alto Networks and CDW are at the forefront of protecting tens of thousands of organizations across clouds, networks and mobile devices with a modernized, future-proof security framework.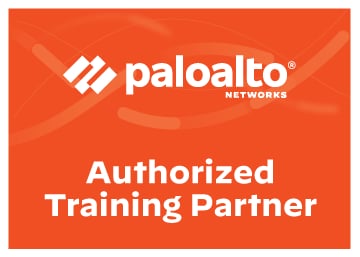 CDW is an Authorized Training Partner for Palo Alto Networks
Equip IT professionals with the knowledge to optimize and ensure the success of your Palo Alto Networks technology investments. CDW offers live, instructor-led training on leading Palo Alto Networks firewall, SOAR, SASE and XDR technologies, with convenient delivery options including in-person and online classes. 
Check out the training page to see all upcoming courses, schedule private sessions or redeem your Palo Alto Networks Training Credits.
Managed Detection and Response from CDW and Palo Alto
CDW Managed Detection and Response —powered by Palo Alto Networks Cortex XDR— safeguards endpoints from malware, exploits and fileless attacks with AI-driven local analysis and behavior-based protection. CDW's 24/7/365 Security Operations Centers stop evolving threats with a single cloud-delivered agent for endpoint protection, detection and response.
Cortex XSOAR
Implementing security orchestration, automation and response (SOAR) tools is critical to your protection. Get insights into every stage of your SOAR adoption.
---
Cortex XDR
XDR from Palo Alto provides efficient and effective security against modern attacks while also integrating with other prevention, detection and response tools.
---
Cortex Xpanse
Knowing the threats, detecting them and monitoring for future mistakes can keep your business safer. Stay prepared with the latest Attack Surface Threat Report.
Secure Any Cloud Environment with Prisma Cloud
Prisma Cloud is a comprehensive Cloud Native Application Protection Platform (CNAPP) with broad security and compliance coverage. Defend applications, data and the entire cloud native technology stack throughout the development lifecycle and across multi- and hybrid-cloud environments.
Unit 42 Cloud Threat Report
Secure your organization against threats with actionable recommendations that you can implement today for identity and access management policies.
---
Protect Cloud Workloads and Applications
Detect and prevent multi- and hybrid-cloud workloads from breaches and attacks. Provide protection against each of the top 10 risks outlined by OWASP.
---
Secure the Software Supply Chain to Secure the Cloud
Get actionable best practices to secure your supply chain by using automation to secure apps and infrastructure before deployment.
Network Security
Reactive security can't keep up with today's threats — or prepare you for tomorrow's. Palo Alto Networks has changed the game by making network security intelligent and proactive. Driven by innovation, Palo Alto's award-winning security features the world's first ML-Powered NGFW and empowers you to stay ahead.

Advanced Protection Against Evasive Threats
Palo Alto Networks has evolved its machine learning capabilities with the introduction of inline deep learning. Explore alternatives for advanced protection, from signature-based detection to inline deep learning.

Securing Hybrid Infrastructures
The nature of hybrid infrastructure presents a host of security challenges. Get an in-depth look at today's hybrid infrastructure security challenges and see how to solve them.

Small Business Firewall Guide
This guide highlights the cybersecurity functions, management and performance requirements to look for the next time you purchase a firewall for your small business.
The CIO's Guide to SASE Planning
SASE helps remove barriers to digital transformation, accelerates your move to the cloud and accommodates a hybrid workforce with remote and at-branch employees.
---
SASE for Dummies
Provide connectivity, consistent security and optimized user experiences for your hybrid workforce and branch offices with a single cloud-delivered solution.
---
10 Tenets for an Effective SASE Solution
Learn the top ten requirements to keep in mind when exploring SASE for secure access to applications for your hybrid workforce.
Interested in learning more about a Palo Alto Networks solution or offering?
---

---