About Micron 
Micron Technology serves the global memory and storage market with two distinct and complementary brands: Micron® for enterprise, cloud, and data center applications, and Crucial® for home, office and gaming systems.
---

Purpose Built Storage for Data-Intensive Workloads
The need for more agile, scalable infrastructure is challenging legacy data centers. Learn about hybrid cloud and video streaming solutions using Micron NVMe SSDs.
NVMe Client Overview
Micron NVMe SSDs help keep your remote workforce productive with lower latency and lightening fast writing speeds. Boost performance so your teams can work anywhere.
Cloud SSD & Server DRAM Solutions
Unlock the world's most cutting-edge applications with Micron products, including artificial intelligence, deep learning and data analytics.
Client SSD & PC DRAM Solutions
Crucial® memory and storage products are compatible with more than 175,000 computer systems.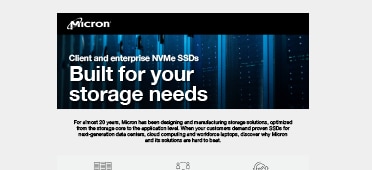 Client and Enterprise NVMe SSDs
Micron Client and Enterprise NVMe SSDs are built for your storage needs. Get purpose built, vertically integrated solutions for any enviroment.