About Citrix
Citrix solutions are built for the future of work. Help your employees stay productive by giving them modern tools for work via one unified experience. At the same time, give your IT team the visibility, simplicity and security needed to enable and control it all.
---
Citrix DaaS & Citrix Virtual Apps and Desktops​
To meet the needs of an increasingly flexible workforce, organizations are turning to desktop as a service (DaaS) and VDI solutions to provide high performing, adaptive workspaces.  Citrix DaaS modernizes IT with a secure, easy-to-manage cloud solution to quickly deliver apps or desktops from any cloud or data center worldwide.
Business Agility​
Avoid disruption and gain the agility you need in an ever-changing work environment.
---
Citrix Virtual Apps and Desktops​
Get Citrix's best-in-class traditional app and desktop virtualization environment for the data center or cloud.
App Delivery and Security
Citrix application delivery and security solutions are designed to ensure that business-critical applications perform well and remain secure. Centered around a comprehensive application delivery controller and advanced WAN, these solutions help companies succeed by ensuring an optimal user experience.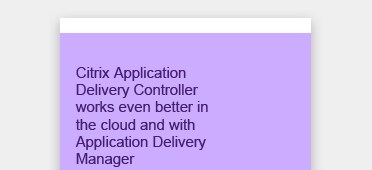 Citrix ADC
Citrix ADC works even better in the cloud with Application Delivery Management.

Promote Employee Productivity and Flexibility​
Protect access to all your IT-sanctioned apps with Citrix Secure Private Access, a cloud native ZTNA solution that prevents day-to-day management of appliance-based solutions and improves security of your IT environment with a zero-trust approach.

Cloud-Delivered ZTNA
Reduce security risks, simplify your infrastructure and decrease management overhead with a cloud-delivered ZTNA solution, all deployed and maintained from a centralized Citrix dashboard.
---

---