Article
Expert Review: The Acer Chromebook Tab 10
This tablet delivers the advantages of Chromebooks for education in a more portable form factor.
When the original Chromebook computers came out, they offered a lightweight and inexpensive alternative to traditional Windows-based notebooks. With a streamlined operating system supporting mobile-type applications, they didn't require a ton of horsepower to operate, which further reduced the need for powerful processors, memory or an elaborate cooling system.
Notebook versions of Chromebooks thrived in educational environments, offering schools a hassle-free way to provide students with computing power without the need for a large IT staff to support it. All Chromebooks boot in seconds, automatically protect themselves with the latest software, and can be easily wiped and reset should anything untoward slip through. But they were still notebooks — until now.
The Acer Chromebook Tab 10 is the first Chromebook tablet designed for educational settings, specifically the K–12 environment, though the device could assist learning in classrooms of all levels. The Chromebook Tab is a pure slate-type tablet with a large, 9.7-inch screen. It's extremely lightweight, at just over 1 pound, and less than half an inch thick. It has all the advantages of a Chrome-based notebook, but without the additional girth of an attached keyboard. It comes with a stylus, which allows natural note-taking and interaction with certain apps.
Impressive Performance
Despite its small size, the tablet is quite the performer. Graphics really pop on the 4:3-aspect-ratio screen, which has a native resolution of 2048 by 1536 pixels and is able to display extremely crisp, high-resolution images. Even studying things such as animal cells or brushstrokes of great works of art is possible with the accurate touch screen. In addition to great graphics, the Acer Tab has a set of powerful stereo speakers, which places it ahead of most other mobile devices for enhancing presentations.
In addition to the library of more than 2 million applications that can be added to the Tab from the Google Play (PDF) store, the device also comes with a USB 3.1 port and a microSD slot to add or save data or to connect peripherals. It also has 5-megapixel rear and 2-megapixel front cameras, making it a robust distance-learning tool.
The Acer Chromebook Tab 10 achieves a perfect balance of functionality, portability, usefulness and hassle-free maintenance. This device should find a good home in any classroom, where it will be loved by students and educators alike.
Specifications
Display: 9.7-inch LED touch screen 
Processor: Rockchip 2GHz RK3399 
RAM: 4GB LPDDR3 SDRAM
Operating System: 64-bit Google Chrome OS
Dimensions: 9.4x6.8x0.4 inches
Weight: 1.21 pounds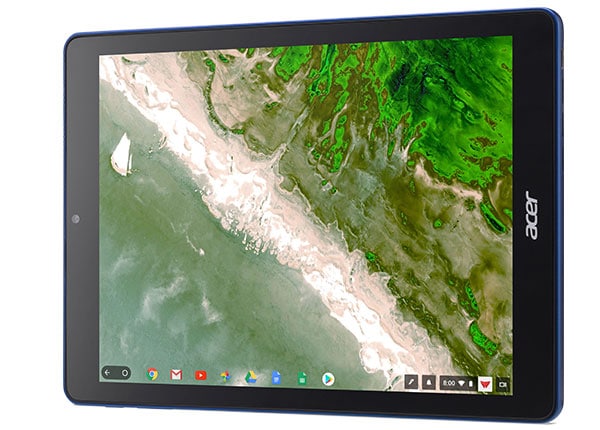 School Security
Each Acer Chromebook Tab automatically keeps its operating system and security patches up to date without user intervention.
The Great Library
Teachers can pick from more than 2 million apps in the Google Play store to install on classroom tablets.
Pencils Up
The included stylus is battery-free and perfectly mimics the performance and feel of a normal writing pencil or pen.

Hassle-Free Management 
Each Acer Chromebook Tab 10 comes with the Chrome OS, which makes the device behave differently than Microsoft Windows machines. For one, it is pretty much a blank slate in its raw state. At login, users are asked to sign in to the tablet. This requires a wireless network, because the credentials are stored in the Google cloud rather than locally. If you don't enter credentials, you can sign on as a guest but will have access only to the browser.
While this might seem stripped down compared with Windows systems, it's actually an advantage in educational settings. Administrators can use the cloud-based Chrome Management Console to configure every tablet they own with the applications they want to use in the classroom and prevent anything else from being installed. Thereafter, when students enter their credentials and passwords, the Tab will populate only the apps the school wants them to access.
Going a bit deeper, it's possible to assign teachers administrator privileges within the Chrome Management Console, which would let them add apps as needed. IT teams can even set up different logins for different classrooms, so a student using the biology class login would bring up one set of apps while an art class student could load a different set on the same device. Teachers can add apps, and they automatically populate to the class the next time they sign in.
The Acer Tab 10 has a USB 3.1 port, which is a tremendous advantage, but it could also be a liability for schools that don't want students using it to add unauthorized content. The port can be disabled, though a better option is to use the management console to authorize connections only with specific, approved devices, such as classroom printers or portable hard drives. Adding new devices after the initial setup is also possible, just as with authorizing new applications. 
Beyond directly managing the number and type of applications, everything else is automatic with the Chromebook Tab. New security patches are automatically uploaded and applied without even alerting the user. Operating system upgrades are handled the same way, except that these are generally larger and might lead to a "please wait" warning on occasion, though the most we were ever delayed during the test period was about 30 seconds while a major update installed.
Should some type of malware or undesirable content still somehow sneak onto one of the tablets, wiping everything out and starting over from factory settings is an easy process. The Acer Chromebook Tab 10 will simply rebuild itself and repopulate all approved apps in just a few minutes.


CDW can help you find the best Acer endpoint devices to drive student achievement.