Top 3 Things to Know About Cisco's Catalyst 8000
This edge platform drives many new features and delivers SD-WAN success.
This past October,
Cisco
released a new flexible edge platform to support use cases like SD-WAN and cloud networking. This new platform is the Catalyst 8000.
Discover how CDW solutions and services can meet your SD-WAN needs.
There are three major platforms within the Catalyst 8000 family:
The 8500, designed to replace the ASR 1001-HX / ASR 1002-HX and is positioned at the data center/colocation for extremely high performance.
The 8300, designed to replace the ISR4400 and is positioned at the branch. This platform offers very good performance but also focuses on delivering services like switching, VoIP, security and more at the branch in a compact footprint.
The 8000v, positioned to replace the CSR100v. This one is designed to run in virtual environments and on cloud marketplaces.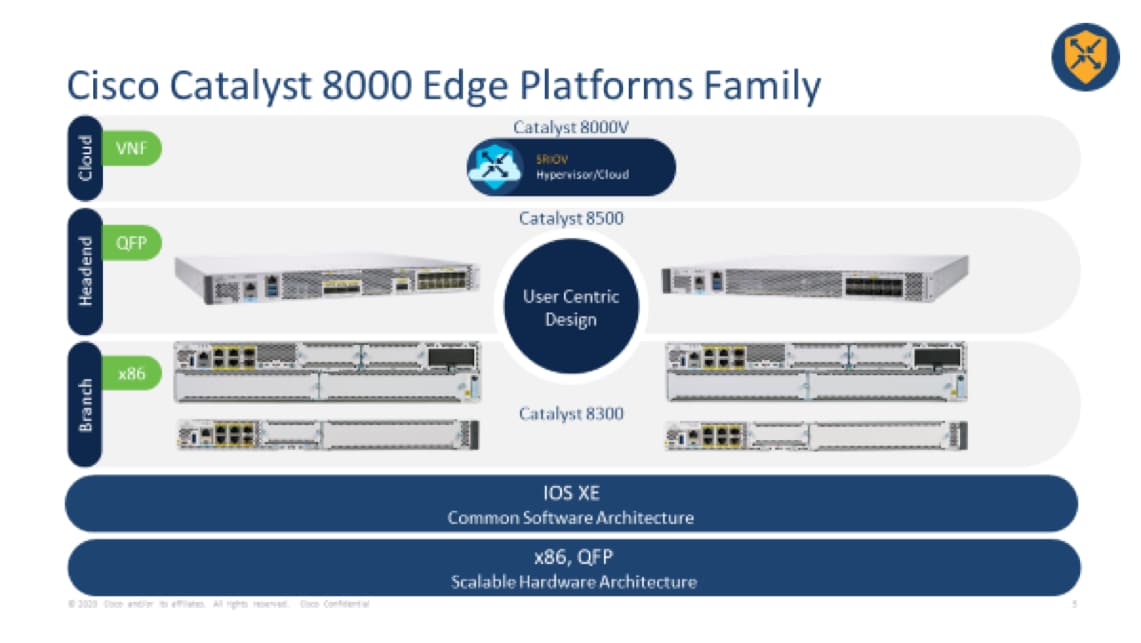 The Catalyst 8000 Is More Than a Router
Note that in my opening paragraph I did not use the term router. I really wanted to — it's an old habit — but Cisco is positioning the 8000 as an "edge platform." What the heck is that? Well, these boxes do a lot more than just route. The 8000 series platform offers a lot of compute power under the hood to do more than routing. This power can be put to use to run KVM based containers such as Thousand Eyes, Wireshark and more. On top of the strong horsepower, IOS-XE provides strong support for programmability and automation. These devices can be interacted with via custom automation and programability solution, or through Cisco's campus automation tool DNA Center, or the company's WAN automation tool vManage.
A strong argument could be made that this was the case with the ISR4000 series of routers as well, and you wouldn't be wrong. But in my experience, I didn't see many customers taking advantage of all the other features and functions those devices could provide, sometimes for good reason. The extra horsepower and more mature feature sets on the 8000 platform should enable some very interesting use cases.
Cisco Delivers a Universal Image
When Cisco first released an IOS-XE image for SD-WAN (Viptela), it did this with a separate binary. That means if you wanted to run the SD-WAN feature set, you had to install one image. If you wanted traditional IOS-XE, you installed another image. As of 17.2, you can use a universal binary and boot into whichever mode you want. Be sure to back up your config when moving between images as there are some circumstances where it can get blown away.
40G and 100G Support
WAN and LAN interconnects are getting faster. In some cases, 40G and 100G connections are required. Powered by the all-new third-generation QuantumFlow Processor (QFP) Application Specific Integrated Circuit (ASIC), the 8000 series platforms can provide this connectivity and forward high levels of IPsEC throughput. If you're still utilizing 10G/1G ports, these platforms can offer high-density port counts for those use cases.
The 8500 specifically offers many different port configuration options to meet your needs.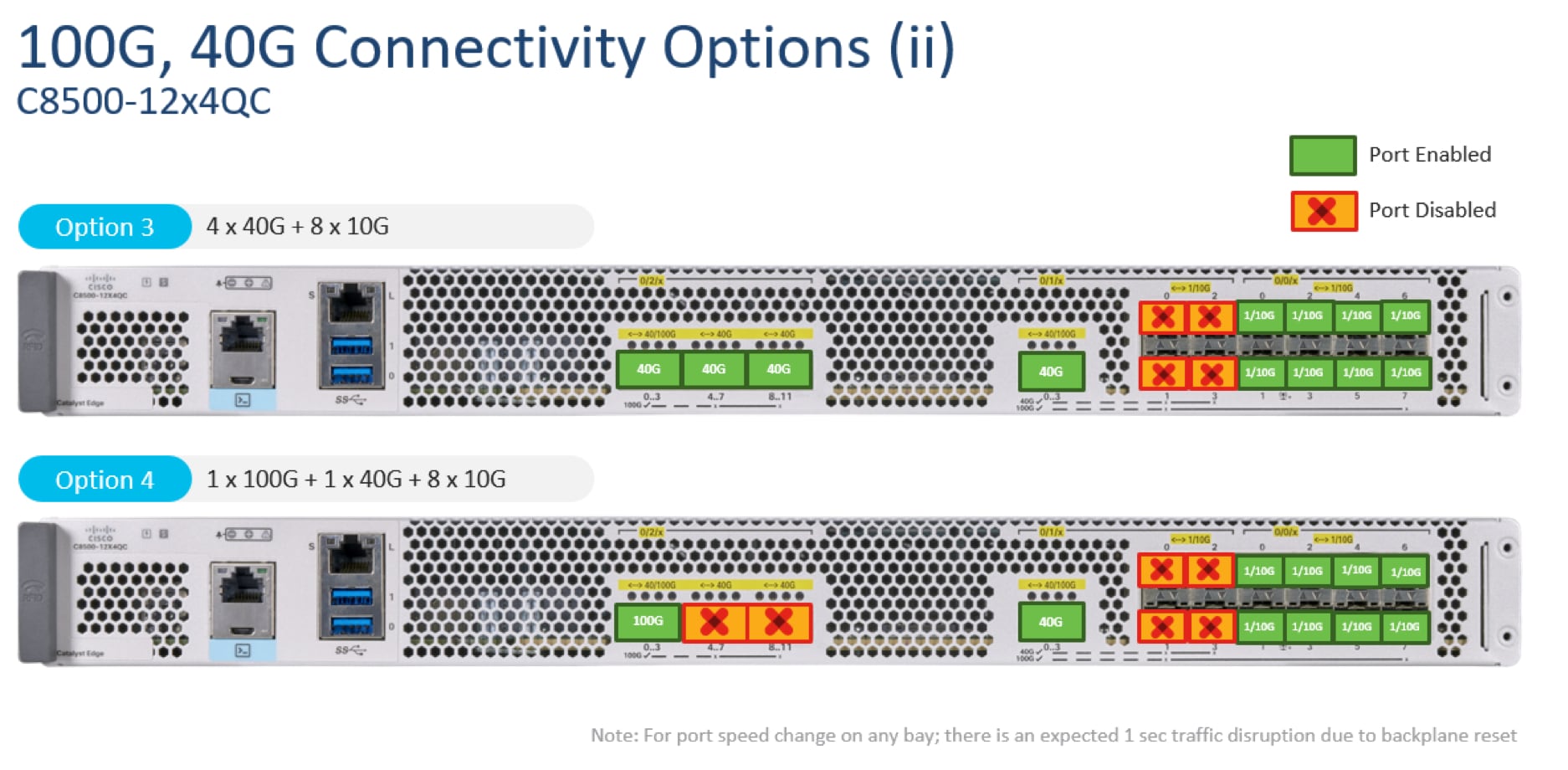 One of many different port configurations
The Catalyst 8000 for Cisco SD-WAN
I am excited about the Catalyst 8000. High performance SD-WAN throughput — especially with services enabled — has been problematic in the past, and it looks like these platforms should remedy the issue. It will also be extremely interesting to see what designs we can come up with using the extra compute power to run services directly on the routers. Finally, I'm eager to see what type of performance gains we'll see from the Catalyst 8000v to meet today's performance needs regarding cloud networking.
CDW was able to get these routers into our labs just before their release and put them through their paces. We were very pleased with the stability and performance that we observed.
If you are interested in Cisco SD-WAN, these platforms should be on the top of your list.