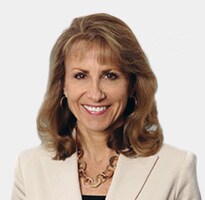 Jill M. Billhorn
Senior Vice President, Commercial Sales
Jill Billhorn is senior vice president of commercial sales for CDW. She is responsible for all aspects of the sales force across the small business and corporate landscape in the US, including sales force strategy, structure, goals, operations, revenue generation, and training and development.
Prior to assuming her current role in January 2019, Billhorn served as vice president, strategic solutions sales for CDW, where she was responsible for developing and enabling the go-to-market strategy for solutions and services across both the corporate and public businesses. Previously, Billhorn served as vice president of the East region and as vice president of the small business segment. Prior to joining CDW in 2010, she was the managing director for business development at Holden International, a leading sales training and development company. Before that, she spent 18 years managing and developing successful sales organizations for telecommunications firms AT&T, Ameritech and MCI. As sales center vice president with AT&T, she was responsible for significantly growing a $200 million revenue base consisting of telecommunications products and services provided to many of the top 50 customers headquartered in Chicago.
Billhorn earned a bachelor's degree in English from the University of Illinois at Urbana-Champaign. She is passionate and active in supporting the advancement of women in the technology industry through groups such as CDW's Women's Opportunity Network and currently co-chairs the CDW Black Excellence Unlimited business resource group. She also serves on the board of directors for Comp-U-Dopt, the Chicago Urban League and the American Heart Association.