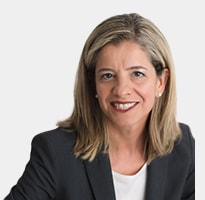 Vice President, Controller and Chief Accounting Officer
Ilaria Mocciaro is vice president, controller and chief accounting officer for CDW.  Mocciaro is responsible for the internal and external financial reporting process, including SEC reporting, operational accounting, accounts payable, partner finance and commissions processing.
Mocciaro joined CDW in 2020 and brings over 23 years of experience in public corporations and public accounting with extensive practice in accounting, accounting operations, auditing, internal controls, SOX, international and tax. Prior to CDW, Mocciaro was the senior vice president, corporate controller and chief accounting officer at Anixter International, a global distributor of communication and security products. Most recently, Mocciaro helped close the sale of Anixter International to WESCO International. Before Anixter International, Ilaria was the chief accounting officer of agricultural and construction equipment segments at CNH Industrial after serving as director of accounting and reporting. Prior to this, Mocciaro worked at McMaster-Carr Supply as the head of internal audit and has also worked at Ernst & Young in Chicago and Milan, Italy.
Mocciaro earned a bachelor's degree in accounting and business administration from the Catholic University of the Sacred Heart (Università Cattolica del Sacro Cuore) in Milan, Italy.