Realizing Your Organization's Potential
On-Demand Video | CDW Virtual Events Hub
Getting the most return out of your organization's assets is a critical step in gaining a competitive edge in business. Sometimes, that means gathering data and extracting actionable insights through the use of technologies such as artificial intelligence. Other times, that means putting the right people in positions to bring new views and perspectives to the table when solving complex challenges.
Watch Realizing Your Organization's Potential, where we'll dive into how organizations can accelerate their ROI of Enterprise by streamlining AI development, with leading edge architecture, and unlocking a diverse workforce to achieve their business goals. 
FEATURING:
Tamara Fletcher

, Director, Diversity, Equity and Inclusion,

CDW

Tony Paikeday, Senior Director of Product Marketing for Artificial Intelligence Systems, NVIDIA
WE'LL ANSWER QUESTIONS LIKE:
How can organizations utilize data and artificial intelligence?

What are the main pillars of this technology that businesses can build around?
How have organizations used AI to drive business initiatives?
How can businesses build a culture that allows employees to bring their best selves to work?
How can advocating for employees lead to better retention?
Why should businesses view their employees as diverse assets?
This webcast was recorded live as part of our broader CDW Tech Talk conversation about calculating risk. Register for the series to unlock access to the CDW Virtual Events Hub, where you can watch this and other webcasts in the on-demand library.

Tamara Fletcher, Ph.D., is director of diversity, equity and inclusion at CDW, where she is responsible for establishing a diverse culture. She leads CDW's strategic efforts by engaging leadership in their commitment and involvement with diversity and inclusion, developing and facilitating inclusion education and awareness strategies, designing and developing CDW's diversity and inclusion communication strategies, and leading organizational projects designed to attract, retain, engage and mobilize diverse talent. She also maintains strategic oversight of CDW's 12 business resource groups. Fletcher began her CDW career in 2005 as an account manager within CDW•G's state and local segment. After a year in sales, she joined the sales operations division, where she quickly advanced into leadership as supervisor of the CDW's account manager sales assistant program. In 2011, Fletcher was promoted to sales support manager, where she became responsible for the administrative support of CDW's entire sales organization. She has worked in DEI since 2013.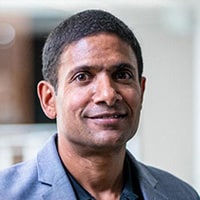 Tony Paikeday is senior director of product marketing for artificial intelligence systems at NVIDIA, responsible for the go-to-market for NVIDIA's DGX portfolio of AI supercomputers. In his role, Tony helps enterprise organizations infuse their business with the power of AI with infrastructure solutions that enable insights from data. Tony was previously with VMware, responsible for bringing desktop and application virtualization solutions to market, as well as key enabling technologies including GPU virtualization and software-defined data center. Prior to joining VMware, Tony was at Cisco, building its data center solutions. Prior to Cisco, he held business development roles working with enterprise and service provider accounts, after starting his career as a manufacturing engineer for Ford Motor Company. Tony holds an engineering degree from the University of Toronto.